Celebrate the essence of Karnataka with this special Chana Dal Vada recipe by Chennai-based online cookery expert Hemasri Subramanian.
Also known as Chattambade, these deep-fried crispy vadas go brilliantly, as a tea-time snack, with a warm glass of chai.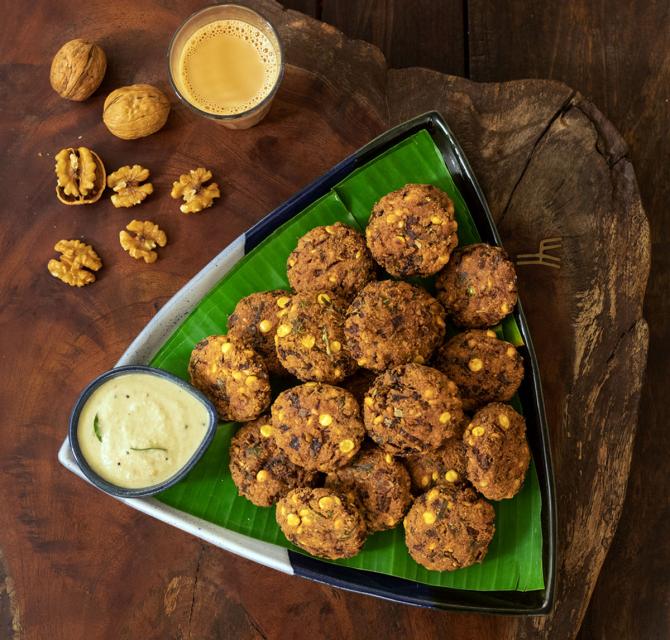 Chana Dal Vada
Servings: 12-15 pieces
Ingredients
2 cup chana dal or split chickpea lentils
1 cup walnuts + few chopped walnuts
1 cup onions, finely chopped
4-6 green chillies
1 tsp saunf or fennel seeds
2-3 sprigs curry leaves
Dhania or coriander leaves or cilantro, according to taste
1 tsp chopped ginger
Salt, as per taste
Pinch of hing or asafoetida
Oil for deep frying
Coconut chutney for serving
Method
Soak the chana dal in a bowl filled with water for 3 hours.
Using a channi or colander strain the soaked dal.
Take a handful of the dal and keep it aside.
Transfer the remaining into a blender and grind along with the walnuts, fennel seeds and salt to a coarse mixture without adding water.
Transfer the ground mixture into a bowl.
Add the finely chopped onions, green chillies, ginger, asafoetida, curry leaves and green coriander. Mix well.
Add the whole soaked chana dal kept aside along with a few chopped walnuts.
Combine this mixture evenly for the vada batter.
Heat oil in a heavy-bottomed frying pan or kadhai over medium heat.
Shape the batter into flat, round vadas. Gently drop each vada into the hot oil.
Deep fry the vadas until they are golden brown in colour.
Drain excess oil and transfer onto a plate lined with tissue or paper towel.
Serve warm with a coconut chutney and a cup of tea.
Do you have the recipe for a dish from any part of India to share?
Please mail your recipes to getahead@rediff.co.in with the subject line 'Indian recipes'.
And don't forget to add your name, location, and photos, if possible, of you as also the recipe.
We'll publish the best ones on Rediff.com