Whipped up in several parts of India, the jaggery-accented Gulgule is a deep-fried sweet snack usually enjoyed on its own or with a cup of chai or coffee.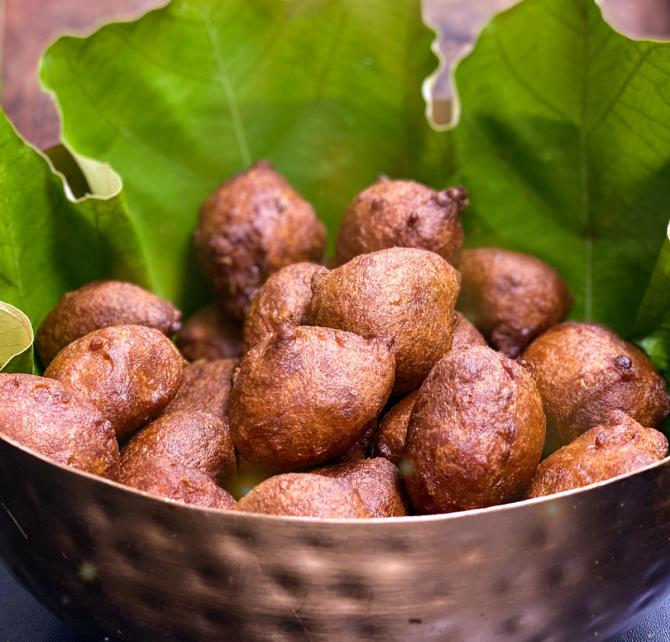 Gulgule
Recipe courtesy: Welcomhotel Amritsar
Servings: 18-20 pieces
Ingredients
2 cups whole wheat flour
1 ¼ cup gur or jaggery
2 cups saunf or fennel seeds
2 cups mustard oil, for deep frying
1 cup water or as required
Method
Warm the water in a heavy-bottomed saucepan over medium heat.
Pour the hot water in a bowl and add in the jaggery to melt it.
Add in all the other ingredients and mix well. Ensure the batter has a dripping consistency.
Let the batter rest for an hour or till the flour has soaked in all the jaggery.
Heat the oil in a heavy-bottomed frying pan or kadhai over medium-low heat.
Drop in the batter using a spoon.
Deep fry over medium heat in batches and don't over-crowd the pan.
When golden brown and well-cooked, drain excess oil and transfer onto a plate lined with tissue or a paper towel.
Serve hot.
Do you have the recipe for a dish from any part of India to share?
Please mail your recipes to getahead@rediff.co.in with the subject line 'Indian recipes'.
And please don't forget to add your name, location, and photos, if possible, of you as also the recipe.
We'll publish the best ones on Rediff.com