'When people who ignored us, when relatives who have not spoken to us for a long time, congratulated us, it was a proud moment for my mother.'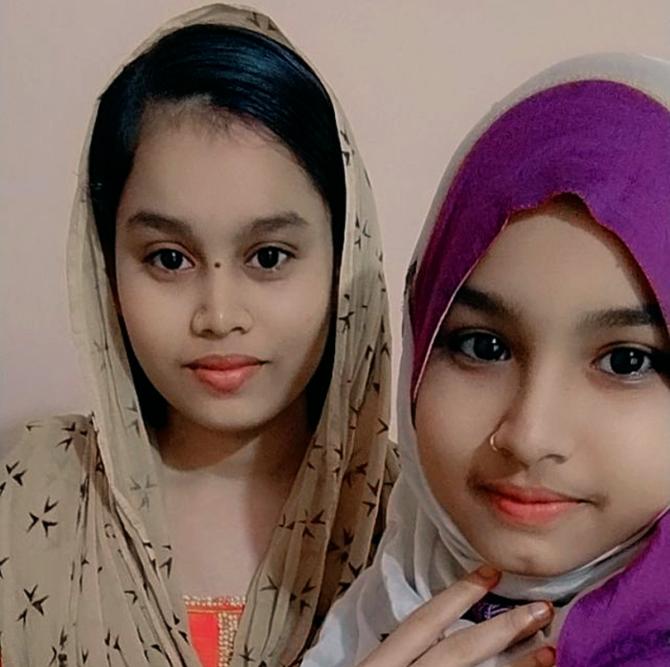 In 2019, when Najiya Khatun passed the Class 10 examination in Kerala, it made the front pages. Besides getting an A+ in all her subjects except one -- and that included Malayalam as well -- she was the school topper and its gold medal winner.
In 2021, her younger sister, Rokshat Khatun, made a similar entry into the newspapers for securing an A+ in all her subjects, the first and only student in the history of their school -- the NGO Quarters Government Higher Secondary School, Kozhikode -- to do so.
While many students secure an A+ in the Class 10 and Class 12 exams, what makes these sisters exceptional is the fact that their father is a migrant worker from a remote village in West Bengal.
Remarkably, the sisters got A+ in Malayalam as well, a language they learnt after coming to Kerala from Murshidabad.
From Kozhikode, where the family lives, an elated Rokshat Khatun spoke to >Rediff.com's Shobha Warrier about their success. Here's their story, in Roksat's words:
A life-changing train journey
It was 12 years ago that my Papa (Rofik S K) decided to come to Kerala in search of a job, bringing Umma (her mother, Jhuma Bibi), my sister and me with him. I was five years old then.
I was too young to understand that my parents were debt-ridden. There was no way they could repay their loans if they continued staying in our village as Papa did not have a proper job there.
I do remember I was not sad about leaving our big family or friends behind. On the contrary, I was excited at the prospect of travelling by train for the first time in my life.
It was great fun eating on a moving train. I still remember the taste of the food we had. It was quite delicious, unlike what we ate at home.
I enjoyed sitting at the window and looking at all the trees, hills and animals. Some of the places that raced past us were so beautiful, so different from what we had seen till then.
It took us three days to reach Kerala. It didn't bother me that we were on a train for so long; it was such an enjoyable journey that I didn't want it to end.
Malayalam and jalebis!
It was quite confusing to live in a place where you don't understand the language. But that didn't intimidate or scare us.
As both my sister Najiya and I had gone to school in Murshidabad, we knew only Bengali. The letters in the Malayalam alphabet looked like wonderful, sqiggly jalebis to us. We would giggle a lot looking at them.
Umma was very particular that we should continue going to school so, very soon, she took us to an anganwadi next to our house. They said that, at five and seven years, we were too old for an anganwadi. But they did allow us to attend for a few days after which we had to stay at home.
When one of our neighbours -- she was a teacher -- realised this, she insisted we get admitted in her school immediately. According to her, children should be in school and not loitering around. But that school was quite far, so we stopped going. We were back at home.
A double promotion
Once again, it was a neighbour, a chechi (elder sister) who helped us get admission in a government school that was close by.
When the teachers came to know we were Bengalis, they wondered how we would study in a Malayalam medium school. But, because we were playing with the neighbourhood children, both of us had already picked up Malayalam.
I was admitted in Class 1 and Najiya in Class 3. By the end of the year, the teachers felt we had picked up the language and subjects very well and wanted us to try for a double promotion.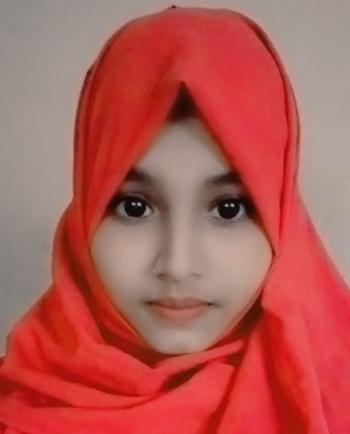 IMAGE: Rokshat Khatun
We were asked to write an exam after which I was promoted to Class 3 and my sister to Class 5.
That was how our school life in Kerala began.
When Najiya secured an A+ in her Class 10 exam and won a gold medal from the school, her picture appeared in all the newspapers. They were amazed that a Bengali girl had scored A+ in Malayalam.
I wanted to be like her, but she is a better student than I am. Even in my wildest dreams, I did not expect to repeat my sister's feat.
So when I got an A+ in all my subjects, it was such a pleasant surprise. I was elated.
Umma and Papa are happy and proud that both of us have done well in our exams.
Choti si asha
My sister is studying science as she wants to become a doctor. She is getting ready to write the NEET (the all-India pre-medical entrance) exam.
I want to study commerce, then work in a bank. Working as a teacher also is an option.
People ask me why I want to study commerce, I tell them, I am better in maths than I am in science. I like solving mathematical problems.
My parents have always wanted us to study well and get a government job.
Life has been quite hard and we have seen them struggle a lot. But they only wanted us to focus on our studies and not think about the problems.
Umma started working as a housemaid to ensure our studies were not affected due to financial reasons.
Since my father had a lot of debt back at home, he had to come all the way to Kerala to work as a construction worker. After some time, he got a job in a factory. Now, he has a small shop selling curios.
Coming to Kerala changed our lives
If we were still living in our village, we would not have been thinking about going to college or getting a job. We would have been married off by now.
In Kerala, girls are encouraged to study, work and live independently.
Life over here is so different from what we see in our village.
Though we miss our village and all our relatives there, though we miss celebrating festivals with them, I am glad Papa came to Kerala. Our lives changed because of that.
The past, the future
In our village, girls are not encouraged to study; they are married off when they are 12 or 13.
When our relatives pointed out that Umma had two daughters and she should start thinking about marrying us off as early as possible, Umma told them that her daughters would study and get a government job. They scoffed at her.
Umma has always said there is no difference between boys and girls; they are equal. She was the wall, the armour protecting us from relatives who wanted to marry us off.
She taught us we will only be respected when we are independent.
When Umma saw my results, she smiled first, then there were tears in her eyes, tears of joy and happiness.
Both Umma and Papa are very proud of what we have achieved so far.
When people who have ignored us, when relatives who have not spoken to us for a long time, congratulated us, it was a proud moment for her.
When we first came here, Papa used to take us to school every morning holding our hands.
He recently told us we had achieved his dream. "Those days, I longed to see the pictures of my daughters in the papers like other children."
Both of them have sacrificed a lot for us. They couldn't even go home even when their parents passed away; they took the decision for us even through they knew the controversy it would cause.
Fulfilling Umma's dream
Today, Umma proudly tells our relatives that her daughters are on their way to realising their dreams.
But I would say it is our Umma's dream that we want to realise one day.
We started dreaming only because Umma had dreams for us.
She wanted us to achieve something that she couldn't; she wanted us to have a better life than hers. And she knew education would take us there. We will never let her down.
Both of us want to work and take care of our parents first.
They have struggled a lot for our future, so we, as their daughters, want to give them a better life.
Feature Presentation: Rajesh Alva/Rediff.com