'I was no one. I am here today because I am a proud soldier of the Indian Army,' says Captain Mohammed Quamrul Zaman.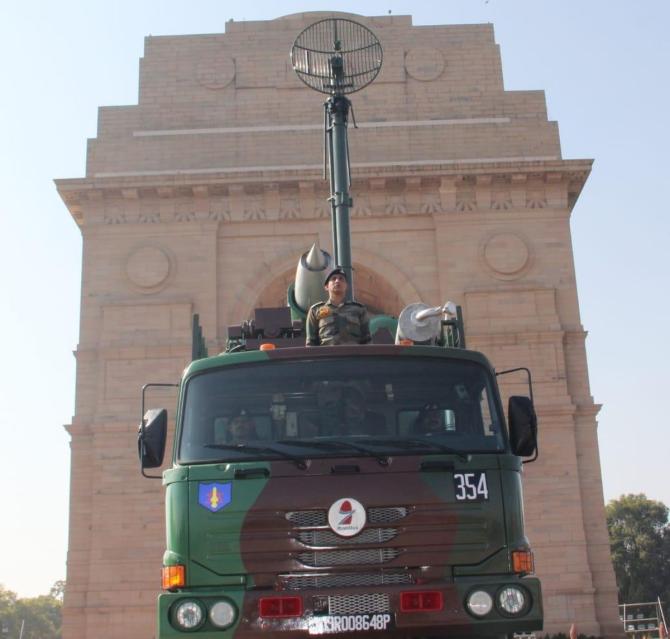 Captain Mohammed Quamrul Zaman joined the army as a jawan and made his way up to become an officer six years later.
On Republic Day when he led the Brahmos cruise missile system at the parade on Rajpath, the son of a humble chicken seller from Bihar had travelled a long way from poverty to fulfil the collective dreams of his family.
Archana Masih/Rediff.com salutes his incomparable story.
"The best thing about our Indian Army is that it will make a soldier out of you no matter where you come from. A soldier will give his life for the country without thinking even for a second."
"I was no one. The army has given me everything. I am here today because I am a proud soldier of the Indian Army," says Captain Mohammed Quamrul Zaman who led the indigenously developed Brahmos cruise missile system at the Republic Day parade.
The officer has spent nearly a decade in the army and is a shining example of what an individual can accomplish with determination and the excel against the odds.
He joined the Army Medical Corps in 2012 as a jawan after being selected at a recruitment rally in Muzaffarpur, Bihar.
He took a train to the recruitment centre without telling his father and only informed him after being selected.
After doing well in the basic training as a nursing assistant in Lucknow, he was recommended to the Armed Forces Medial College in Pune for a bachelor's degree in pharmacy.
In 2014, he appeared and qualified for the Army Cadet College which trains soldiers to become commissioned officers.
"I was the first from my batch to get commissioned in the army as an officer. If you want to achieve anything in life, you have to be determined," says Captain Zaman, the son of a humble chicken shop owner in Sitamarhi, Bihar.
When he graduated from the Indian Military Academy in 2018, his parents and sisters were among the audience on that winter morning in Dehradun.
It was their crowning glory.
"That sight of seeing my mother crying, my father shaking with emotion, the stars on my shoulder... it was as if my whole family had achieved something great."
"It was indescribable," says the officer who always dreamt of being in the army.
"The two best days of my life are the passing out parade at IMA and saluting the President on Rajpath on Republic Day."
These two memories also define the shining moments of Captain Zaman's parents' life.
Looking back on the passing out parade, his father Ghulam Mustafa Khan says that day is etched in his memory forever. He also remembers that he had forgotten to carry a handkerchief and kept wiping the tears with his hand and on his sleeve.
And then there was that other moment last week when he, along with the whole nation saw his son saluting the President on Rajpath.
It was an accomplishment that brought local politicians to call on their home in Sitamarhi district. Many who had mocked and told him that a murga bechnewala's son would not go far in life, now come to visit, he says.
"As I watched him on TV, tears were streaming down my face because we have built our lives from bottom up. I ran a chicken shop and do the same now," says Mr Khan.
"We have faced hardships, but my boy faced many more difficulties to be able to continue his studies. There were times I did not have money for his uniform and books. I took loans of Rs 4 and Rs 5 on interest."
Both Mr and Mrs Khan never went to school, but had decided no matter what the hardship, they would not make their children 'angootha chaps'.
Two of their daughters are preparing for medical entrance exams and another for the civil services.
There was a time when Mr Ghulam Mustafa Khan fell very ill and could not go to work. People advised him to pull young Quamrul out of school and put him to work, but he did not give in.
His wife Safina Khatoon was even more adamant.
She told him that they would withdraw him from the private school and enroll in a government school, but would not stop the boy from going to school.
Every day after school, Quamrul would help his father at the shop for two hours and even started a small poultry farm to supplement the family income.
"We faced our hardships and so did my boy, but he kept overcoming them and moving forward," says his mother. "Today we don't live in want any more. We don't have to think before buying anything or going anywhere."
"No one can be happier than a mother. He has surpassed my expectations."
"Seeing him in uniform on Rajpath, saluting the President in front of whole nation, I pray that all mothers get this kind of happiness from their sons and daughters," says Mrs Khan, her voice quivering with emotion during the phone conversation.
Turning the pages of his childhood, Captain Zaman says that he remembers the days when the family went hungry and admires his parents' commitment to education.
"It is a difficult decision for someone earning very less to be unwavering in the decision about their children's future," says Captain Zaman who got married during the lockdown.
"It is not a movie story, but something that I have lived and that is what encourage you to do your best when an opportunity comes your way. Behind whatever I have achieved is the hard work of my parents and I feel I should make them proud."
One of those opportunities came his way when his commanding officer told him that he had to represent the regiment on Republic Day.
"The Republic Day parade is part of the collective memory of our country. We have all grown up seeing the parade on TV and participating in the celebrations in school," continues the captain enthusiastically.
"As a child I had never thought that a day would come when I would be participating in the parade. Everyone does not get this chance."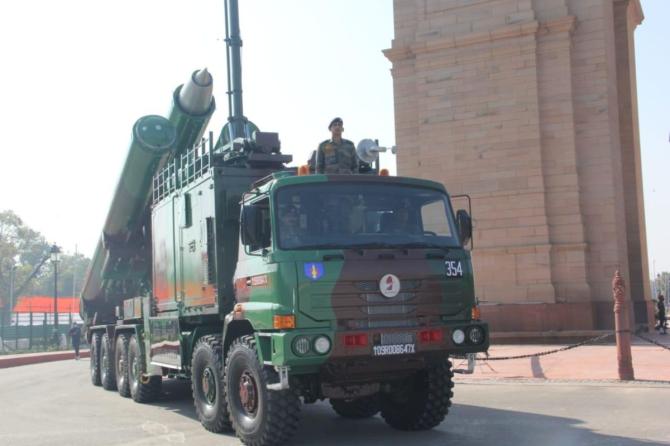 That day had begun at 2.30 am for Captain Zaman and his men responsible for displaying the Brahmos missile on a huge truck that would make its way down Rajpath.
The only thing on his mind was the thought that he was representing his unit, regiment and nation.
Everything had to perfect.
He realised that the hard work of his team had paid off when he got a call from his commanding officer that he had done a good job.
"What does one want most in life? A good family," Captain Zaman asks the question and answers it himself.
"My family also includes my officers, JCOs, jawans and unit. They will take the bullet on their own chest to save you."
"In other organisations, people first save their own skin, but in the army it is about saving your troops first -- if I put myself in front of them, my men will go ahead of me to save me," he says.
"Every soldier who has sacrificed his life for this country is my hero. They give me inspiration every day."
Feature Presentation: Aslam Hunani/Rediff.com