Sourdough is not only a type of bread, but also a technique, discovers Ranjita Ganesan.
Eight years ago while working from home, advising businesses on matters of innovation, Sujit Sumitran would use his free time being inventive in the kitchen.
After fiddling for some months with a bread machine and realising its creative limitations, he ventured into the universe of sourdough with its promise of broader possibilities.
Now, his mastery of the unhurried art has earned him the moniker of 'bread whisperer'. "There is an inherent goodness about slow fermented bread. The proof is in the eating," he gushes.
When India was still a "country where bread was used when there is nothing else to eat", friendly foreigners on the Internet became Sumitran's guides.
One "gentle soul from Nevada" even shipped over some "starter" -- the leaven made by allowing flour and water to ferment -- from San Francisco.
The former corporate man, who has since moved to the Goan village of Britona and turned full-time baker, is paying forward those kindnesses.
He recently made his Easy Peasy Artisan Sourdough Bread Web course, with 34 video lessons and 49 text lessons that otherwise cost $53, available for free because the lockdown appears to have made pastoral homesteaders out of people. Some 1,710 members have signed up.
While nowhere as strong a culture as on the American West Coast, airy crusty sourdough breads are becoming a familiar sight in some restaurants and high-end grocery chains of India.
Aditi Handa, chef and co-founder of Mumbai's The Baker's Dozen, says the brand's four-grain sourdough chockfull of seeds has been a best-seller.
Because such bread is made without commercial yeast and preservatives, this naturally fermented bread is easy on the gut, says Sumitran.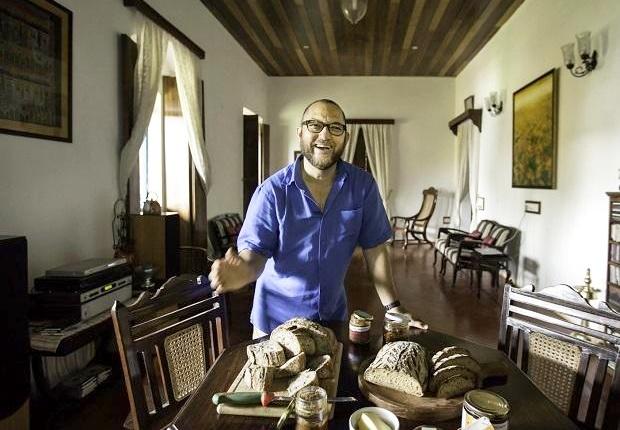 It all starts with the starter. While professional bakers may not be able to send you their leaven, umpteen bread-lover forums help you make your own.
Everyone agrees that patience is vital.
It takes a week for the starter to come alive and float up to the surface, until when the baker must trim off excess and feed it new flour daily.
Baking with starter that is still fresh works well here since the Indian palate favours a subtle rather than sharp sourness.
There are other preferences. Where advanced sourdough bread buffs enjoy the tough leathery crust of a "rustic" loaf that uses only flour, water and starter, an early-stage enthusiast may be keen on a softer enriched loaf in which butter or oil is added too.
Sourdough is not only a type of bread, but also a technique.
Once it is understood, the starter can be used to add tang and texture to everything from pizza bases and bagels to donuts and crepes.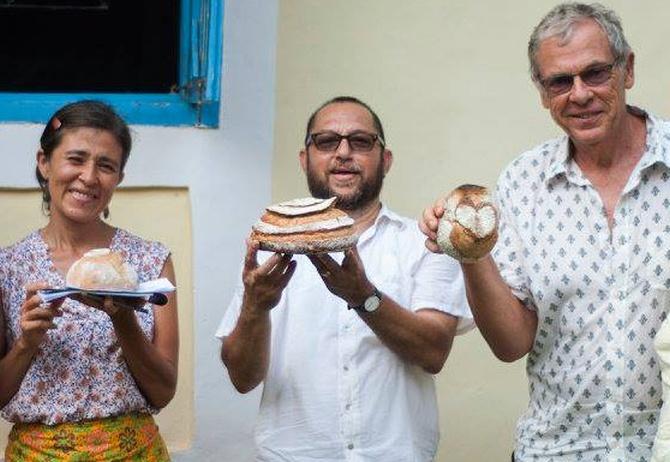 The ingredients are simple, Handa reminds us, which makes it a fairly inexpensive hobby.
"It is all about how you treat and mix and proof and shape them."
Her company is trying to make sourdough a household staple, and in addition to the quintessential loaf, has introduced a sourdough version of the supple ladi pav too.
Passable results can be obtained at home in these austere times by using unbleached maida.
Local chakkis often oblige with a more gluten-rich atta if you say you want to use it for bread.
When it becomes available again, bakers can have flour made to order by companies like Delhi-based TWF Flours.
The process itself is demanding. The dough has to be folded over every few hours to expose different sections to the air, creating conditions for anaerobic and aerobic fermentation.
Mumbai-based chef-baker Divesh Aswani, who tried this type of bread for the first time at the Australian cafe where he had trained, recommends proofing the final shaped dough overnight in the refrigerator and waiting at least three hours before cutting open and serving the loaves.
"Technically, even if they are out of the oven, they are still cooking inside. Leaving them alone for some time makes a world of difference," he says.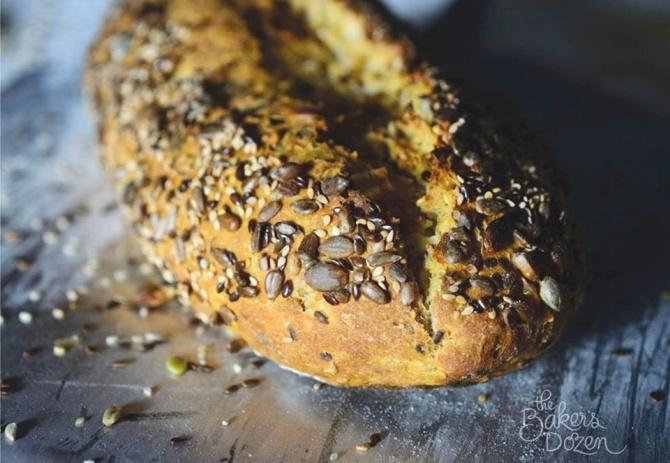 Sourdough nerds indulge in a variety of specialised tools -- cane proofing baskets, Dutch ovens -- but it is possible to find substitutes.
Any bowl covered with a kitchen towel and dusted with flour works for proofing the dough, and any fairly heavy oven-safe casserole dish with a lid can be used for the baking.
The lid produces steam that helps the bread achieve optimal puffiness inside and crustiness outside.
At the end, the loaf should make a hollow sound when tapped, and feel at once crunchy, chewy and soft.
Not everyone who takes up the hobby now will remain committed. It demands a slow and steady effort, spread over days and weeks.
Sumitran knows from experience that more people are enthusiastic about eating than cooking, but his advice remains to stay with the process for at least five attempts, after which results are usually gratifying.
It may be a while before sourdough baking reaches what he calls "critical mass" in India but he is happy to see signs of the cult rising.