We asked you, Dear Readers, to tell us how you spent five weeks during the lockdown and share your best memories with us.
Rediff.com reader Milon Kumar Sanyal from Kolkata tells us how he kept himself busy during the lockdown.
Life teaches us many things including how to survive tough conditions.
I stay alone in Kolkata.
The month-long lockdown forced me to learn cooking.
After the death of my wife, irrespective where I stayed, my food was 'made in India' by the 'maid in India.'
Now the situation has changed. I have learnt to manage myself.
Apart from household chores like sweeping, mopping, dusting of furniture, bookshelves and washing clothes, I have started reading books that have been lying on the shelves for quite some time.
I enjoyed learning to play the Spanish guitar watching videos on YouTube.
It is equally motivating to learn French on the Internet with DuoLingo (a language learning app).
Networking is again something I like. These days, I regularly connect with old classmates, friends, relatives, former co-workers etc to check their well-being.
After all, all of us are of the same ages. We speak for long duration on various subjects under the sun.
Most of them respond cheeringly -- a sign that they still love me. I cherish that.
I recently finished reading My Story My Memoir, a book I had started long ago.
I also found time to write and have been taking pictures of the beautiful sky at various times and posting in social media..
I realised that I have never spent so much time gazing at the sky in the last 5 weeks from the terrace or through my window.
Yes! The world looks beautiful.
Check out these pictures of the sky!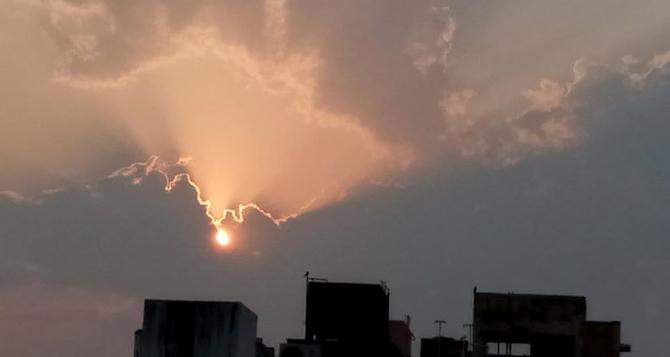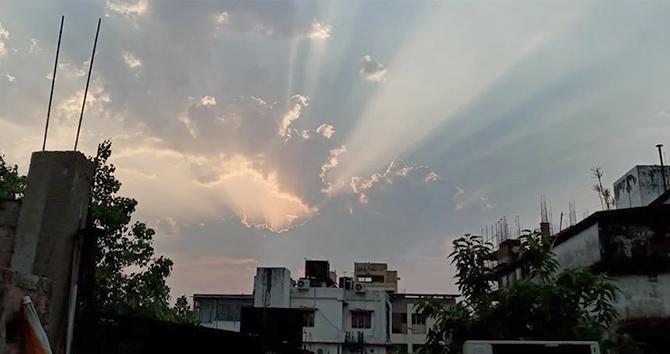 ---
It has been more than five weeks since The Lockdown began.
How have you spent these days?
Share the highlights with us through pictures and videos and the best ones will be published right here.
You can mail your most interesting, funny, sad, even angry lockdown moments via stories, pictures and videos to getahead@rediff.co.in. Please mention MY MONTH-LONG LOCKDOWN STORY in the subject line.
Don't forget to mention your name, age and where you stay.