Pranav Bodani, 29, from Pune, explains how he took charge of his life.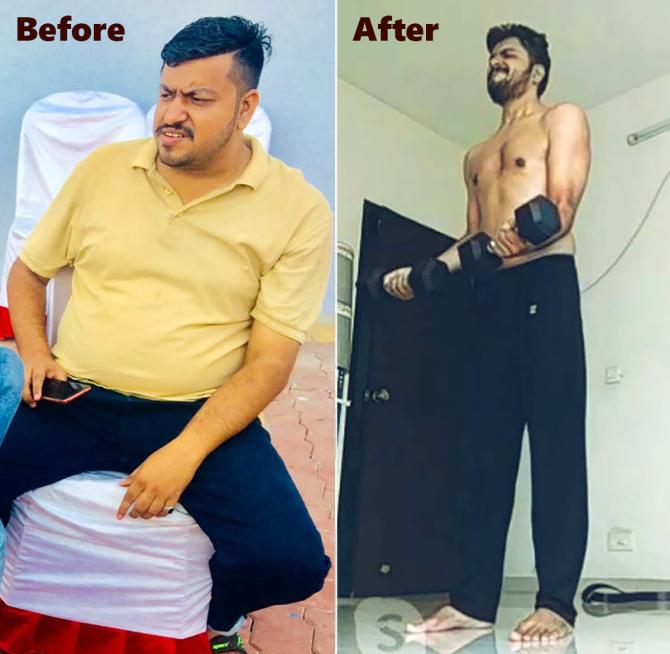 It was in October 2019 during an office picnic when I first realised I was overweight.
We played cricket and I performed poorly.
I was always lazy and had been eating too much junk food.
I'd indulge in vada pav, dabeli, dosa, pavbhaji, puri bhaji, panipuri, chole bhature, butter naan, maska bun, thepla, paratha, wafers along with sweets like gulab jamun, kaju katli, son papdi etc .
I would mostly eat outside and barely had a homemade meal or dinner. I wouldn't even walk after a meal.
My sister insisted I look after my health and fitness and asked me to join a gym.
I weighed 91 kg in January 2020.
In January, I signed up at a gym started my journey towards fitness.
The transformation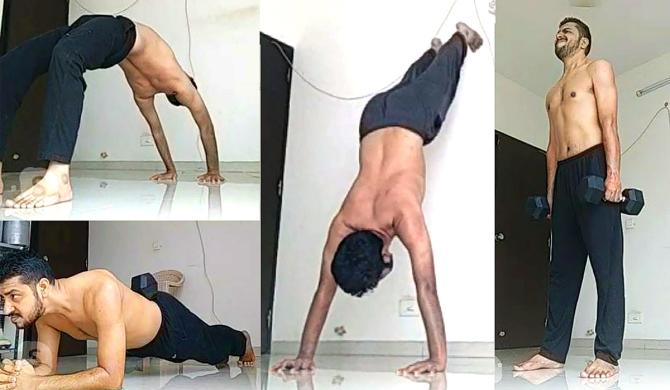 I hired a trainer under whom I started cardio exercises along with weight lifting.
During the initial days of training, while cycling, I felt dizzy and fell down. Slowly, I improved walking on the treadmill and cycling etc.
Gradually, I started running.
By March 2020 I'd lost 10 kg. But due to the lockdown, I could no longer visit the gym.
I continued working out at home online with my trainer's help.
Every alternate day I climb stairs (up to 1,800 steps). I stay on the 9th floor. Each floor has 20 steps so I climb till the 9th floor 10 times every alternate day.
Initially, I did weight training with water bottles. Then I bought dumbbells and started strength training.
Every day I do planks, side plank, bicycle crunches, push-ups, leg rising, squats and jumping jacks.
I wasn't able to hold a normal plank for 5 seconds, now I can hold it for 3 minutes.
Every alternate day I do yoga -- chakrasana, bhujangasana, dhanurasana, ustrasana, setu bandha are just some of the asanas I practice.
I try to work out for 1.5 hours every day.
Diet
I stopped having my afternoon tea after I joined gym.
I am vegetarian and this is my diet:
Breakfast:: One banana (pre-workout), protein shake (after workout), tea with less sugar.
Lunch: 7-8 rotis with dal and green sabji. I rotate between moong dal, chana dal, masoor dal and toor dal.
Dinner: 6-7 rotis with sabji, sometimes khichdi, moong, khakhra, masala roti, tomato sabji with bhakri or buttermilk.
Water intake: Minimum 3.5 litres.
I limited sugar in my morning tea and stopped eating junk.
I eat fruits like banana, apple, chikoo or guava and ensure I get 7 to 8 hours of sleep.
By May 2020, I'd lost 16 kg and gained confidence.
During this period, I realised that it's all about being determined towards your weight loss goal and following a disciplined diet.
If you are determined to lose your weight, no one can stop you.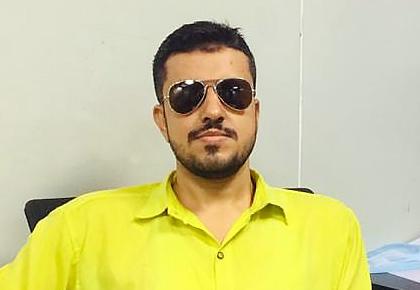 ---
Have you recently lost weight or survived a health condition?
We want you to share your story with us. Tell us how you did it.
Please share your diet plan, exercise tips, learnings and more.
Kindly mail getahead@rediff.co.in (My Fitness Story) along with your NAME, AGE, LOCATION, along with a before and after photograph of your fitness journey. We'll feature the best responses on Rediff.com.