Bengaluru based Rediff reader Pandurang Mahadeo Kumbhar, 37, senior software consultant lead at Philips tells us how he lost weight and took control of his health without going to the gym.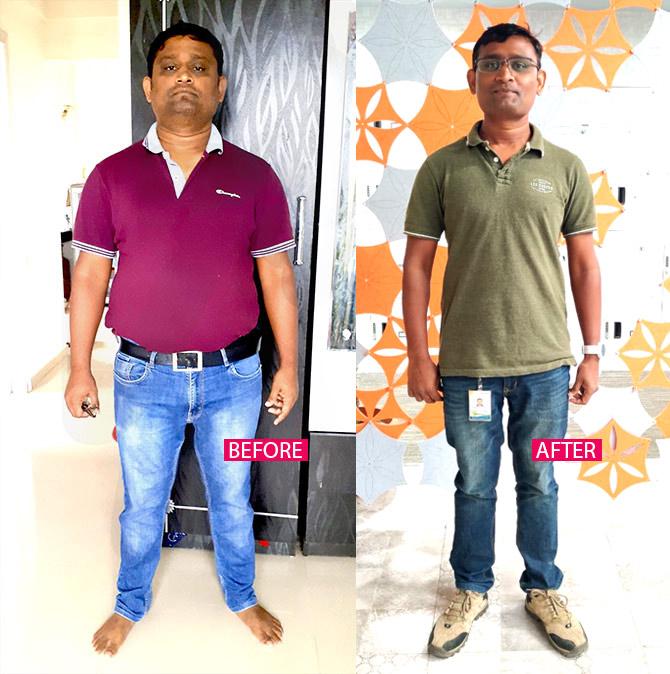 I always felt I was overweight since college. At the same time, I used to love sports and had an active lifestyle, so I didn't really pay much attention.
I started putting on weight when I started working.
Due to sedentary lifestyle and unhealthy eating habits, I was 85 kg.
I realised I was obese and used to workout to ensure my weight is constant. But I was never able to lose weight.
I tried all diet plans but failed.
In August 2019, I experienced severe discomfort and palpitations. I tested my HbA1C and fasting insulin.
The results were:
HbA1C: 8.2
Fasting Insulin: 15.2
Glucose Fasting: 161 mg/dl
Post Postprandial Glucose: 257 mg/dl
While searching the Internet, I read about Dr Jagannath Dixit and his diet through social media. I decided to follow the plan since I felt it was very scientific and logical.
On September 2, 2019, on Ganesh Chaturthi, I decided to follow the diet.
I skipped breakfast and started taking two meals a day -- lunch at 1 pm and dinner at 8:30 pm.
I never deviated from the schedule.
While travelling, I'd carry my tiffin from home so I could stick to the meal time.
Also I kept referring to my readings of fasting sugar, PP sugar, abdominal girth and BMI to check if I was progressing in the right direction.
This is the diet I followed:
For lunch and dinner: 1 chapati, a bowl of rice, 1 vegetarian/non-vegetarian curry with lots of green salad/sprout beans.
Between two meals, I'd have green tea.
Two months ago, I started taking protein supplements along with lunch/dinner.
I completely gave up on sugar. In 2019, both during Diwali and my wedding anniversary, I didn't have sweets or cake since I was very determined to stick to the diet.
Here's my workout schedule:
First month: Walk 10 km everyday in 90 minutes.
Second and third month: 15 km everyday
Fourth/fifth month: 15 km running + 15 km cycling.
I cycle to work everyday. I have completed 2,100 km in 5 months.
Earlier, I used to wear 38 inch pants and XXL t-shirts earlier. Now I wear 28 inch pants and small size t-shirts.
I really feel happy and satisfied when my colleagues and relatives ask about the secret behind my weight loss.
Lessons learned
Stay honest to yourself. It doesn't matter what others think about you; what matters is how you feel about yourself.
There is no shortcut to success and weight loss.
A healthy body and soul are invaluable assets.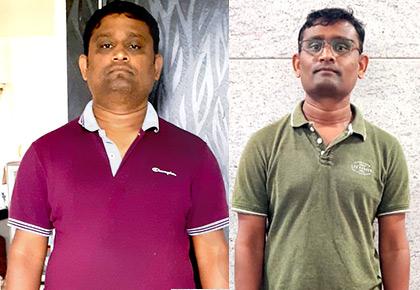 ---
READER INVITE
Have you recently lost weight or survived a serious health condition?
We want you to share your story with us. Tell us how you lost weight.
Share your diet plan, exercise tips, learnings and more.
Simply write to getahead@rediff.co.in (My Fitness Story) along with your NAME, AGE, LOCATION, along with a before and after photograph of your fitness journey. We'll feature the best responses right here on Rediff.com.