Rediff reader Rahul Ditta tells us how he changed his unhealthy diet and lifestyle and reclaimed his life.
EARLIER IN THIS SERIES: How I lost 21 kg in 1.5 years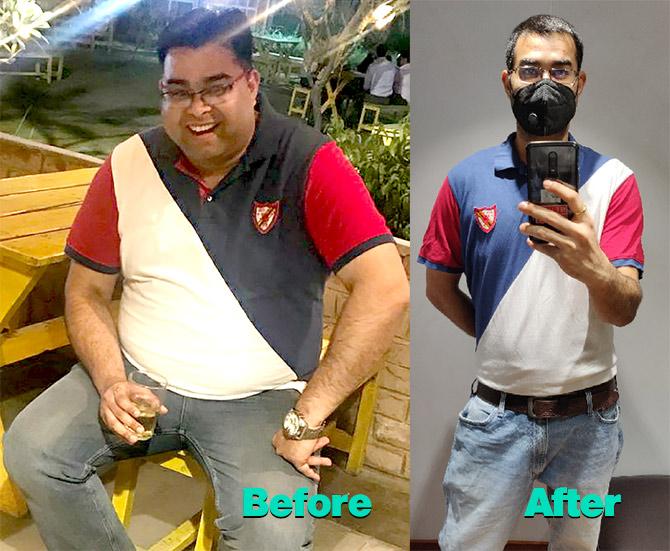 I am 35, 6 feet tall and weighed 130 kg in 2019.
It didn't take me long to realise that I was obese.
Back then, my daily meal comprised parathas, chola batura, samosas, burgers, meat and sweets. I also indulged in excessive social drinking.
I had gout, high blood pressure, indigestion, cholestrol where I had fatty liver and increased triglycerides.
Worst of all, I had sleep apnea, a condition in which you tend to fall asleep when the body is not in motion. In my case, I would doze off while driving.
I didn't realise where I was headed to until once while driving on MG Road in Delhi, I dozed off behind the steering wheel and my car hit a biker riding ahead of me.
Fortunately, he escaped with a few bruises.
But, on that day I realised that if I didn't take care of myself, I might end up killing someone.
When I consulted a doctor, he told me that 60% of my problem could be solved if I lost at least 10% of my weight.
The transformation
In July 2019, I enrolled in a gym near my home and started sweating it out along with ample changes in my diet.
I trained under Vipin Chaudhary who suggested a combination of cardio, weight training with circuit programme and drop sets.
Come rain or shine, I would work out between 9 pm and 10.30 pm every day.
I replaced my diet with quinoa, dahlia, poha, boiled egg white, skimmed milk, lime water, green tea, black coffee, apple cider vinegar, curd, fruits, broccoli and veggies.
I'd also have boiled chicken, nuts and corn.
I gave up alcohol. On the rare occasions that I had to socialise, I would go out once in three months and settle for nothing more than 60 ml (of alcohol).
In eight months, I lost 45 kg.
Since March 2020, I am 85 kg.
Watch Rahul try the T-shirt challenge with the handstand pose:
Lessons learned
It feels different when you see yourself this way.
When you see people applaud and appreciate your transformation, you become responsible to stay fit and inspire others.
There is a song in the album 'The Script - Hall of Fame'. It says: You can beat the clock, You can move a mountain, You can break rocks.' These lines inspired me to keep going.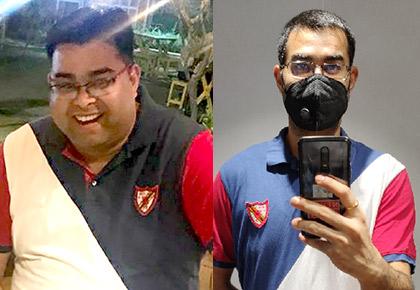 ---
READER INVITE
Have you recently lost weight or survived a serious health condition?
We want you to share your story with us. Tell us how you lost weight.
Share your diet plan, exercise tips, learnings and more.
Simply write to getahead@rediff.co.in (My Fitness Story) along with your NAME, AGE, LOCATION, along with a before and after photograph of your fitness journey. We'll feature the best responses right here on Rediff.com.