Food blogger Sangita Agrawal shares a popular recipe.
There are many variations to the popular Japanese noodle dish, ramen.
For all the soy sauce lovers out there, shoyu ramen is the way to go.
Shoyu ramen traditionally consists of a soy-based soup broth.
Although the soup broth usually derives its complex flavours by simmering meat for long durations, I wanted to create a vegan flavor combination that would maintain the flavour complexity that a ramen broth requires.
Thus, I came up with this Vegan Shoyu Ramen recipe that has an extremely rich and flavorful broth.
Vegan Shoyu Ramen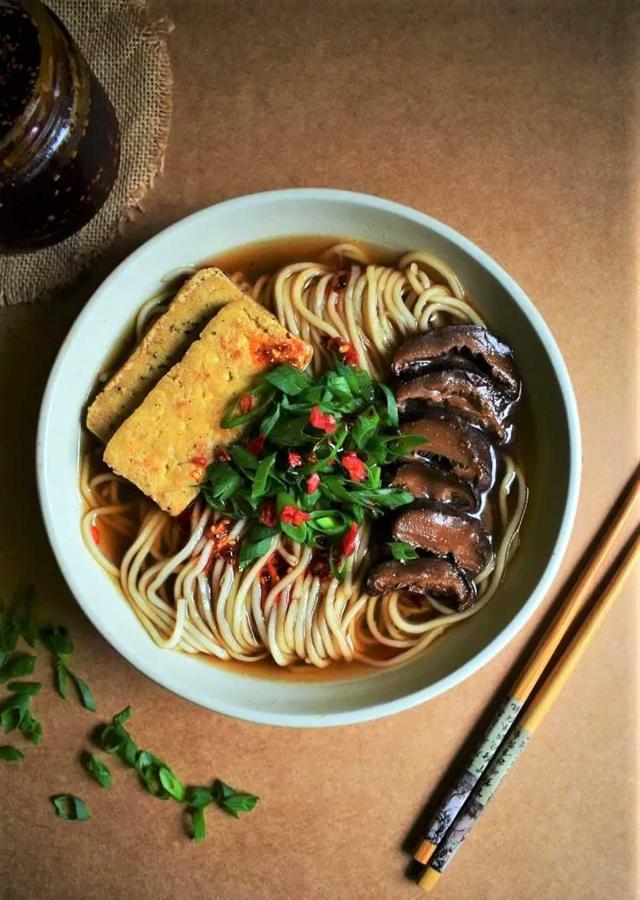 Yield: 2 servings
Prep time: 10 minutes
Total time: 40 minutes
Ingredients
1 cup vegetable broth
1 tbsp sesame oil
10-12 cloves garlic
6 slices of ginger
1 cup chopped spring onions
6 cups water/vegetable broth
6 dried shiitake mushrooms (or any available mushroom)
1 leek stem
1 piece dried Kombu (seaweed)
1/4 cup soy sauce
2 tsps vinegar
1 tsp sugar
1 tbsp mirin (rice wine)
Salt and pepper to taste
Toppings
4 tofu slices
1/2 cup sliced mushroom
1 cup chopped spring onions
Chilli oil (Optional)
Ramen noodles to serve
Method
In a large pot, add sesame oil, ginger, garlic and spring onions and saute it over medium heat for 2-3 minutes.
Combine the vegetable broth, mushrooms, leek, kombu and soy sauce and bring it to a boil.
Once the broth has reached boiling point, reduce the heat, cover the pot and simmer it for at least 30 minutes although I recommend a 3 hour simmer.
In the meantime, boil the noodles according to the packet instructions in a separate pot and set aside. Make sure you keep the noodles al dente.
Prepare toppings of your choice. To use the same toppings as this recipe, pan-fry the tofu pieces till golden brown, sprinkle salt and pepper and set aside.
Finely chop up some spring onion green and keep it in a separate bowl.
Once your broth has simmered, strain the broth into a fresh bowl.
Add vinegar, sugar, mirin, and additional splash of soy sauce, salt and pepper into this bowl and complete the flavouring.
Instead of discarding the rehydrated shiitake mushrooms from the broth, slice up these mushrooms and use it as a topping for the ramen bowl.
Now for the fun part, divide the noodles and broth between two bowls.
Top it with mushrooms, tofu, spring onions and chilli oil. Your ramen bowl is ready!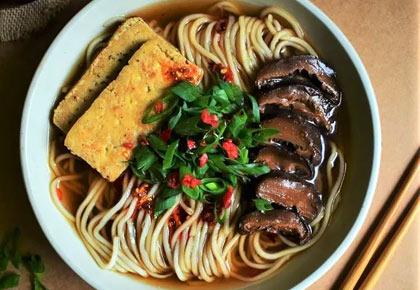 ---
Would you like to share an interesting recipe or cooking video?
Please do send your recipe/video to us at getahead@rediff.co.in (Subject: My Recipe) along with your name, location and, of course, the recipe.