Surprise your loved ones with these simple and healthy meals.
Over the past few years, the number of people you know who have turned vegan may have surprised you.
From athletes to actors, a number of celebrities are raving about the benefits of a home-made vegan diet.
Here are some quick recipes you can try at home.
Recipes and photographs: Kind courtesy Chef Savio
Aloo Matar Flaxseed Shortcrust Cigar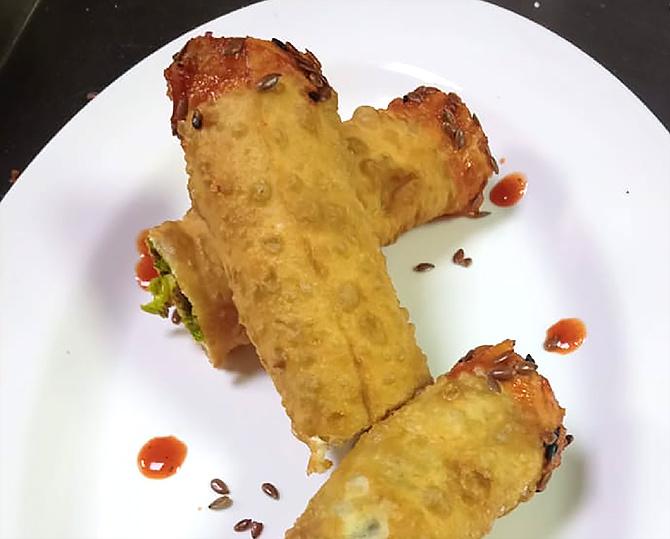 Ingredients
15 gm potato
15 gm green peas
5 gm coriander leaves
5 gm onion
5 gm green chillies
3 gm flaxseed
3 gm cumin powder
3 gm coriander powder
3 gm red chilli powder
3 gm turmeric
For frying
3 gm cumin seed
10 gm refined flour
10 ml vegetable shortening or refined oil
10 gm tamarind
10 gm mixed micro greens
Method
For cigar stuffing
Boil the potato. Chop onion, garlic, ginger and green chillies.
Heat oil in a frying pan.
Saute all chopped veggies and add boiled potato and green peas. Mix well and add ground spices.
For shortcrust dough
Make a dough with refined flour, salt and refined oil.
Knead it well and keep aside for 15 minutes. Cover it with a muslin cloth.
For cigar
Make a sheet of dough.
Put the potato mixture in it and roll it to make small size cigars
Fry till it is golden brown.
Place the cigars on a plate, drizzle tamarind chutney over them and serve with mixed microgreens.
Tofu and Saag with Roasted Kale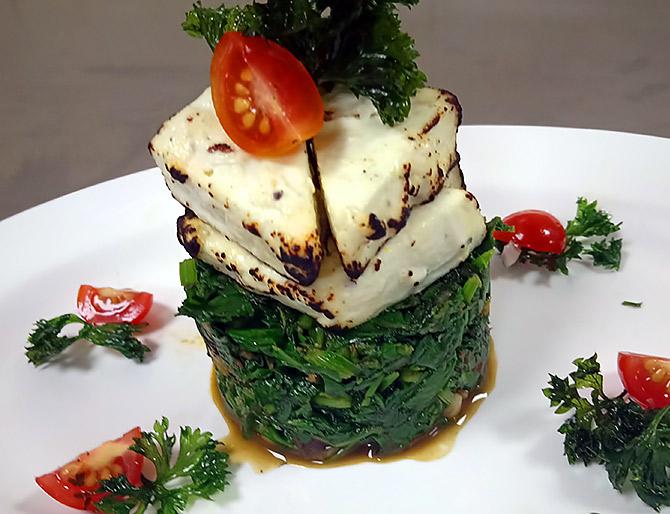 Ingredients
100 gm spinach
50 gm spring onion
30 gm sorrel leaves
50 gm fenugreek leaves
30 gm onion
10 gm garlic
5 gm green chillies
30 gm coconut milk
2 gm salt
2 gm pepper
50 gm kale lettuce
30 gm refined oil
For saag
Chop all leafy vegetables and set aside.
Heat oil and add cumin seeds, garlic and onion. Sauté well.
Add spinach, spring onion and stir fry.
Add sorrel and fenugreek leaves and continue cooking
Cook all vegetables till water evaporates.
Add coconut milk and stir.
Adjust seasoning.
For roasted kale and tofu
Wash kale and remove excess water.
Preheat oven on 100 degree. And leave kale to dry up
Once roasted nicely, leave aside.
Cut tofu into cubes, marinate it with some oil, a pinch of salt and pepper and roast with kale.
To assemble
Place cooked leafy vegetables in a pan.
Place roasted tofu and kale on the saag.
Serve hot.
Rajma masala stuffed multigrain dosa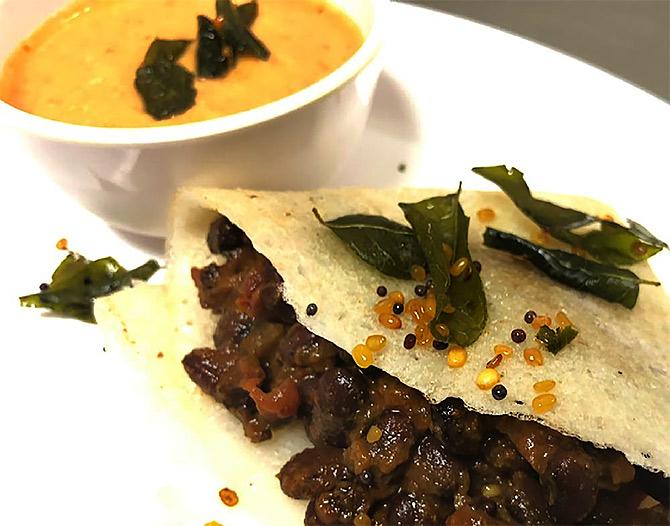 Ingredients
100 gm red kidney beans
100 gm parboiled rice
50 gm multigrain flour
150 gm tomato
50 gm onion
50 gm refined oil
30 gm ginger
20 gm garlic
5 gm red chili powder
2 gm cumin powder
2 gm garam masala
2 gm coriander powder
2 gm salt

Method
For multigrain and rice dosa
Soak parboiled rice overnight.
Drain and grind to fine paste.
Mix multigrain flour with paste.
Add water, salt and adjust consistency.
Preheat the griddle, add oil, and add spoonful of batter spreading round evenly.
Once cooked, take it out. It resembles a round soft thin pancake.
For Rajma Masala
Soak red kidney beans overnight and boil. You can also use canned beans.
Heat oil in a stock pot. Add chopped garlic, sauté well till golden
Add chopped onion and sauté further.
Add chopped tomatoes and cook till they are mashed.
Grind 1/3rd quantity of rajma and put the remaining into the casserole and continue cooking.
Season with powdered Indian spices and serve.
To make roasted tomato onion chutney
Cut tomatoes lengthwise in half
Dice onions
Place above ingredients on baking sheet with garlic pods and some oil
Roast in oven for 20 minutes
Cool down and grind to a course paste
Season with salt and lemon juice.
To assemble
Pocket fold pancake and stuff it with red kidney casserole stuffing.
Serve with roasted onion tomato chutney.