There is no better way to understand a country's culture than through its cuisine.
Here are some special recipes from South Korea that have been slightly modified to help you recreate them easily at home.
All recipes and photographs: Kind courtesy Korea Tourism Organisation.
Bibim Guksu
Bibim Guksu, or spicy noodles is a delicious cold salad dish seasoned with sweet and tangy Korean flavourings.
It is one of the most popular traditional noodle dishes in Korean cuisine.
If you are looking for an easy meal with a little bit of zest, this is what you need!
You can add whichever toppings you like, but the recipe below is loaded with lots of salads and vegetables, so you can get a good amount of crunchy texture as well.
It may look bulky when you servem but it is a light, tasty and satisfying meal.
Ingredients
180 gm dried buckwheat noodles (or soba noodles)
For salad options
40 gm lettuce leaves, thinly sliced
140 gm red cabbage, thinly sliced
60 gm small cucumber, julienned
40 gm small carrot julienned
60 gm red radish, julienned (optional)
A few snow pea sprouts (optional)
2 tbsp kimchi, cut thumbnail size
For Bibim sauce
2 tbsp gochujang (Korean chili paste)
2 tbsp rice vinegar
1 tbsp soy sauce
1 tbsp honey
1 tbsp brown sugar
1 tbsp sesame oil
1 tbsp toasted sesame seeds
Method
Boil the noodles in rolling boiling water and drain the noodles.
Run some cold water over the noodles to cool them down. Drain.
Place the noodles in a large serving bowl and mix all the salad ingredients with Korean sauce. After all the ingredients are put in the bowl, serve.
To eat, mix all ingredients well with chopsticks and indulge.
---
Sujeonggwa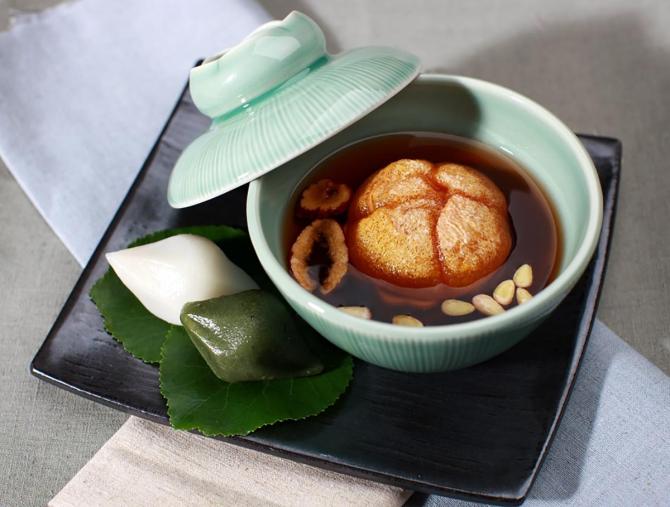 Sujeonggwa is a ginger cinnamon tea that is served cold and is often taken as a dessert.
It is easy, gently sweet and quite relaxing.
This tea or punch is popular for festivities such as New Year, but you will also find it on the menu at many Korean restaurants as a dessert since it aids digestion.
It may not be your typical dessert, or tea, but it is definitely an easy dish that can be prepared at home.
The combination of ginger and cinnamon gives a great warm spice flavour, which makes Sujeonggwa so special.
Ingredients
27 gm fresh ginger peeled
2 cinnamon sticks
900 ml water
90 gm sugar white or brown
2 dried persimmon (if available)
12 pine nuts to serve
Method
Cut ginger into thin strips.
Place the ginger and cinnamon sticks in a pot with the water and bring to a boil.
Once boiling, cover and reduce the heat to a simmer.
Continue to simmer for around 40 minutes. The cooking liquid will become a deep red-orange colour.
Strain the ginger and cinnamon from the tea and add the sugar. Stir it in so that it fully dissolves.
Add dried persimmon, allow to cool to just slightly warm before refrigerating overnight.
Serve cold, ideally in small bowls, with some of the soaked persimmon in each bowl (either leave one whole or, cut up which is easier to eat).
Top with pine nuts.
---
Bingsu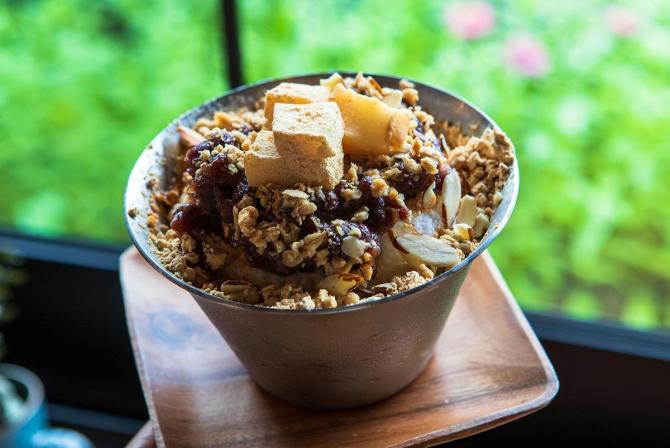 Bingsu/Bingsoo is a type of shaved icecream popular in East Asia. It is a traditional dessert in Korea.
In the olden days, Bingsu was a delicacy available only to the rich as it was not easy to get shaved ice due to the lack of modern refrigeration equipment
The exciting feature about this snack is that it comes in so many different creative flavors and unique toppings.
Bingsu is made from chopped fruit, condensed milk, strawberries, kiwifruit, small pieces of tteok (rice cake), chewy jelly bits, and cereal flakes, fruit syrup, and red beans..
Ingredients
150 gm mixed frozen berries, thawed
50 gm castor sugar
Mixed seasonal fruit, to serve (cubed mango, blackberries, raspberries, figs, sliced strawberries, pomegranate, kiwi)
500 gm shaved ice, to serve
Vanilla ice cream, scooped to serve
Method
Make berry syrup by adding the berries to a saucepan with 2-3 tbsp of water over a medium heat
Once the berries start to simmer, stir in the sugar until dissolved and mash the berries with a fork until syrupy. Strain through a sieve and leave aside to cool.
Meanwhile, prepare the fruit. Arrange in side bowls, along with shaved ice.
To make shaved ice, add ice to a food processor and blitz in batches, keeping in the freezer until ready to serve. This is a perfect make-ahead dessert.
Spoon over some of the cooled berry syrup and top with a scoop of vanilla ice cream. Enjoy immediately.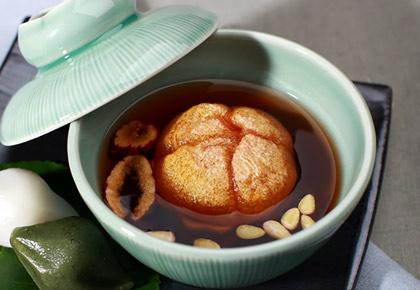 ---
Would you like to share an interesting recipe or cooking video?
Please do send your recipe/video to us at getahead@rediff.co.in (Subject: My Recipe) along with your name, location and, of course, the recipe.