Kick start your mornings with these easy-to-make vegan delights.
The first meal of the day needs to be healthy, filling and at the same time easy to make.
Here are some plant-friendly recipes that can be made in a jiffy.
All recipes and photographs: Courtesy Eat Good Food, Kolkata
Melanzane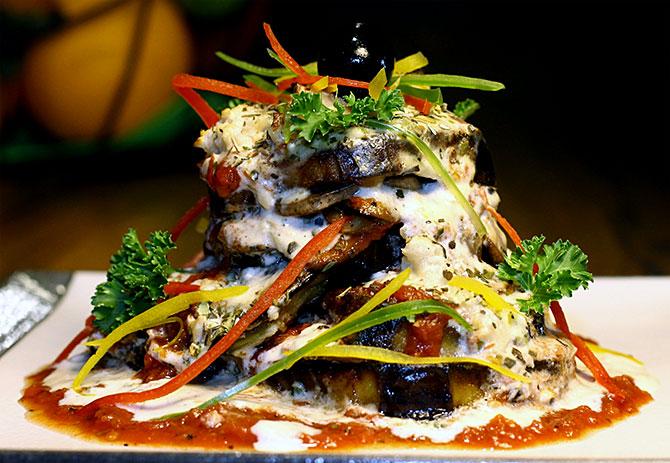 Ingredients
250 gm egg plant
50 gm mushroom sliced
50 gm tomato concasse (peeled, blanched, deseeded and roughly chopped)
50 gm vegan mozzarella cheese
20 gm coconut cream
5 gm dry oregano

Method
Cut eggplant into thick slices.
Grill it along with sliced mushrooms.
Next, layer the grilled eggplant and mushroom.
Top it with tomato concasse sauce, coconut cream and vegan mozzarella cheese.
Bake at 150 degrees for 10 minutes.
Serve hot.
---
Banana and Amaranath Muesli Smoothie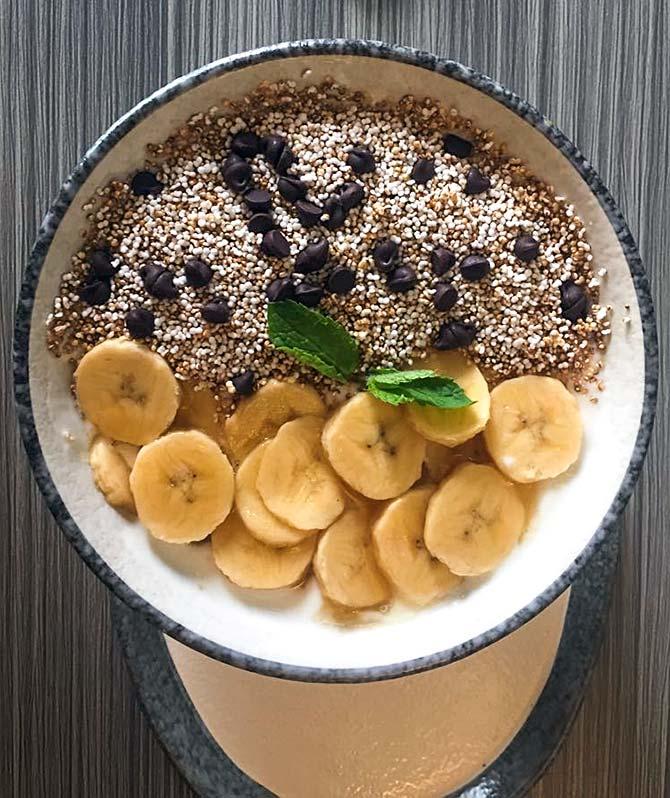 Ingredients
50 gm amaranth muesli
150 gm sour curd
120 gm banana chopped
15 gm sugarfree
50 gm amaranth
20 gm choco chips

Method
Blend sour curd along with banana and sugar.
Pour in a glass or cereal bowl.
Garnish with amaranth muesli and choco chips on top.
Serve immediately.
---
Whole Wheat and Fruit Muesli Pancake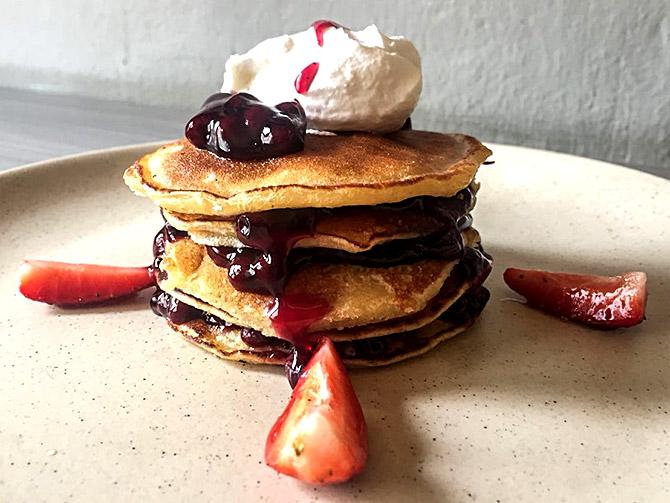 Ingredients
50 gm whole wheat flour
50 gm refined flour
10 gm melted butter
100 gm sugar
10 gm muesli
20 gm soya milk
2 gm baking powder
A bowl of cut fruits of your choice
20 gm jam or fruit syrup
20 gm fresh cream
Method


In a bowl, beat egg and sugar.
Mix whole wheat flour and refined flour properly.
Add milk and melted butter.
Add baking powder. Mix well.
Heat a pan and grease with oil or butter.
Pour a ladle of the prepared mixture and spread it evenly.
Turn it and cook both sides on medium heat until it turned golden brown.
Repeat for the remaining batter.
Garnish with muesli, fresh fruits, jam/fruit syrup.
Add a dollop of fresh cream.
Serve hot.
---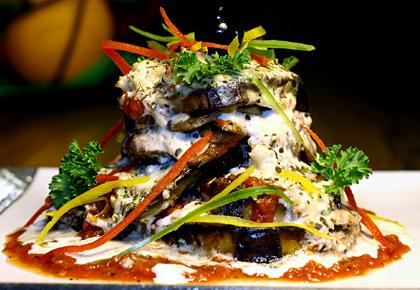 Do you have an interesting breakfast recipe to share?
Simply send it to getahead@rediff.co.in (subject: Breakfast recipe) along with a photograph and a little background about the recipe. We'll publish the best ones right here on Rediff.com.