Food blogger Preeti Shridhar shares the step by step process to make footlong bread and crostinis at home.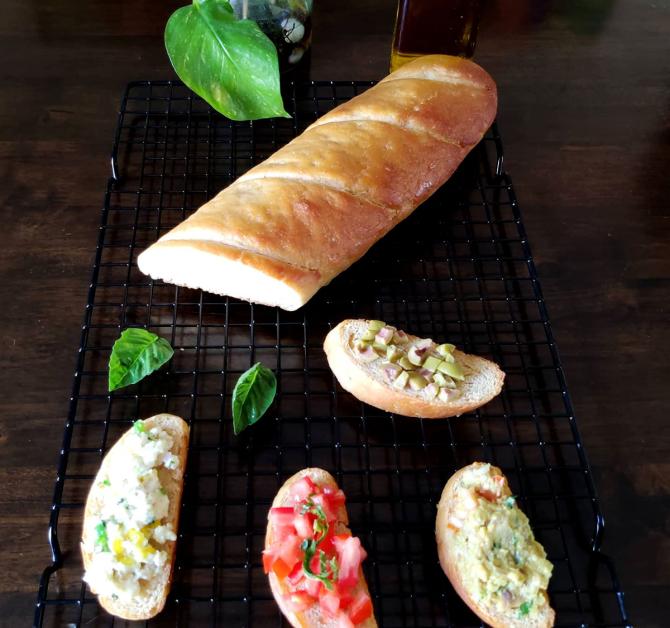 These 12" long breads are so much fun to make.
Foot-long breads are so versatile. You can use them to make crostinis or sub sandwiches.
I am sharing this recipe to make one foot-long or 3 small loaves measuring 4" in length or 2 loaves of 6" each.
Make them plain or during last few minutes of baking brush them with olive oil and sprinkle some Italian seasoning and parmesan.
Using good quality extra virgin olive oil adds great flavour to breads.
Ingredients
125 gm whole wheat flour
125 gm all purpose flour
170 to 18 ml water+milk
1/2 tsp instant yeast
3/4tsp salt
1 tsp sugar
1 tsp extra virgin olive oil
For crostini toppings:
Guacamole
Chopped tomatoes mixed with olive oil and garnished with basil chiffonade
Chopped olives
A mix of cottage cheese, peppers and mozzarella.
Optional toppings
Sundried tomatoes soaked in olive oil
Roasted bell peppers
Cheese and chili flakes
Method
Mix both flours in a bowl.
Add milk and water combo gradually till there is no dry flour.
Do not knead. Cover and leave it for 1 hour to help develop gluten. After an hour, the dough is much easier to knead.
Transfer the dough to clean counter top. Add sugar and yeast. Mix well.
Sprinkle salt all over the dough and start kneading. If you find the dough is tight, add one tbsp water at a time and continue to knead. The dough should feel very sticky. Do not be tempted to add more flour.
Simply oil your hands and knead using your palm.
Push the dough outward, then fold it back, rotate it a little and push again.
Add oil slowly while kneading. Knead for 12-15 minutes.
Slowly you will see that the dough has turned smooth and is not sticking to your hands.
Take a small piece of dough and stretch it between your fingers. If you are able to stretch it to a thin sheath without breaking, then the dough is ready, else knead for a few more minutes.
Grease a flat bottom pan or container.
Transfer the dough in the container, turn it over so that it's covered with oil.
Cover the container with a lid or plastic wrap.
Mark the container with a marker.
This will help you know when the dough has doubled. It will take anywhere between an hour to two to double in size depending on the temperature of your kitchen.
Place a parchment sheet on a baking tray.
Turn the dough on a lightly floured surface and knead it very lightly to degas it.
Pat the dough into a 10" rectangle.
From the longer side, fold one third of it on to the centre. Press it lightly.
Now lift the other and and fold it over. Pinch to seal.
Fold the dough over to bring the two edges on top of each other. Pinch to seal the edges and ends as well.
Roll it lightly to make it 12" long.
Carefully lift the ready roll and place it on the prepared baking tray with the seam side down.
Brush it lightly with a mixture of milk and oil. Cover with a cling film and let it sit undisturbed in a warm place till it doubles in size.
Meanwhile preheat your oven to 190 degrees Celsius.
Take a sharp knife or blade, dip it in oil and make a few diagonal cuts in clean strokes.
Brush the loaf with milk and oil mixture for a nice colour and place it carefully in the oven.
Bake for 20 minutes. Bake for 5 more minutes in fan mode at the same temperature. This will give a nice colour to the bread.
The bread is ready when you tap the bottom and it sounds hollow.
If you have a bread thermometer, then check the loaf. It should read 200 degrees Farenheit.
Once the bread is done turn it on a wire rack and let it cool completely before you slice it.
To make crostini, slice the bread, add toppings of your choice and serve warm.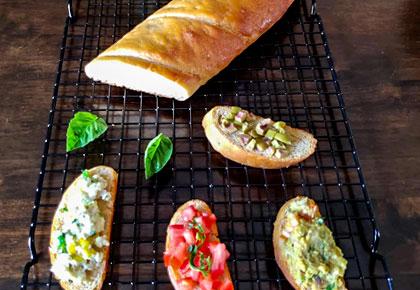 ---
Would you like to share an interesting recipe or cooking video?
Please do send your recipe/video to us at getahead@rediff.co.in (Subject: My Recipe) along with your name, location and, of course, the recipe.