Crispy Tofu Tacos
Recipe and photograph: Kind courtesy Cornitos
Ingredients
4 4 inch tacos shells
250 ml refined oil
200 gm tofu julienned
150 gm corn flour
Salt and pepper to taste
3 tbsp soya sauce
1 tbsp vinegar
A pinch white pepper
100 gm spring onion
50 gm bell pepper julienned
10 gm roasted sesame seeds (white)
½ tbsp red chili paste
10 ml water
Method
In a mixing bowl add the boiled and julienned tofu and marinate them with salt, pepper and corn flour.
Fold them properly in the marination, make sure corn flour is properly coated on the mushroom.
Heat oil in a frying pan, gently places the marinated mushrooms one by one to avoid clinginess of tofu.
For sweet and spicy sauce
Heat little oil in sauté pan, add minced garlic till raw aroma of garlic disappears.
Add chopped ginger, mix them for a minute, add tomato ketchup and some water. Stir for 2 to 3 minutes.
Add soya sauce, vinegar and bell pepper. Sauté for 3-4 minutes. Sauce is ready.
For tacos stuffing
Re-fry the tofu in oil until crisp golden brown.
Add the tofu in prepared sauce, mix it well so that all the flavours from sauce is absorbed by mushrooms.
Add spring onion toss them gently, sprinkle roasted sesame seeds stuffing is prepared.
To make tacos
Heat tacos for 20 seconds and stuff the prepared stuffing of tofu in the center of tacos.
To plate
Crispy fry some noodles in little oil. Arrange tacos in a platter, garnish with chopped coriander and sprinkle roasted sesame seeds on top of it.
Serve hot.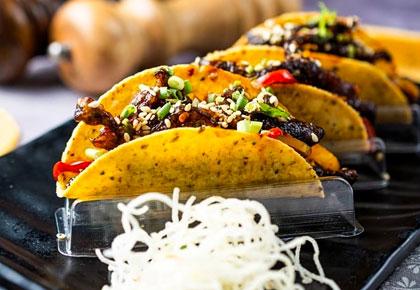 ---
Would you like to share an interesting recipe or cooking video?
Please do send your recipe/video to us at getahead@rediff.co.in (Subject: My Recipe) along with your name, location and, of course, the recipe.