Four individuals who have taken up poker professionally tell Norma Godinho/Rediff.com how their stars have changed for the better.
Poker is often viewed with some suspicion, what with the popular card game played at casinos. The game also has an online version that caters to a huge number of poker addicts.
Traditionalists may not be very welcoming of the game, but people involved in pushing the card game among the masses know what they are dealing with.
"Every product has a niche and there is an unfounded taboo around poker and hence our growth has been limited. But there is a market. Lot of people travel outside the country and there they see this sport being taken seriously as careers and people building a lifestyle out of it," says Amin Rozani, CEO, Spartan Poker, and founding member of the Indian Poker Championship.
And his claim is not unfounded.
Last month, Rozani hosted international poker star Dan Bilzerian at the Indian Poker Championship in Goa.
A look at Bilzerian's Instagram page gives one more than a gist of what Rozani claims. The man lives the high life with babes, beaches and a life to envy.
But you may be wrong to think that Bilzerian's is an odd story -- not the norm, but an exception.
Meet once ordinary folk, Indians no less, who now make a living out of poker and are soaking in the good life.
Muskan Sethi, 25
Muskan was a regular child, going to school, playing with friends. What set her apart was her love for card games.
When she was four years old she liked playing 'bluff' and often won. Over time she became a chess champion in school, while dabbling in tennis and devoting time to video games.
"When we'd go to the hills for summer holidays, I would find relatives playing cards. I'd sit next to them, try and learn from them, read their body language. On the weekends my dad would watch poker on TV and I used to ask him a lot of questions about the games."
"When I was 13, I threw a surprise cards party at home and a lot of people turned up. My parents were not at home. When they returned to find a whole lot of people playing cards, they were bemused, but very supportive. I never knew it would be my career. I just knew it was one thing I loved doing," says Muskan.
"I played poker and flash with my friends's grandparents during Diwali. In college I started playing poker on Facebook. That is when my boyfriend -- now my husband -- encouraged me to get into the real game. He knows how much poker means to me. He knows that I talk, breathe and live poker," she adds.
"Poker is one of the greatest and most complex mindsports out there," says Muskan who qualified for the television show, Shark Cage. Her appearance on Shark Cage was a turning point as her performance competing alongside some of the game's leading lights convinced Muskan she had found her calling in life.
Then she was invited to Barcelona to play for a million dollars. Playing such high stakes tournaments calls for discipline and lots of skill to stay on top of one's game.
"It takes weeks and months of honest, mindset, training. You can either do this with a mind coach or just do this by meditating. One can maintain soft focus, do breathing exercises. Yoga is one thing that helps me to be very strong," says Muskan who maintains that "staying hydrated is key".
In 2018 Muskan was honoured by the President with the First Ladies award, celebrating her position as India's first female professional poker player. She has also been named India's Responsible Gaming Ambassador by the All India Gaming Federation.
"All these are confirmation from the universe that I was born to do this," she says, "I feel very blessed to do what I love and love what I do."
The one advice she has for budding poker players is: "Follow bankroll management. You will never play out of your budget if you do so."
Sharad Rao, 24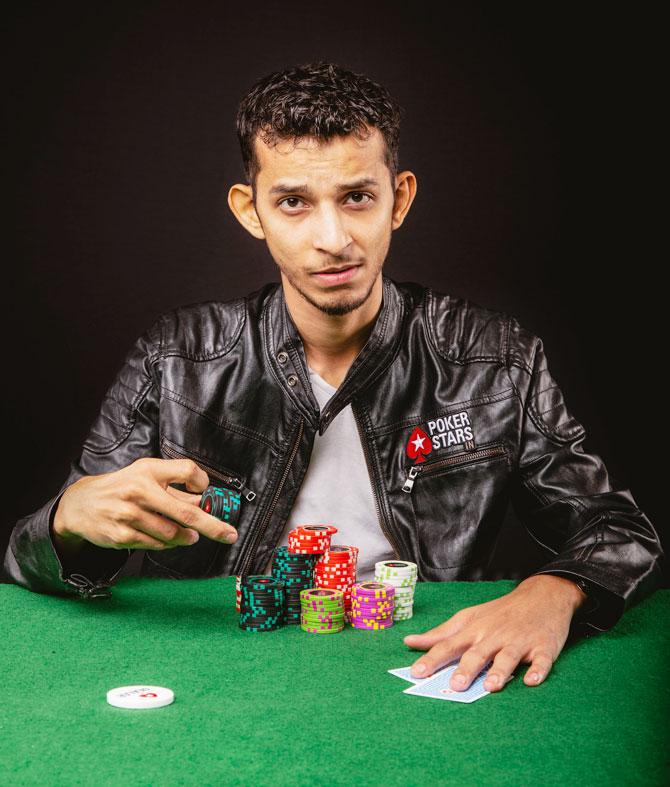 Sharad grew up in a middle-class family in Pune, whose parents had to strive to get by at the end of each month.
"We didn't have a scarcity of resources, but we also didn't have surplus while growing up. I remember my parents used to try and get through the current month because we lived on a tight budget," he recalls.
"When I was a kid and I'd make any demand, my parents would say, 'Maybe we'll buy it on your next birthday'. I didn't know what I'd do when I grow up, but I wanted to be the best in whatever career I chose so that I could have a lot of money," says Sharad.
Then Poker happened.
"In college I used to end up spending my monthly pocket money within two weeks and the last two weeks I was like 'I need more money to go out and have dinner with friends'. I didn't want to ask my parents for more money so I was looking out for ways where I could make money."
"It's around this time that I got introduced to poker by some college seniors who told us about a free event happening on the Internet. We were informed that if you won the freeroll (an event where you enter for free but if you finish in the top 10 per cent, the Web site hosting the event gives out a prize) you can make money out of nowhere. I was lucky enough to win these freerolls."
"I had to play these freerolls for 4 to 6 months at a stretch. I kept doing it while my classes were on. One day, I was lucky to win one of these freerolls for Rs 60,000. I started investing this amount into smaller chunks for my poker game and that is how I started building my way to higher stakes. And that is where my journey started," says Sharad, whose total career prize money is more than $127,000 so far.
"I started enjoying the game when I was introduced to the nuances of the math behind it, how game theory works, how each and every decision has reasoning that goes into it," he asserts.
Sharad says his parents were supportive "because they knew I was serious about poker and they saw my sincerity."
"They saw me studying; they saw me trying to get better at the game. Even when I was not playing, I'd spend hours, just studying my game, just reviewing my opponents, getting into their heads. I had my coaches who were in Canada, and I used to have my weekly sessions with them."
"Winning that 60k in a freeroll, that was my seed amount and I have been spinning that amount into the money I have today. How I invested that seed money was important. That is the reason I followed proper bankroll management. I had good coaches who told me how important it was to follow bankroll management because it is way more important than your overall skill because you could be the smartest in the country but if you don't follow bankroll management you could easily go broke," he says.
"You could have average skill sets but if you have proper bankroll management you can actually make a lot of money just by that sheer discipline," he adds.
Sharad keeps busy trying to improve his game because "players at the top study really, really, hard."
Poker has allowed the young man the luxury to work from home and spend time with his family. "My goals are the same as any other working individual. I'm trying to buy early retirement. I have some financial goals. And whenever I have some surplus winnings, I make sure I invest them."
There is something poker has given him that nothing can match: "The thing I'm most proud of would be clearing off my education loans. When I had a lot of money I went to my father who told me to clear off my loans which he'd taken. Clearing those were a big relief because I don't know what I would have done had I not gotten into poker," says the engineering college dropout.
Dr Yuvraj Singh, 35 and Dr Akanksha Singh, 33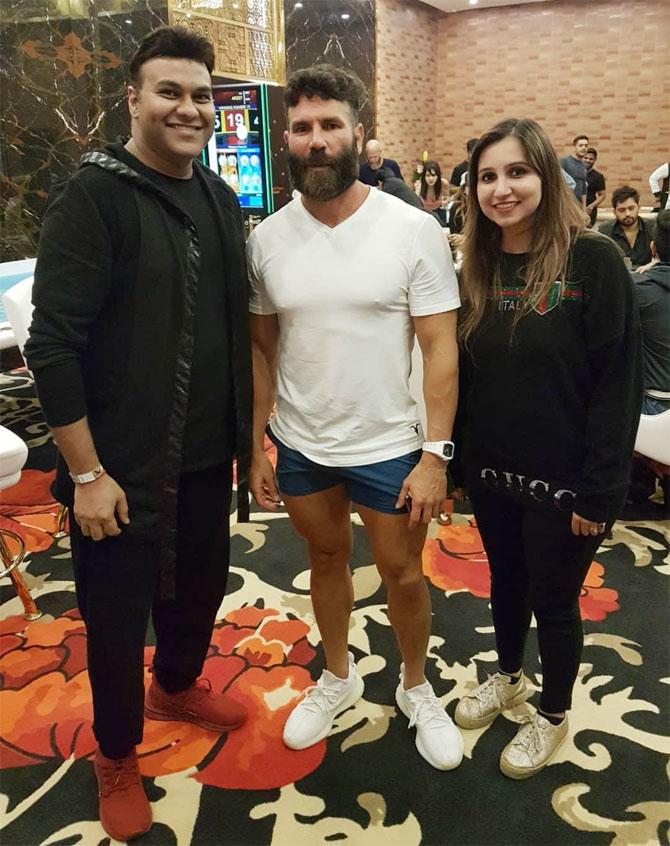 Yuvraj, an orthopaedic surgeon, met Akanksha, a dermatologist, at the Nanavati hospital, Santacruz, north west Mumbai. While they found love during their stint at the hospital, another thing bound them -- their live for card games.
They often found played cards long after their shifts ended. The couple say they have 007 to thank for their poker love.
"In our free time we used to play teen patti for small stakes," says Yuvraj. "My wife had a crush on James Bond and she saw him playing poker in the 007 movies. A friend decided to teach us. He taught us the basics and we started small stakes, 100 rupees per hand and gradually we developed interest."
"We watched a lot of videos, read about poker. I understood how fascinating the game is. We used to go to work, come back and play all night long. Poker gradually became part of our lives," adds Yuvraj.
The Singhs enjoyed poker to such an extent that they eventually asked themselves: "What do we really want? Do we want to practice medicine?" says Akanksha.
The couple started playing poker professionally in 2013, six months after learning the game.
They gave up practising medicine when two years later as poker became the centre of their lives.
The decision to give up medicine didn't go down well with their families.
"Being accepted as a poker player was tough. It didn't make sense to my father who is a surgeon, and still doesn't make sense to others," says Yuvraj.
"My parents were also against it," says Akanksha. "But I was so fascinated by poker. If you want anything in life, you have to stick to it, you can't let it go. For me poker was like that. I just loved playing and I knew this is what I want to do."
"The reason for not accepting poker is because people think it's a card game so it has to be gambling. Society needs to understand that poker is not gambling. This is a skill-based game, it's like chess," says Yuvraj.
"People need to understand that this is a sport and you can't be successful until you work hard. But if you have skills you will make good money," Yuvraj adds.
Stating that poker is not a sport that can be mastered, Yuvraj says: "A newbie can get lucky for a day or two, but if s/he does not have skill, s/he will not survive. Each and every call you take during a game has a math, logic behind it. It's a game that involves a lot of complex thinking."
"It's about meta-thinking -- reading the opponent's body language, getting into her/his head. Poker involves a similar approach as chess. I have to read what s/he is taking and what I want her/him to think and vice-versa. The idea is to always be ahead of the opponent. It's a pretty complex mind game," Yuvraj explains.
The couple read books, watch videos and have taken online masterclasses from strategists Phil Ivey and Daniel Negreno.
"I am still learning. I don't think everybody is a perfect poker player. Everybody learns. There are upswings, downswings. So we need to analyse every hand, what mistakes we made and then correct them. Even Sachin Tendulkar or Shane Warne can have a bad day," says Yuvraj.
"Similarly in poker if I have an edge doesn't mean I'm necessarily going to win. So one needs to work on one's game because everybody is learning and evolving," he adds.
Stating that they have healthy competition at the poker table and try to outplay each other, the couple mutually discuss hands.
"It's tough, but that's the beauty of it. We love playing against each other," says Akanksha who usually plays for lower stakes.
The couple has enjoyed success away from the poker table. Yuvraj makes short films, Akanksha has sung jingles for ad films.
"Poker is life," declares Yuvraj. "It teaches you how to live. Just like life, it has ups and downs, it teaches you how to fight daily challenges and how not to get disheartened."
"We are more stable since we started because poker teaches you to be patient. I meet several kinds of players at the table, but you have to keep calm. If we learn that on the table and apply that in life, we become better, mature, people," says Yuvraj.
"Sometimes if you've lost a big hand or any downswing happens, you get sad. But how to overcome that and go back to playing with new confidence, that is important," adds Akanksha.
Yuvraj hopes to participate at the World Series of Poker next year and win it "just to hear India's National Anthem play at the event."