A Class 12 student is changing the lives of the girls in her village, says Geetanjali Krishna.
Illustration: Dominic Xavier/Rediff.com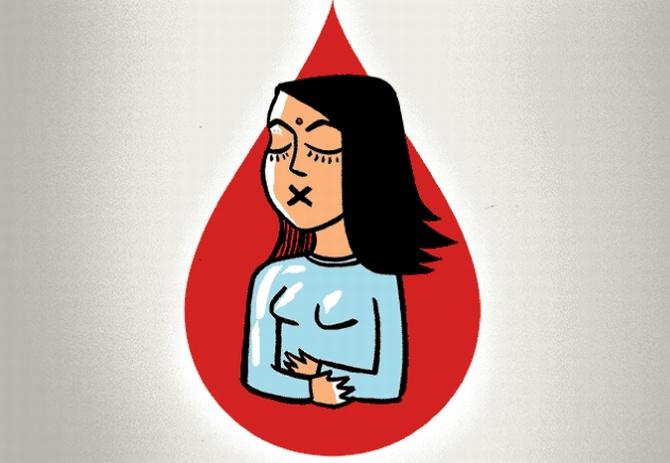 A couple of years ago, I visited the Bulandshahr, Uttar Pradesh, branch of the Shiv Nadar Foundation-run VidyaGyan School for underprivileged meritorious students.
Spending as much as Rs 21 lakh per student over seven years, the two branches of VidyaGyan (the other one is in Sitapur, UP) provide world-class educational inputs in the hope that their students will develop into social doers with strong rural roots.
While the campus was impressive and students even more so, I wondered whether transplanting children from households with incomes of less than Rs 1 lakh (a prerequisite for admission) into privileged boarding schools would impact their ability to return to their communities.
A recent conversation with Shikoh Zaidi, a Class 12 student of VidyaGyan, Sitapur, made me realise that not only could this be done, but that young people like her have the potential to become potent tools of social change.
"Last year, for a school project, I studied girl child education in my village," Zaidi told me.
Conversations with community members enabled her to identify two basic reasons why her contemporaries in the village dropped out -- either their parents weren't committed to their education or the girls themselves found going to school tough while menstruating, as they didn't have access to sanitary napkins or clean toilets.
Commercial napkins were unaffordable. "And the government-subsidised low-cost pads were only available 20 km away, in the block clinic," she said.
Consequently, all the women she spoke to used cloth instead, drying it away from the public gaze instead of in full sunlight to kill the germs.
"As part of a reading assignment in school, I'd read Deepa Narayan's book on gender inequality called Chup," she said. "It inspired me to help the young girls in my village."
Zaidi started by organising meetings to talk about health and hygiene.
"Initially, nobody was interested," she recounted. "But my father supported me wholeheartedly and when he requested our neighbours to come for my meetings, they couldn't refuse him."
With the help of animation videos downloaded from the internet, the teenager started by talking about menstrual hygiene and the need to break the taboos around periods.
Many in her conservative community, including her mother, were initially sho­c­ked.
"It was quite daunting, especially as ma­­ny of the girls giggled loudly while I was speaking," she said. "But I felt I had to go on."
Zaidi derived much strength from her father, a farmer who has studied up to Class 12.
"Abbu jaan has always supported my project," she said, "as he firmly believes that lifting taboos around menstruation and educating girls on menstrual hygiene will go a long way in empowering them."
With his support and regular mentoring by VidyaGyan schoolteachers, Zaidi has spent the last year having open conversations about healthy menstruation practices in her community.
Consequently, more and more families are coming around to the idea of letting their daughters use sanitary napkins and allowing them greater freedom during menstruation.
"Now I'm going to pressurise the health department to make low-cost sanitary napkins available with the ASHA health workers in our village," she says.
Zaidi wants to study law and hopes to join the IAS.
"Having received such a good education in school, I'll do whatever it takes to help my community." she said in parting. "Promoting menstrual hygiene is just a start..."
What is the strangest menstruation myth you have heard? TELL US in the message board below.