Instagram sensation Dan Bilzerian makes a pit stop at the Indian Poker Championship.
Norma Godinho/Rediff.com reports from Goa.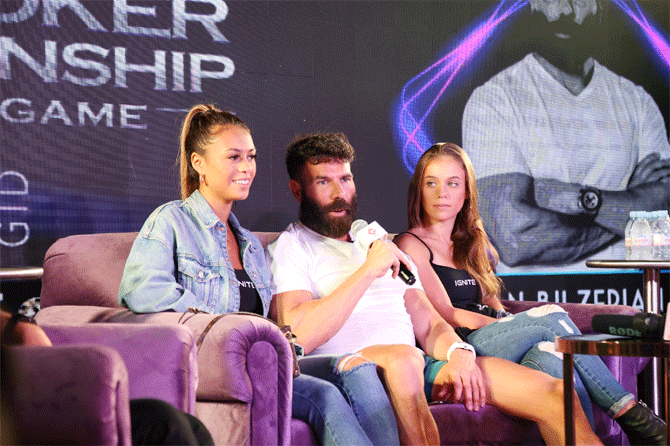 The Big Daddy Casino, docked off Panaji, is abuzz with a steady stream of people heading to the den.
The four-day Indian Poker Championship is underway at one of Goa's popular casinos and the excitement is palpable.
The sport is consumed by a niche community and is not yet mainstream, so sharing space with a room full of influencers and bloggers -- the new age 'ad gurus' -- donning pretty numbers and drenched in make-up, is an experience.
But nothing, and no one commands more attention than the king of the 'gram', Dan Bilzerian.
Bilzerian, a professional poker player, with his lavish lifestyle on show, has over 28 million followers on Instagram and there could not have been a bigger influencer at the IPC on Sunday night.
With two PYTs hanging around each arm, Bilzerian is escorted to the casino with super tight security.
The media and the influencers have just a few minutes to throw their questions at the Canadian, who is only too happy to answer them.
Bilzerian gives gave some poker-related advice while emphasising how lucky today's young poker players are.
"There is a lot of online training right now that was not available when I started playing poker. There was a book called Super System by Doyle Brunson that I learnt from.
"Now there are training sites where you can learn to breakdown what you can do in every situation. There are solvers now too. They tell you exactly what you're supposed to do. Every single hand, what you're supposed to open with. The game has really evolved, in the sense you can now play the game perfectly," Bilzerian says.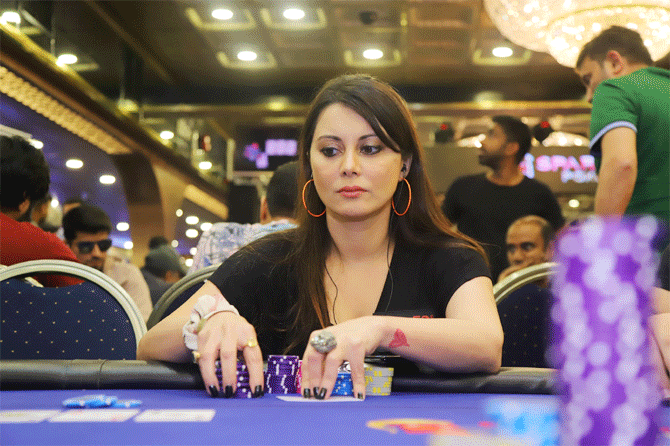 For someone who took a fancy to poker in his teens, Bilzerian has enjoyed mixed fortune at the table. He doesn't shy from revealing his biggest wins and nights of lows.
"Poker is a game of skill. The key is to find people with more money and less skill.
"The most money I won was $12.8 million in a night, fours years ago. I consider 3 an unlucky number for me because I lost $3.6 million on 3 separate occasions."
Bilzerian, who later in the night, played a round of high stakes poker at the casino leaves quite an impression.
The IPC sees nearly 2000 players registered for the four-day event and Amin Rozani, founder member of the IPC and CEO, Spartan Poker, couldn't ask for more, especially since the tournament returns after a three-year hiatus.
"Much to our surprise the response has been phenomenal," the 38 year old says. "We used to do 200, 220 entries earlier. It's been more than three years, we thought people are waiting for this tournament."
"We thought 300, but we had numbers like numbers like 450 and 700. That is a 50% jump to our expectation," Rozani adds.
"In five days we have four tournaments. One tournament is a two-day tournament, other tournaments are one day each. The first tournament had 430 participants that was a 10k buy. On Thursday we had a Rs 100,000 high roller tournament that is one of the most expensive tournaments in the country," Rozani says.
"There we expected 100 but we got 207. On Friday and Saturday, collectively it's a two-day tournament -- we expected 450 and we got 777 participants. On Sunday, it's a 15k tournament expecting 200 people."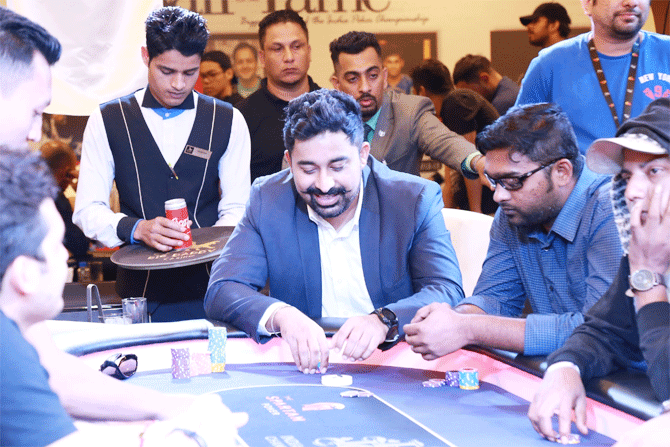 Over the last four-five years, big names from the world of cricket -- Shane Warne is associated with World Series of Poker and Chris Gayle with another brand -- along with chess wizard Viswanathan Anand, have been roped in to drive mileage for poker.
Marketing the sport in the right channels in of essence for the sport's growth. The IPC has popular VJ Rannvijay Singh Singha as its brand ambassador.
"Our youth today is ambitious and aggressive, and we have a person like Rannvijay whose personality is all sporty, so people who aspire to become like Ranvijay are like 'He plays polo, basketball and poker, even I should try that'," explains Rozani.
"Every product has a niche and there is an unfounded taboo around poker and hence our growth has been limited," he adds. "But there is a market. Lot of people travel outside the country and there they see this sport being taken seriously as careers and people building a lifestyle out of it."
"The youth understands it. Most of our clientele are doctors, lawyers, reporters, bankers, professionals. This kind of crowd is much more informed, highly educated, well travelled. So they understand the sport, they don't look at it as a taboo, hence we've been able to capitalise on that," Rozani points out.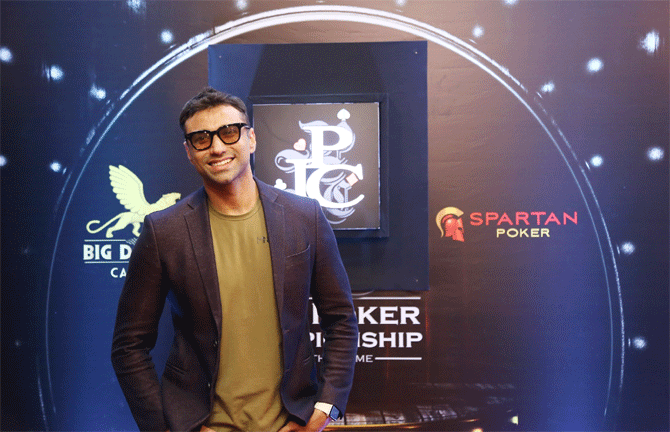 According to Rozani's estimates, poker should be making between Rs 500 crore and Rs 700 crore (Rs 5 billion to Rs 7 billion) a year -- online and in the live space. "On the live space it's Goa and Sikkim and on the online space it is online sites in the country," he says.
"If we continue doing events like the IPC, other events like the World Poker Tour, if we keep these events in the country, we'll have a bigger base of poker players coming in and trying to evaluate if they are really good at the sport. That is when people will start taking poker as a career," Rozani adds.
Rozani, who wore many hats, including that of a banker, BPO professional and consultant before launching into his poker dreams, wants to bust myths around the sport.
"Being a poker player myself I can tell you that poker is purely skill based. Practice makes perfect."