Abhijith Gopinath aka A.B.I was mocked through school and college.
He found solace in hip-hop and chose love over hate.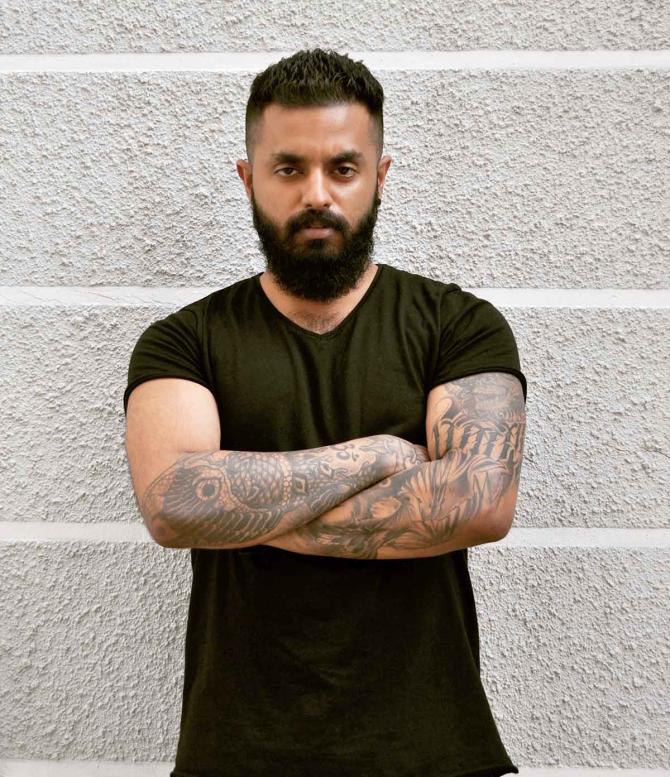 Abhijith Gopinath may sound like a name for a LinkedIn profile -- a young Malayali boy who wanted to pursue an MBA, get a six figure salary and settle somewhere abroad.
But A.B.I as he is known today, is an alter ego for everything Abhijith may not always directly express to the world.
Growing up in Kochi, whenever Abhijith was bullied through school and college, whenever people around him misunderstood his sensitive nature to be some sort of a mental disorder, he sought refuge in his alter ego.
While A.B.I may have started writing just for himself, often expressing his pain and thoughts in broken words, he never realised that music can be a great medium to talk about mental health issues.
What started as a mere expression of teenage emotions soon metamorphed A.B.I into an altogether different person.
From someone who was struggling to cope with language issues and find his identity in a foreign land, A.B.I chose to turn his weaknesses into one his biggest strengths.
"Abhijith was a nobody. But A.B.I could be anybody. He could be you," A.B.I, the 26 year old tells Rediff.com's Divya Nair.
One of his songs Vibhakthavyakthithvam (meaning split personality) where he features alongside the rapper 16 bars was derived from a similar concept he first wrote through 'WHO IS A.B.I ?? (external link)' released in 2016, where he talks about 'being a giver than a taker' and choosing 'love over hate'.
"He could be good, bad, a local, a foreigner, a male, a female -- basically anyone who had a voice that wanted to say/show something to the society, the world. And I realised that people wanted to listen to me, what I was writing, what I was going to say. It mattered," adds the artiste while explaining why he dropped out of his master's degree in the final year and moved from Berlin to Kochi to write and sing songs for a niche audience.
From English, A.B.I gradually moved to Malayalam -- a language he was most comfortable in.
In August 2019, he made a breakthrough with the song Kochi. The track blending English and Malayalam lyrics, directed by Vishnu Mohan Kumar with 183,000 views on YouTube put A.B.I in the forefront of hip hop in Malayalam.
Today, with over 200 songs and a steady fan following of over 13,500 niche subscribers on YouTube, A.B.I is hoping to put Malayalam rap on the world map.
What inspired you to write songs?
I have been practising music since I was 13. I started out putting out music in Germany through my YouTube channel but never thought of pursuing it professionally.
What really inspired me to write was the emotional stress I was going through -- the general lack of support, dealing with bullying in school and how I dealt with the situation.
I remember when I changed to Chinmaya Vidyalaya Vaduthala in Kochi, I wasn't good at speaking English.
I was bullied for my language.
Since I was short and dark, kids made a huge fuss. I know it's not unusual for kids to tease or mock each other, but since I was a sensitive person, it affected me a lot.
So I put it out through my music.
You dropped out of college to pursue music. Weren't you scared?
I used to do freestyling in school, so that used to get me a lot of attention. I've done rap battles online with absolute strangers from across the world.
I was criticised, trolled but I never felt that satisfaction doing anything else.
Initially I used to write in English, but I started rapping in Malayalam in 2015.
I was pursuing my master's in Germany but I dropped out and came back to India in 2018, because I felt I could express better as rapper.
What kind of music influenced you while growing up?
I used to listen to Eminem, 50 Cents, Snoop Dogg, Immortal Technique.
I liked how the artistes expressed themselves, the raw format.
There's no mask that you put on. If you listen to classical music, it mostly talks about love and peace. But the reality is so different.
The world, the people around you are going through so much. And that's what rap is all about -- it talks about the real issues, the pain, the suffering, the conflicts around you.
If you listen to Eminem, it is all about his personal life, his suffering, his childhood. Similarly, Immortal Technique talks about politics.
For me, I got passionate about mental health awareness. I wanted to put it out through my music.
What kind of emotional stress were you going through?
I was always this problem child. Initially a couple of doctors we consulted felt that I was bipolar.
Later, it was discovered that I had borderline personality. Basically, I was going through an identity crisis. I found solace in hip hop.
I felt that if I write or talk about it, other people like me, who have difficulty talking about their problems may be able to relate to it.
What was the first song you wrote?
I wrote the first song for a girl back in school. I was 13 at the time.
It's not on YouTube right now. Some of my friends may still have it.
But I was clearly off pitch, the lyrics didn't sync with the music.
I remember taking in a lot of things I had heard from other artistes, so it didn't stand out so much. But it was relevant to my life even though I wasn't so evolved.
How has your understanding of music evolved in the past decade?
A lot of people also understand rap as diss music. It's a part of the culture to abuse (other musicians, the society, a person, the situation etc).
Ultimately, it's about who comes up with the sickest lines. That is how I was introduced to rap/hip hop.
But now, after all these years, when I think about it, I don't confine myself to it.
If the culture talks about the dark stuff, I want to bring out the positives. I believe that talking about the negatives will only make you dwell in it more, not come out of it.
In 2020, I put out a lot of songs even though a lot of shows were cancelled. Even if you don't have any logic to support it, I do express what I am feeling at the time.
So, if you are passionate about something and feel deeply about it, you should go for it. That is what I believe in when I write my songs. I put all my heart in to it.
How did you deal with criticism, negative feedback?
Whatever music I've made so far, I made it in my room. When I started, there was no support at the time, not financially, not emotionally.
There were times when all the criticism would pull me down, make me wonder, what am I doing, really?
But at the same time, I couldn't think of doing anything better. So I chose to look at the people who were appreciating my work.
When people told me they relate to my lyrics, how it pushed them to move forward, I felt like writing more, singing more.
And that's what made me believe that this is where I truly belong -- that I need to make music for the people who believe in me and want to hear more stuff like this.
Even today, people tell me they don't understand my lyrics. Some people want me to write simpler lyrics.
Personally, I focus more on the lyrics, I like multi-syllable rhymes. And that's what makes my music different.
How do you think your music is making a difference in society?
I have always been a fan of '90s music. Songs with subjects like drugs, women, money is making money in the West. But I'm more emotional; you can say, old school.
I have written songs about the Syrian conflict.
When I was in Germany, there was a lot of rape by immigrants, so I wrote about it.
There is a song called Kappiri (meaning negro in Malayalam) about discrimination. In (the track) Abhaya Meghala, I am talking about moral policing.
As a musician/artiste, I feel we have a lot of responsibility as well.
Today, I would say, there is a need for media abstinence.
Every day we see and read so much of news. But at the end of the day it is about how this news is played out for you that you will ultimately make your perceptions on.
For example, the tracks Anubhada and Vaccine are songs that critically talk about the virus. I'm posing as a believer and non-believer in them because am not sure either whether it is good or bad for us.
What do you think about the rap scene in India?
India is like on the forefront of this rap revolution right.
Indian rappers are going international.
Divine was featured on Times Square. He collaborated with Nas, one of the Godfathers of hiphop.
For an American artiste to collaborate with Indian artiste is a big thing.
I want to do the same for Malayalam, I want to put Malayalam hip-hop music on the world map.
Tell us about the Malayalam artistes whose work you admire.
Nomadic voice, based in Ireland – he works as a nurse during the day, has a hell lot of tasks to do, but finds time to make music because he is so passionate about it.
One of his songs has crossed over 10 million views.
I also like Vedan from Kochi. You must listen to Voice of the Voiceless -- they are true to their name, they bring out the real voices from the society -- stuff you don't hear in the mainstream media.
What's next for you?
I have done this track for the Malayalam film Aaha (directed by Bibin Paul Samuel, starring Indrajith).
It was postponed due to the pandemic last year, and will hopefully come out this year. I'm really looking forward to it.
What's your big dream?
I really want to make Malayalam rap international. I am not bothered about English so much now.
Earlier I know I used to have this huge identity crisis. But eventually English is a colonial language.
When it is in Malayalam, I can connect better. I plan to do international shows in Dubai, Europe, the US, Australia where there are Malayalam NRIs abroad.
I want to go back to Berlin. I have a feeling I didn't achieve much in Germany. So I want to go back and create a spark with Malayalam rap.