'When engulfed in doubt, like these current testing times, I ask myself: How would Dhoni have handled it?'
Raju Bist from Thane tells us how he spent the last two months of lockdown.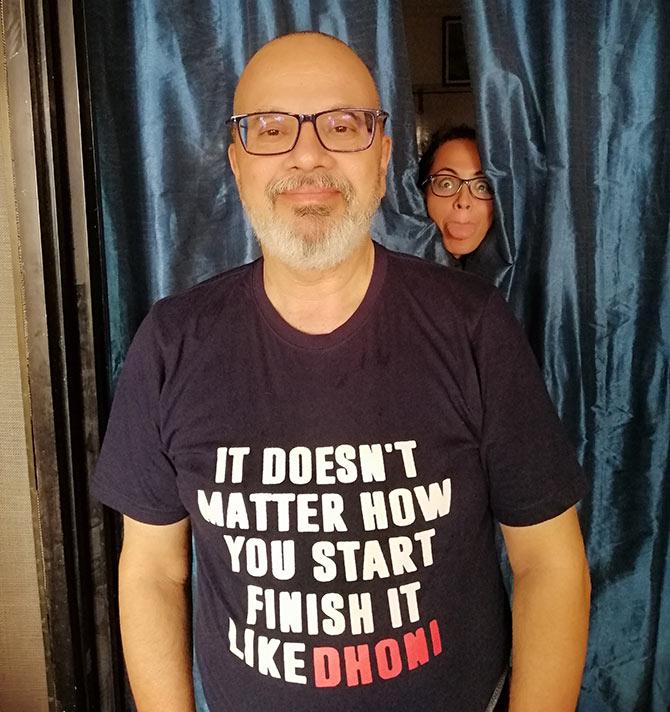 I am a media professional who lives in Thane with my wife. Before the lockdown, my daughter and son-in-law came to stay with us.
When news about this coronavirus first started filtering in, neither my friends nor I gave it the attention it deserved.
Another kind of flu, we all thought; it would disappear soon.
But when it got an official sounding name, COVID-19, we knew things had become serious.
After the first phase of lockdown was announced on March 25, I started regularly tracking the swift progress of the pandemic online, announcing to my family members on a daily basis, the number of confirmed and deceased patients in India as well as other countries.
But this soon turned into a depressing exercise. And I stopped it altogether.
Instead, I drew up a daily lockdown routine to keep myself busy and healthy.
I started by walking in the morning, evening and night around my building; reading; doing light exercises at home; a short siesta; and leisurely discussions with family members over coffee.
Within this broad framework, I tried to pack in as much activity as possible, keeping my mind active and away from negative thoughts.
I watched shows and movies on Netflix and the other three OTT services I subscribe to.
I listened to my playlist of 800 English, Hindi, Marathi and Punjabi songs on Amazon Music; chatted with old friends on WhatsApp; and browsed through my collection of 2,000 plus books.
In my 42 years as a media professional, I have been engrossed primarily in magazine journalism. But all along, I have also focused on street and candid photography.
I have shot some pictures exclusively for myself and have built up a sizeable archive of black and white and colour photographs stored in three external drives apart from my PC.
This lockdown provided me with an opportunity to organise this vast collection.
It also opened up a new avenue to monetise my talent.
I have recently been accepted as a contributor by a leading international photo agency.
This lockdown also brought me back to an old favourite indoor game: Chess.
My wife, son-in-law and I play against each other in our version of a mini tournament.
My son-in-law is an IT professional but is passionate about rustling up exotic dishes. Not only did we sample some of his mouth-watering creations, but we also picked his brain for some kitchen tips.
Not everything about the lockdown, I feel, is serious.
WhatsApp these days is flooded with jokes about husbands reluctantly helping their wives in the kitchen.
Unlike my son-in-law who is a hero before the cooking range, I am a zero.
My wife also has access to these jokes so I try to minimise damage control by helping her cut vegetables and wash the dishes.
The flip side to WhatsApp and some other social media outlets is the proliferation of malicious propaganda and fake as well as negative news. I have therefore de-activated my Twitter account.
At a time when people should be uniting people against a common, unseen, enemy, the social networking service has sadly turned into a festering cesspool of bigotry, hostility and communal hate.
The news all around may not be good for your ears, but you still have to keep in touch with what Is happening in the world.
I had given up on television long ago ever since news channels had turned into akhadaS for haywire motormouths and entertainment channels were only churning out multiple versions of naagins (serpants) masquerading as beautiful women.
So I turn for my intake of news to reliable print publications like The Indian Express and Mid-Day and online-only media platforms like Scroll, Rediff and The Wire.
Along with these, there are other entities to rely on, some known personally, others followed from a distance.
Luckily for us, our housing complex is home to a young practising doctor couple.
Last week, they were kind enough to clear all our COVID-19 related doubts. Their talk to interested residents concluded with a request to remember an important acronym: SMS -- SanitiSe. Mask. Social Distancing.
The doctor couple also asked us to keep a positive attitude and wherever possible, lighten the mood with loved ones at home.
So I organised a photo session with myself as a star model.
In one of the shots, I was photo-bombed by my daughter as I posed in my favourite Dhoni t-shirt.
Aah... Mahendra Singh Dhoni! I have been following my fellow Uttarakhandi';s career ever since he strode into the Indian cricket team on December 23, 2004.
Apart from his obvious talent, I have also been impressed by his chilled demeanour, particularly while taking key captaincy decisions.
When engulfed in doubt, like these current testing times, I ask myself: How would Dhoni have handled it?
And the answer always has been: He would have been cool about it.
This resonates perfectly with what my yoga guru Kishore Kotian propounds.
Along with teaching asanas and mudras, he also shares important life lessons, usually through interesting parables.
One of them was about a king and his chief minister's single piece of advice through happy as well as sad times.
I have always remembered the last line of the story and I am sure it fits in perfectly well as I ponder over this pandemic-induced lockdown: 'This too shall pass.'
---
Tell us, Dear Readers, how you spent the lockdown and share your best memories with us.
You can mail your most interesting, funny, sad, even angry lockdown moments via stories, pictures and videos to getahead@rediff.co.in. Please mention MY LOCKDOWN STORY in the subject line.
Don't forget to mention your name, age and where you stay.