Delectable, nutrient-rich fruit and veggie recipes by Chef Sabyasachi 'Saby' Gora.
You can add or subtract ingredients for the Mango Summer Rolls based on what's in your fridge.
Shredded boiled chicken, lettuce, carrots, green tomatoes, apples are a few suggestions.
The toasted walnuts and the lemon-honey vinaigrette add a whole new level of flavour to the Walnut, Broccoli and Apple Slaw.
Mango Summer Rolls with Walnut and Ginger Dipping Sauce
Serves: 4-5
Ingredients
For the summer rolls
100 gm thin rice noodles
10 round rice paper wrappers, available in gourmet shops and online
½ cup thin julienne strips mango
½ cup thin julienne strips red bell pepper or red capsicum
½ cup thin julienne strips peeled cucumber
1/3 cup fresh mint leaves, torn into strips
1/3 cup fresh basil leaves, torn into strips
For the dipping sauce
½ cup walnuts
1⁄ 4 cup hot water, plus additional if desired
2 tbsp soy sauce
2 tbsp maple syrup
1 tsp finely grated ginger
1⁄4 tsp crushed red pepper flakes or to taste
3 medium or 2 large dates
Zest and juice of 2 limes
Method
For the dipping sauce
To prepare the dipping sauce, combine 1⁄4 cup of the walnuts, water, soy sauce, maple syrup, grated ginger, pepper flakes, dates and lime juice and zest in a small blender or food processor and blend until smooth.
Finely chop the remaining walnuts and stir into the sauce, adding additional water if you prefer a thinner sauce.
Cook the rice noodles according to the package directions.
Drain well, rinse in cold water and drain again. Keep aside.
Fill a large shallow dish with warm water and dip a sheet of the rice paper in it.
Let it sit for about 10 seconds or until pliable, but still somewhat firm.
Remove from water and carefully shake off the excess water and place on a cutting board.
Place a small handful of the cooked noodles and a few pieces of the mango, bell pepper and cucumber on it.
Sprinkle with the mint and basil.
Gently fold the bottom over the filling, fold in the sides, then roll up as tightly as possible.
Place seam side down on a serving platter. Repeat with remaining wrappers and filling. Serve with the dipping sauce.
---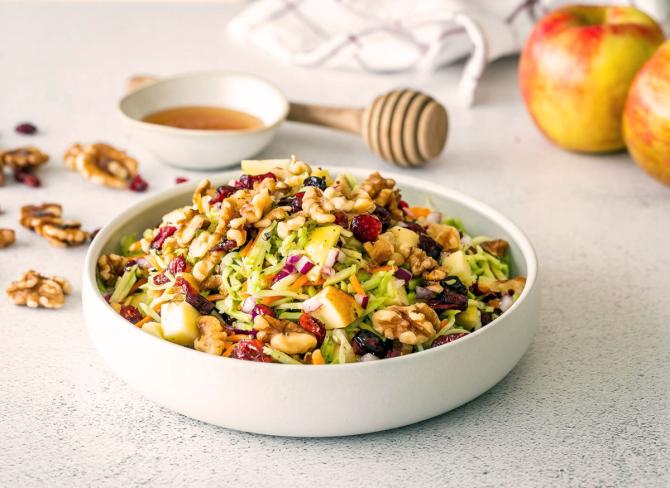 Walnut, Broccoli and Apple Shaw
Serves: 2
Ingredients
For the dressing
3 tbsp extra virgin olive oil
3 tbsp lemon juice
1½ tbsp honey
½ tsp kosher or sea salt
½ tsp ground ginger, optional
Freshly ground pepper to taste
For the salad
¾ cup coarsely chopped walnuts, toasted
½ cup dried cranberries
¼ cup minced red onion
1 (340 gm) broccoli stalk
1 large apple, cored and cut into small bite-size pieces
Method
Whisk together all dressing ingredients in a large bowl.
Add the walnuts, cranberries, red onion, broccoli stalks and apple.
Toss well to coat with dressing