Chef Sabyasachi 'Saby' Gorai introduces two of his favourite brekker recipes that are easy to make and filling enough to keep you energised and satisfied for a good part of the day.
If you have boiled chickpeas handy, the flavourful Chickpea and Walnut Salad Sandwich takes not more than 15 minutes to make.
In case you are not in the mood for bread, savour the delectable chickpea-walnut salad as is, or wrap it up in lettuce.
The Banana, Cocoa and Walnut Smoothie Bowl is a heavenly six-ingredient smoothie with crunchy, omega 3-rich walnuts that is almost too pretty to eat.
The beauty of the recipe is not just the look and flavour, but also its versatility. From apple, pear to types of berries and seeds, you can add any of your favorite foods in there.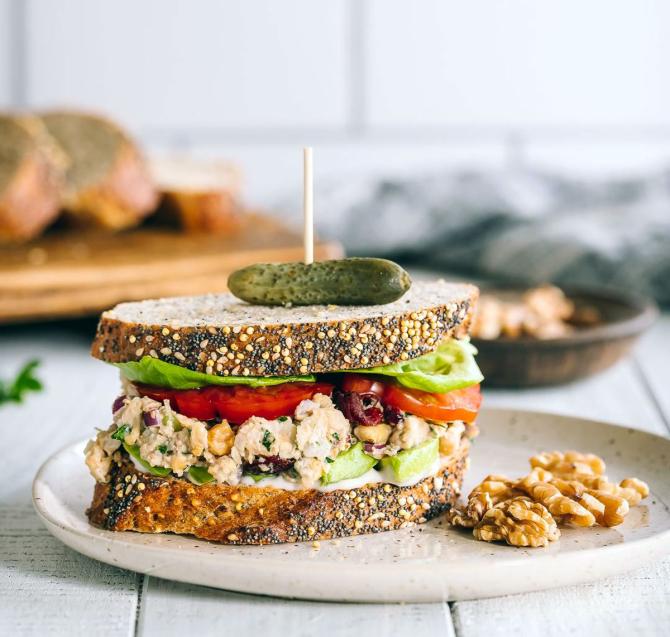 Chickpea and Walnut Salad Sandwich
Servings: 8
Ingredients
1/3 cup vegan/eggless mayonnaise
¼ cup lemon juice
2 tsp maple syrup
640 gm soaked and boiled kabuli channa or chickpeas
2/3 cup diced celery
½ cup walnuts, toasted
½ cup dried cranberries
½ cup chopped parsley
¼ cup minced red onions
Salt to taste
Freshly ground pepper to taste
16 slices bread
8 large lettuce leaves
2 firm but ripe avocados, peeled, pitted, and sliced
Slices of tomato
Garnish with a dill pickle or gherkin
Method
In a medium bowl whisk together the mayonnaise, lemon juice and maple syrup.
Roughly pulse the chickpeas in a food processor.
Add it to the bowl with the dressing and stir in celery, walnuts, cranberries, parsley and red onion.
Season with salt and pepper.
Place a slice of bread on a plate and layer it with a lettuce leaf, tomato slices and avocado slices.
Spread the chickpea and walnut salad on one slice and place the other slice over it. Repeat for the next slices. Garnish with a dill pickle or gherkin.
Or serve as a salad or as a filling in a lettuce wrap.
---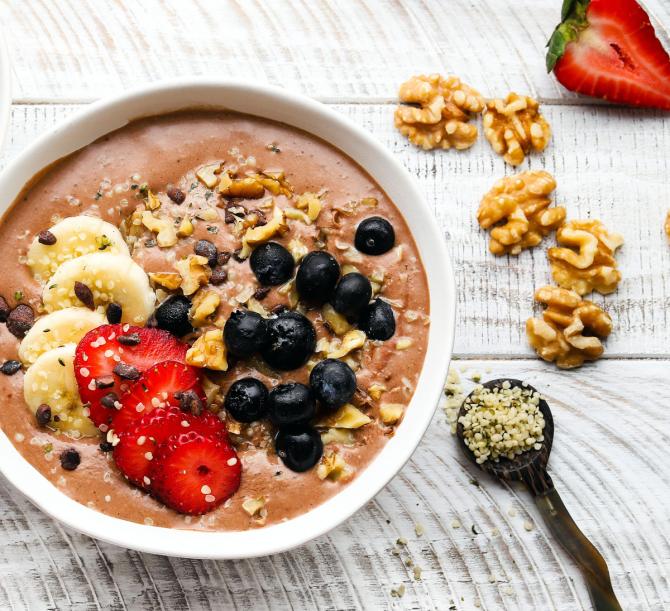 Banana, Cocoa and Walnut Smoothie Bowl
Serves: 2
Ingredients
2 slightly heaping cups frozen banana slices
½ cup low-fat milk or non-dairy milk of choice
2 tbsp walnuts, chopped
2 tbsp cocoa powder
2 tbsp maple syrup
1 tbsp hemp or bhang seeds, optional
Desired toppings like sliced bananas, apples, strawberries, grapes, etc
Method
Place all the smoothie ingredients in a blender and grind till smooth.
Spoon into two bowls and sprinkle with any desired toppings.