Want to make an easy breakfast without too much sweat? Let food blogger Sangita Agrawal inspire you.
Perk up your breakfast with a Poached Cinnamon Pear Toast made with baguettes and cream cheese.
The Mango Shrikhand, which makes for a delicious dip with a plate of hot pooris, can be had as a dessert too.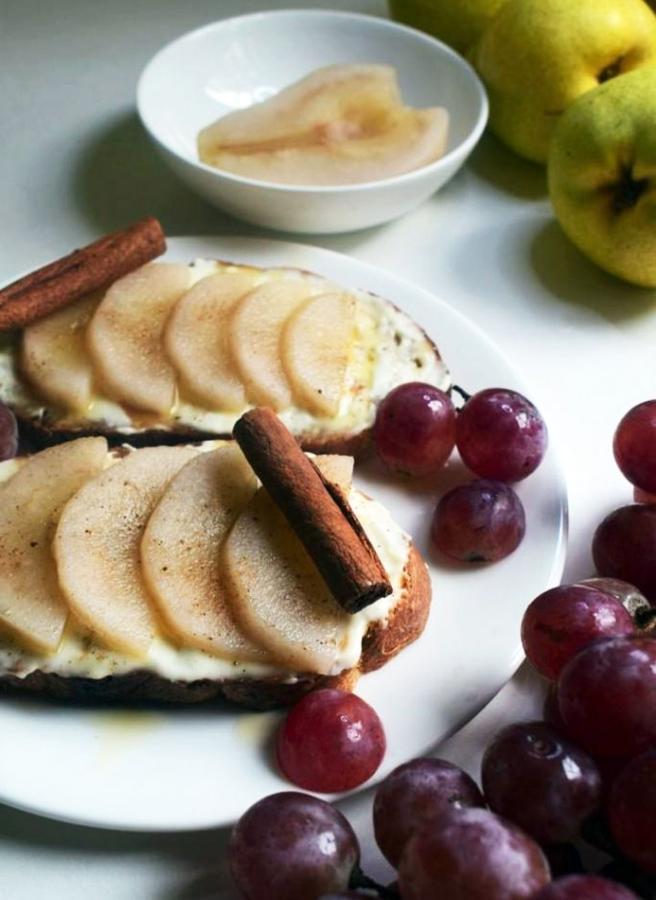 Poached Cinnamon Pear Toast
Servings: 2
Ingredients
For the poached pear
4 cups water
¼ cup sugar
1 cinnamon stick
2 cardamom pods
1 pear, peeled
For the toast
4 slices of baguette
4 tbsp cream cheese
A pinch of cinnamon powder
Honey or maple syrup, for the topping
Method
For the poaching
In a saucepan over medium heat bring the water, sugar, cinnamon, cardamom to a boil.
Add the whole peeled pear and cook for 20 minutes.
Keep turning it every few minutes so the pear has an even colour and is cooked well.
The timing for cooking the pear will depend on its ripeness.
Simmer until it is soft when tested with a knife. Take care to not overcook the pear.
For the toast
Once the pear comes to room temperature, cut in half, remove the seeds and and cut it into thin slices. Keep aside.
Toast the baguette till golden and crisp.
Arrange the baguette on a plate, spread 1 tbsp of cream cheese on it and arrange the pear slices on top.
Drizzle with honey or maple syrup.
Garnish with cinnamon powder.
Repeat the process (please see the picture above) with the remaining slices as well and serve.
---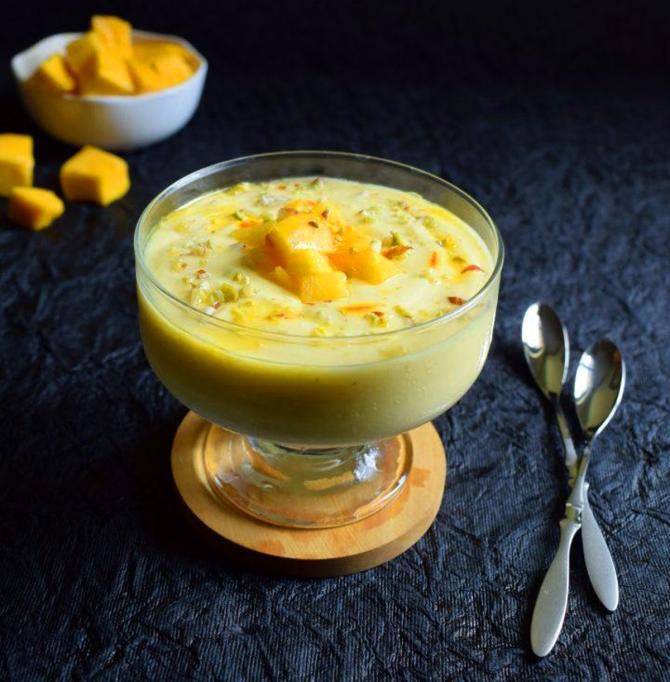 Mango Shrikhand
Servings: 8
Ingredients
1 kg yogurt
200 gm sugar
4 to 6 almonds, chopped
4 pistachios, chopped
½ tsp cardamom powder
A few strands of kesar or saffron
1 tsp milk
1 cup mango puree
A few pieces of mango, for garnish
Method
Place a muslin cloth over a strainer or channi.
Pour the yoghurt into the cloth and let the water drain.
Bring the edges together and tie the cloth into a potli.
Place the cloth in a bowl, and keep it in the refrigerator overnight.

In a bowl take 1 tsp milk and let the saffron strands soak in the milk. Keep aside.

Transfer chilled yogurt into a big bowl.
Add the sugar, saffron milk, cardamom powder and beat it with a hand blender to a smooth and creamy consistency.
Or stir with a spoon and get smooth shrikhand. It will take a little more time and is a bit tedious but worth all the effort.
Add the mango puree and mix well.
Mix in half of the nuts and keep it in the refrigerator for a couple of hours to chill.

Serve garnished with the rest of the nuts and mango pieces.