Looking for a recipe for healthy, sugarless laddoos?
These Oatmeal Laddoos by Sunita Harisinghani are a nutritional powerhouse filled with the goodness of almonds, dates, milk and ghee.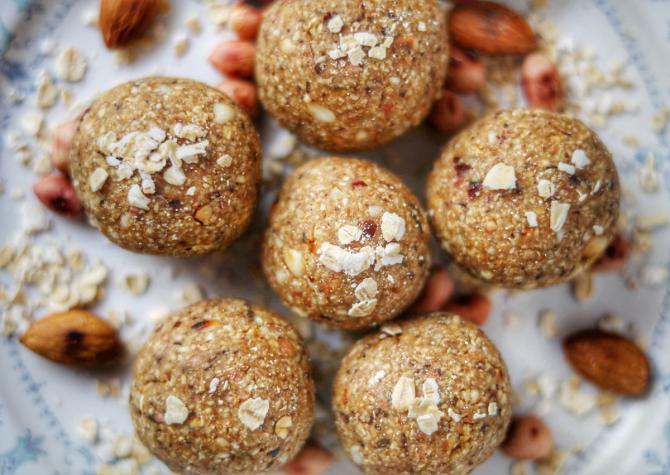 Oatmeal Laddoos
Servings: 10 to 12 laddoos
Ingredients
1 cup rolled oats
½ cup peanuts, without the skin
¼ cup almonds
8 to 10 dried dates, preferably the seedless variety
1 tsp ground green elaichi or cardamom powder or 2-3 cardamom pods
1 pinch of salt
2 tsp ghee
½ cup milk
Method
Warm the milk in a bowl in the microwave.
Or heat on the stove for a few minutes.
Soak the dates in the warm milk for 30 minutes.
Once the dates are soft, grind in a blender along with the milk to a smooth puree.
In a frying pan over low heat, dry roast the oats, peanuts and almonds separately.
Let cool and then transfer the dry roasted ingredients along with the cardamom pods/powder into a mixer jar and grind into a coarse mixture.
In a large bowl combine this mixture along with the date puree.
Add the ghee, salt and mix well.
Make small round balls of the mixture and roll them into laddoos using your hands.
The laddoos can be preserved for a week if stored in an air-tight container in the refrigerator.