Busking is traditionally defined as the act of putting up a street performance for voluntary donations.
Nikita Puri reports.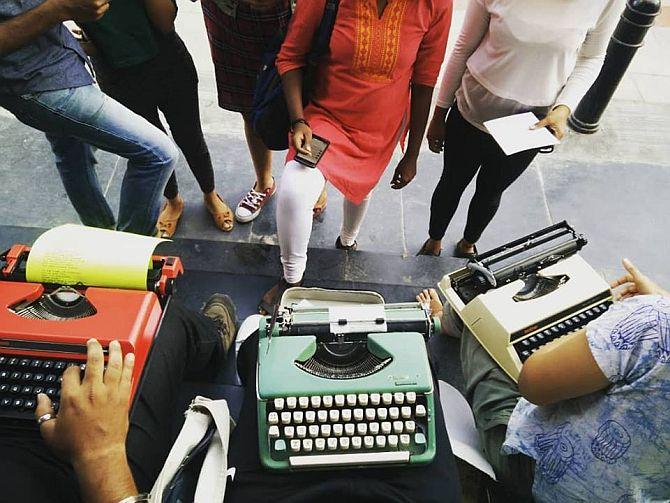 It's become routine for the folks stepping out of Blossom Book House on a Saturday evening to do a double take as they leave the city's favourite haunt for old books.
Sitting on the steps outside this bookstore on Church Street is a clutch of young people, some of whom sketch furiously while others go clickety-clack on typewriters.
Rahul Kondi, a user experience designer by the week, is one of those with a typewriter.
After he's done writing a short poem, he hands it to the person he's written it for.
Kondi asks for no payment in return.
Contributions can be made to the box kept on the steps, but people often end up buying Kondi and his friends some coffee, a cake, or even a pizza from the grub houses that line Church Street.
Kondi and his friends don't know any of the people who ask them to sketch or write customised poetry.
As buskers, their raison d'etre is to make art for strangers.
Busking is traditionally defined as the act of putting up a street performance for voluntary donations.
While the most popular form features music, the definition of the word has stretched to include doing animal tricks, juggling, miming and sketching.
Writing poetry on typewriters isn't as popular; Bengaluru's buskers are attempting to change that.
"I was very awkward when it came to interacting with strangers. It's become better with time, but I am still awkward without my typewriter," says Kondi, 25.
His busking friends echo this sentiment.
Kondi's trusty partner, a pastel green typewriter, is called Machina, a German Olympia Splendid 66.
His love for typewriters has translated into buying 12 of them.
Many who've joined Kondi have done so by using some of these machines.
Others, such as Nisshtha Khattar, have bought their own.
Khattar, also a designer, was walking down Church Street when she came across Kondi in action.
She's been drawing illustrations on her typewriter ever since.
"People often talk about their childhood or how the city has changed. Sometimes children who have never seen a typewriter type on it with me. This feels like a safe space," says Khattar.
Bengaluru now has 35 to 40 buskers, at least a handful of whom show up every Saturday on Church Street between 5 pm and 7 pm.
While many of them write poetry, others draw doodles or portraits, or play the ukulele or the guitar.
They've also become part of events such as the Bangalore Literature Festival and taken busking to other parts of the city.
It's usually hard for most people to open up to strangers, but when they do, the conversations often border on the personal, says Kondi.
Khattar, who also writes poetry, recalls the time someone asked her to write a "break-up poem" for the woman he was having an extramarital affair with.
"I was so weirded out that I didn't do it," she laughs.
"Most of the time a person who comes to us starts their conversation with how they are introverts, too, and would ordinarily never talk to strangers. Curiosity brings them to us," says Richa Priyanka, a product manager at a start- up.
"Like most writers I'd wait for that gush of inspiration to strike. Busking has helped me deal with that," says Priyanka.
She turned to busking when she realised that speaking up at open-mic nights wasn't her deal.
Some of the people who've seen Bengaluru's buskers in action have gone on to set up busking groups in other cities, such as Hyderabad and Kochi.
To show up week after week and sit by the street on a Saturday evening requires an uncelebrated perseverance.
"Some days I just didn't want to get up and go, but then I'd think of the streak I had going on and how busking has always brought me such positive experiences that it is enough to get me there," reflects Kondi.
His last streak of showing up every weekend without a break lasted 86 weeks.
He had to break it only when he had to go out of town.
For the rest of us, Kondi and his friends turning up means taking home keepsakes of strange conversations -- a poem or a doodle meant solely for you.