Ajay Bahadur Singh could not become a doctor because of family and financial constraints.
He now helps financially challenged students from Bhubaneshwar become doctors.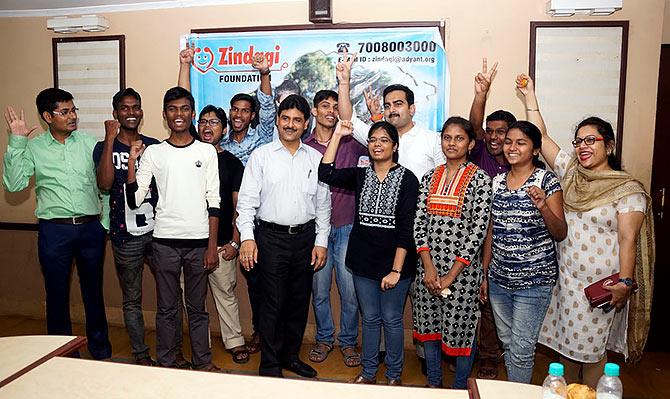 Ajay Bahadur Singh was 18 when he was preparing to appear for the medical entrance examinations.
In 1990, Ajay's father, who worked as an engineer in the irrigation department, government of Jharkhand, fell critically ill. Only a kidney transplant could save his life.
Eventually, the family had to sell their property so his father could undergo the surgery in Chennai.
Ajay was left with no choice but to give up on his dream to pursue medicine.
In order to make ends meet and support his father's medical bills, Ajay started taking tuition classes.
He also started a tea and sherbet stall in Deogarh, Jharkhand, his home town.
While pursuing his graduation, Ajay also sold soda making machines on the side.
In 1996, he started the Kartar Coaching Centre in Patna to help students prepare for competitive examinations in banking, the staff selection commission, railways, NDA...
A decade later, in 2007, he started Adyant, a private college for Class 12 students in Bhubaneshwar, under the Adyant Educational and Charitable Trust.
Inspired by his friend and guide Anand Kumar, founder of the Super 30 phenomenon, Ajay started Atom 50.
The idea was simple -- he wanted to help poor, hardworking, meritorious, scheduled caste, scheduled tribe, socially and economically backward students to fulfill their ambition to pursue medicine and engineering.
While Anand Kumar picked students who cleared their Class 12 exams, Ajay chose to train youngsters after the Class 10 exam and even sponsored their two-year education up to Class 12.
Over the years, several students from Atom 50 have made it to engineering and medical institutes.
Once, during his visit to the Lord Jagannath temple in Puri he saw a little girl selling puja items like candles, diyas and cotton buds. She had a book on physics in her hand.
Ajay discovered that she was deprived of education because her father's meagre earnings could not fund her studies.
This inspired Ajay to start the Zindagi Foundation for poor and underprivileged students in 2017. It was aimed solely at training medical college aspirants.
Ajay funds this foundation with earnings from his educational institutions -- the Adyant science college and other coaching institutes.
In the first year, of the 20 students who were trained for NEET (the entrance examination for admission to medical institutes in India), 18 qualified. 12 students sought admission in government colleges across India.
In 2018, all 14 students from the Zindagi Foundation cracked NEET.
This year 19 students receive training to appear for NEET.
"I requested all government school teachers to inform the students about us and also connect us to bright but poor students," Ajay tells Rediff.com's A Ganesh Nadar.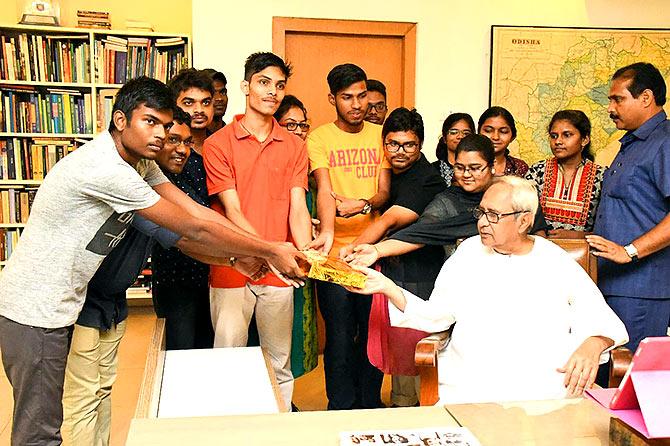 "We have an entrance test and then an interview," explains Ajay. "The interview is to find out the economic status after which we select the weakest students."
"We also pay attention to their enthusiasm, the fire to succeed and determination," he adds. "I have no limit to the number of students we will train."
Once selected, the students stay in different hostels near their training centre. The students are told that whatever coaching they receive is only additive and self-study is most important.
At the moment they have students only from Odisha, but plan to add other states too.
Shiven Singh Choudhry, an alumnus of the Indian Institute of Law and Management, Delhi, has been working as the coordinator of the Zindagi Foundation for over a year now.
"I meet the students daily for the first two months," he says. "We give them motivational talks and English coaching to give them self-confidence."
The students don't go home for the holidays. They stay on for one year which is the duration of the course. They return home only after the NEET exams.
None of the students have mobile phones.
Shiven occasionally takes them for a movie or some other outing.
They celebrate all festivals with the children.
Parents come and meet their children when they desire.
Currently, there are 4 teachers for 20 students.
Durga Prasad, who has a master's degree in zoology, is one of the teachers at the foundation.
He has eight years of teaching experience in coaching students and preparing for competitive exams in Andhra Pradesh and Karnataka.
"We first make the basic knowledge of the subject solid for the students," says Durga. "Without a solid knowledge of the subject you cannot think and reply to all questions."
"We then give them conceptual questions to answer which are similar to NEET questions, but not the same. The questions are designed to make them think."
"There is no rote learning and no spoon feeding. Once they learn to think and answer, they are ready for NEET."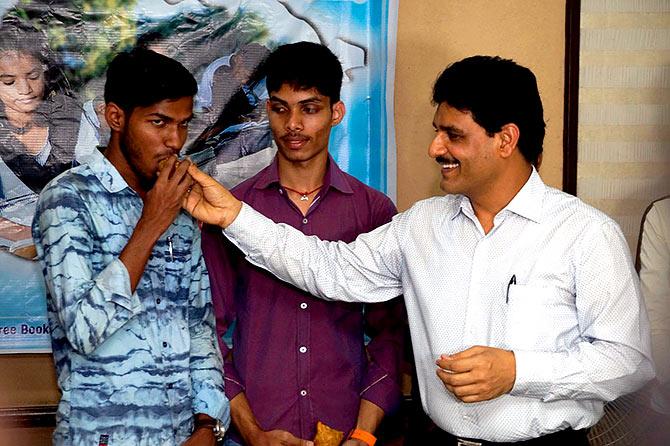 Among the foundation's success stories is Krishna Mohanty, the only daughter of a mason from Bhubaneshwar.
She scored 90% in her Class 12 exam and studied for a year before cracking NEET a year ago.
"It was my childhood dream to become a doctor and the Zindagi Foundation helped me get into medical college," says Krishna, a student at the Government Medical College.
Anirudha Nayak, who studied in a government school in Kanpur, was also enrolled at the foundation.
He had scored 82% in his Class 12 exam and joined a coaching class to prepare for NEET, but missed qualifying by 10 marks.
When he could not afford to pay for coaching a second time, he approached the Zindagi Foundation. Anirudha is currently pursuing medicine at a college in Cuttack.
Whenever he gets the opportunity, Ajay encourages his students to focus on their performance, work harder and fulfil their dreams.
"I keep reminding them -- always keep in mind where you came from, where you are and where you will go."
"I emphasise (that) you can change society."