Having cancer can be devastating. But for women, the side-effects of the disease, especially the loss of hair, is the hardest part.
Aditi Phadnis reports.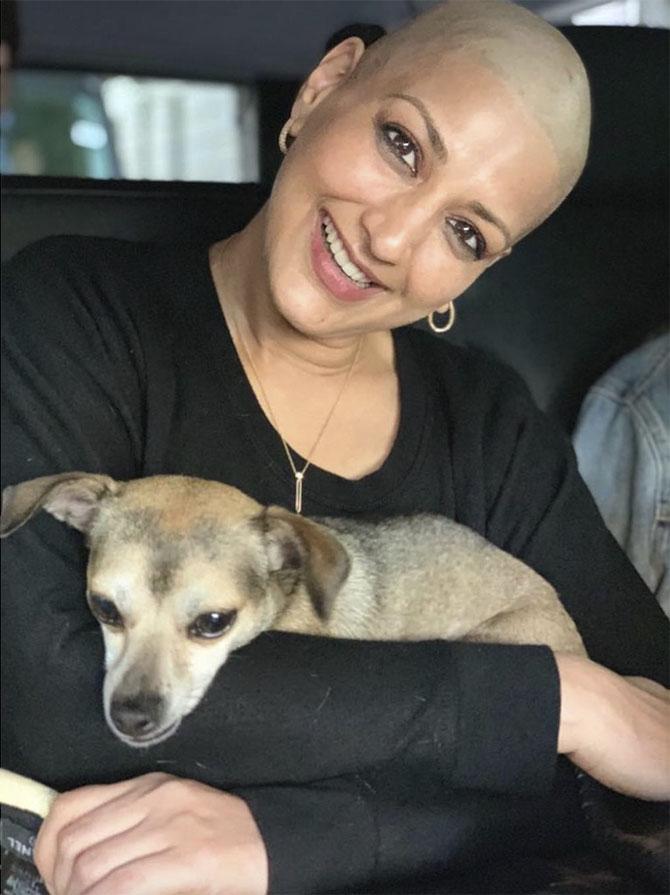 Jayanti's story
For many harried working mothers, she's a lifeline.
A domestic help, Jayanti starts her working day at 6 am.
She is punctual, regular and polite.
At just over 40, she's content: A migrant from West Bengal but, unlike others, never having had to see grinding poverty.
Her family manage to eat fish curry and rice several days a week.
Her daughter has recently got married in a well-organised wedding to a man who is a mechanic in the Maruti factory in Gurugram.
All the members of her family own mobile phones.
The most arresting feature of Jayanti's face is her eyes and her hair.
Her eyes sparkle a shade of greenish gold.
Her hair is always worn in a thick plait that falls below her hips.
Last week, she came to work after a lapse of several months.
She looked tired and her head was covered.
A resident asked her fatuously why she had suddenly turned bashful.
She replied, with a curious dignity: "Cancer tha. Ab theek hai, magar baal... (I had cancer. Better now, but my hair...)."
Her eyes welled up.
Cancer has eaten up her breast.
Chemotherapy has consumed her hair.
Daksha Jaidka's story
A few years ago, Daksha Jaidka -- a Gurugram resident, homemaker, Modern School alumnus and mother of two -- happened to visit the US.
There she met the eight-year old daughter of a friend.
The child had long, unruly curly hair -- and she wanted to give it all away.
"I first donated my hair four years ago. I had really long hair. It was not easy," Daksha said.
Indian women spend hours pampering and caring for their hair.
Long hair is a part of the Indian female aesthetic, a mark of classic beauty, regardless of class or caste.
That's why when women visit Tirupati, they give unto God what is their most precious possession -- their hair, the ultimate sign of vanity and pride.
Giving it up is a gesture of humbling yourself before God.
"I couldn't get the vision of that little girl out of my head.
"She had seen a classmate of hers fall a victim to cancer: For an eight-year-old, the sudden loss of hair can be a terrible trauma.
"My friend's daughter wanted to sacrifice her hair so that it could be turned into a wig for children with cancer.
"It got me thinking.
"I read that several NGOs will accept hair that they turn into wigs for cancer patients. Commercial wigs are not cheap: They can cost up to Rs 30,000 each.
"And now, there's a burgeoning movement to donate hair and both men and women are part of it," Daksha said.
She worked on her hair: Oiled it regularly, gave it hair spas, nurtured it by increasing her protein intake... and then, when it was thick, sleek and lustrous, chopped it off without a second thought, bagged it and sent it to an NGO that has now turned it into a wig, which is helping another young woman get the psychological courage to fight cancer.
"I learnt that all hair is not suitable for donating: It has to be at least 8 to 12 inches long, and must never have been chemically treated, coloured or permed.
"Virgin hair, that is, a child's hair, for example, is the best," Daksha said.
She has already donated twice and is readying herself to do it a third time.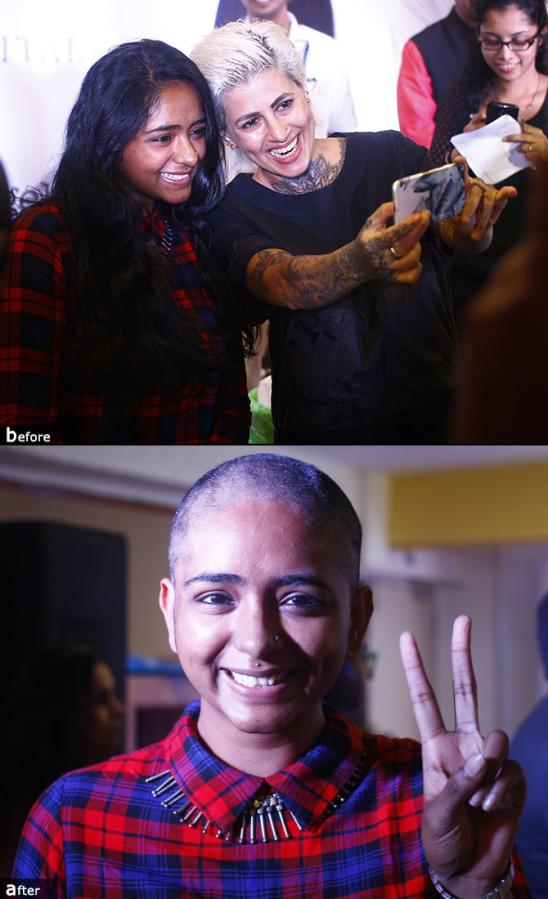 Vidya Raja of the digital publication, The Better India, also has stories of hair donation.
Elakshi's and Samaira's stories
"We saw an online video about a girl who was gifted a wig before she went back to school.
"The girl in the video had lost her hair while she was undergoing chemotherapy for cancer.
"We saw how excited the girl was with the wig. I will never forget that smile," said Elakshi in The Better India.
Elakshi is a Class VI student in Gurugram.
"I had eight inches of my hair cut off, and I did think about whether I would look funny after the haircut.
"My mother was the one who helped me through it, and she supported me a lot," said her sister Samaira, a Class III student.
Many NGOs will accept hair donations and most of them are on Facebook.
But it's best to consult them before donating because the rules about the kinds of hair that can be accepted are quite strict.
Daksha contacted hairaid.com.
But there's also Sargakshetra Cultural Centre, Hair Crown, Cope With Cancer and many others.
Daksha feels fulfilled.
Elakshi and Samaira can't stop smiling.
Jayanti doesn't need to cover her head any more.
Who knows, the hair on her head might be Daksha's!