Some broke stereotypes. Others were inspiring. But almost all of them made our jaws drop.
Magazine covers are important because they say a million words in pics.
Through the cover image, a strong message is sent across. They make a strong point.
Sometimes, they merely draw your attention. Attract eyeballs.
Presenting 10 such magazine covers that made us talk.
The hottest woman of the year is...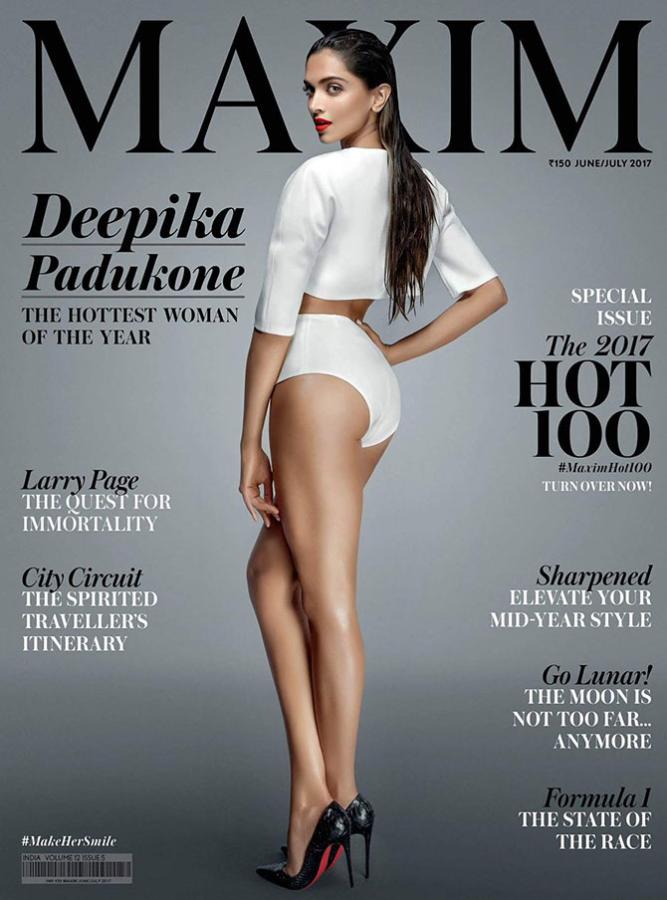 Photograph: Kind courtesy Maxim India
Indian actor Deepika Padukone raised temperatures in this bold avatar posing for
Maxim India
's June issue on Maxim Hot 100. The model-actor was ranked the Hottest Woman of the Year 2017 after an international poll by the magazine.
In the same year, Deepika made her
international debut in
xXx: The Return of Xander Cage
alongside Vin Diesel,
attended the MET Gala, and also
debuted the Cannes red carpet as a L'Oreal ambassador
.
As for this cover, she clearly slayed in the photoshoot.
Kendall for Vogue: Desi disconnect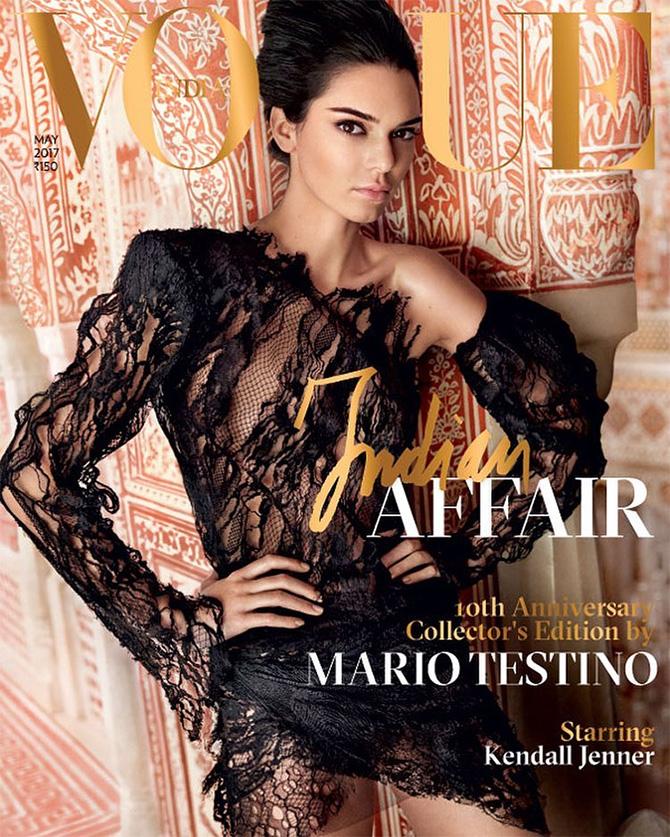 Photograph: Kind courtesy Vogue India
For Vogue India's 10th anniversary issue, the team put Kendall Jenner on its cover.
Although Jenner is an international celebrity and a Victoria's Secret model, the cover invited negative criticism for its choice of an American model for an Indian cover.
'Why did @VogueIndia use Kendall to celebrate the 10th anniversary issue? They should have used an Indian beauty!' a user remarked on its Instagram page.
Anushka's enterprising debut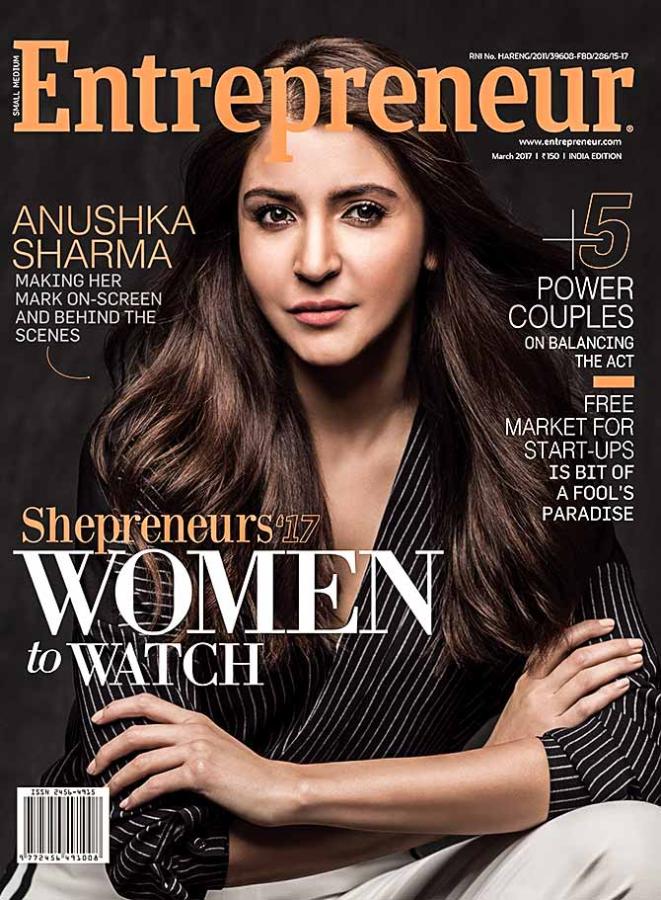 Photograph: Kind courtesy Entrepreneur India
In March 2017, Anushka Sharma became the first Indian female actor to feature on Entrepreneur India's cover.
The Indian actor and producer was profiled as part of the magazine's special March issue on women entrepreneurs -- Shepreneurs 17: Women to Watch.
The actor was 25 when she co-produced the film NH10 along with
Phantom Films and Eros International
.
In 2017, she produced
Phillauri
in which she also played the lead.

Hijabi model made a debut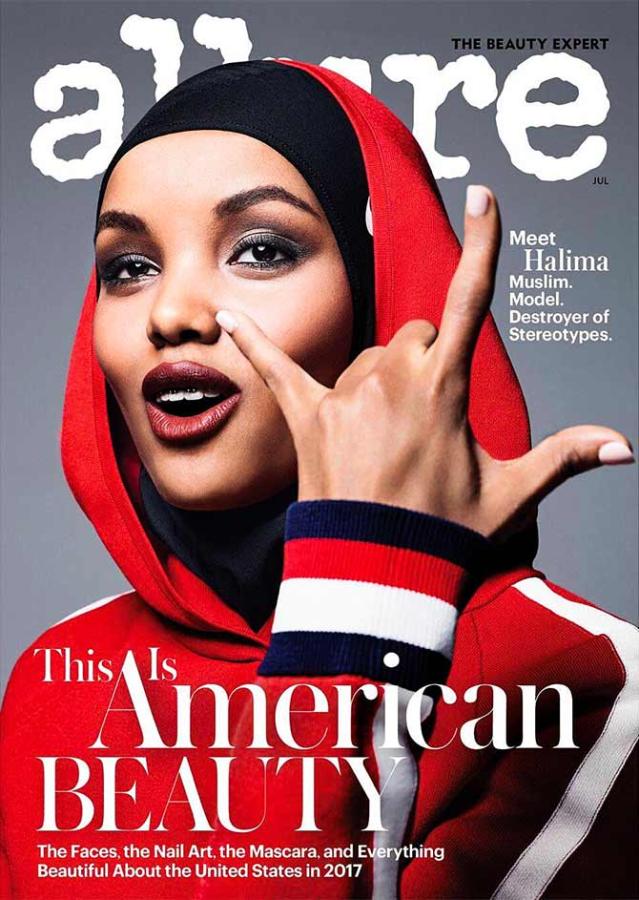 Photograph: Kind courtesy Allure
In July 2017, Somali-American model Halima Aden, 19, became the first ever hijab-wearing model to lead the cover of US-based beauty magazine Allure.
'Meet Halima. Muslim. Model. Destroyer of Stereotypes,' the magazine introduced her.
'This is American Beauty. The faces, the nail art, the mascara, and everything beautiful about the United States in 2017,' the cover added.
In November 2016, Aden became the first Miss Minnesota to compete in a hijab and burkini and since then, there has been no looking back for her.

Kim couldn't match Kennedy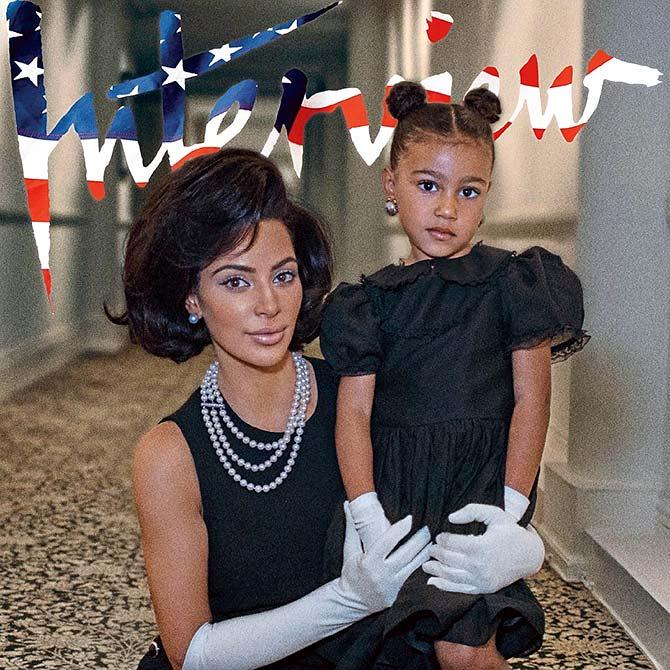 Photograph: Kind courtesy Interview
In September, Interview magazine released a cover featuring Kim Kardashian and her daughter.
The shoot featured the reality star sporting America's former first lady Jacqueline Kennedy's popular coiffed 'do, round collar dress and long white gloves. Kim's daughter North West was clad in a Peter Pan collar dress.
The magazine addressed Kim as 'America's New First Lady' which did not go down well with fans.
One follower wrote on the magazine's Instagram cover: 'Don't you dare disrespect Jackie Kennedy like this.' Another added, 'Jackie is turning in her grave at this garbage.'


A bold bride on cover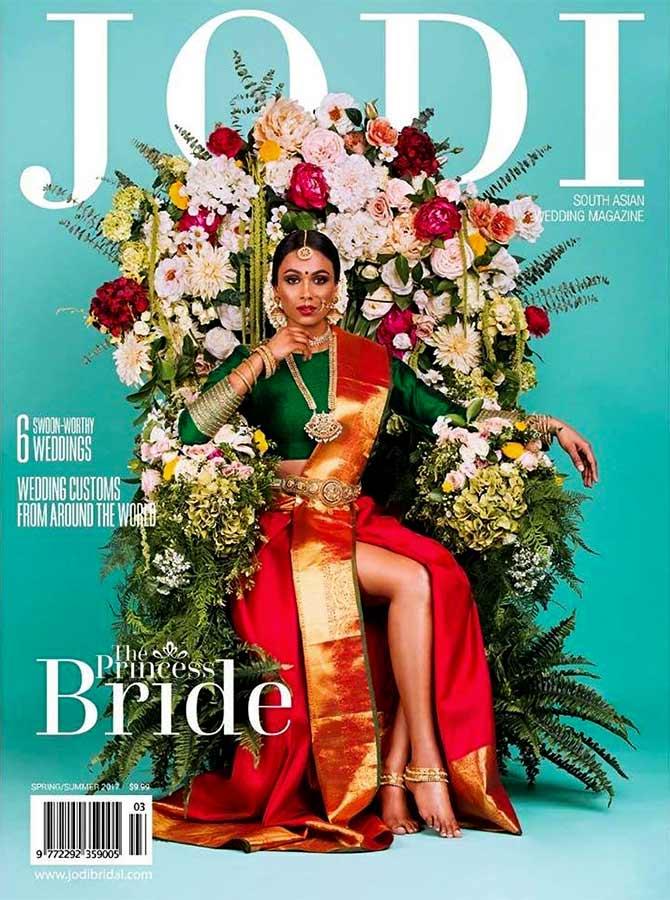 Photograph: Jodi magazine/Facebook
Toronto-based South Asian wedding magazine Jodi's cover divided the Internet.
The cover, released March 13, featured model Thanuska Subramaniam dressed as a traditional Tamil bride in a red silk sari. What offended the audience about the cover was Thanushka revealing her toned legs.
Vasa Nathan, a Toronto-based user posted on Facebook: 'This not a Tamil Bride, this is too much! Yes in olden days ladies did not wear blouse, did they expose themselves like this?! This not how a Tamil Bride dress(es)'
In its defense, the magazine shared the idea behind the cover on its Facebook page: 'Be bold. Be the change.' That was this year's theme for Women's Independence Day.'
'This cover stands for more than beauty and Tamil culture. Not only is it art, it's an expression of feminism. A princess bride can be bold, regal, whimsical or romantic. In other words, there are no cookie-cutter brides. If baring your legs in a sari is a cultural juxtaposition, then so be it.'



Serena's nude pregnancy announcement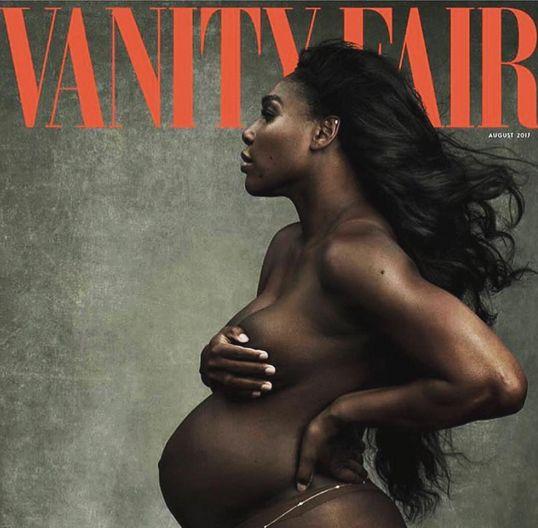 Photograph: Kind courtesy Vanity Fair
In August, Serena Williams announced her pregnancy by posing nude on Vanity Fair.
The sports star revealed how the pregnancy took her by surprise.
'It just doesn't seem real. I don't know why. Am I having a baby?' Williams, 35, said in the interview.
Williams told Vanity Fair that she found out she was pregnant about a week before winning her record 23rd Grand Slam tournament singles title at the Australian Open in January.


Time honours the #MeToo heroes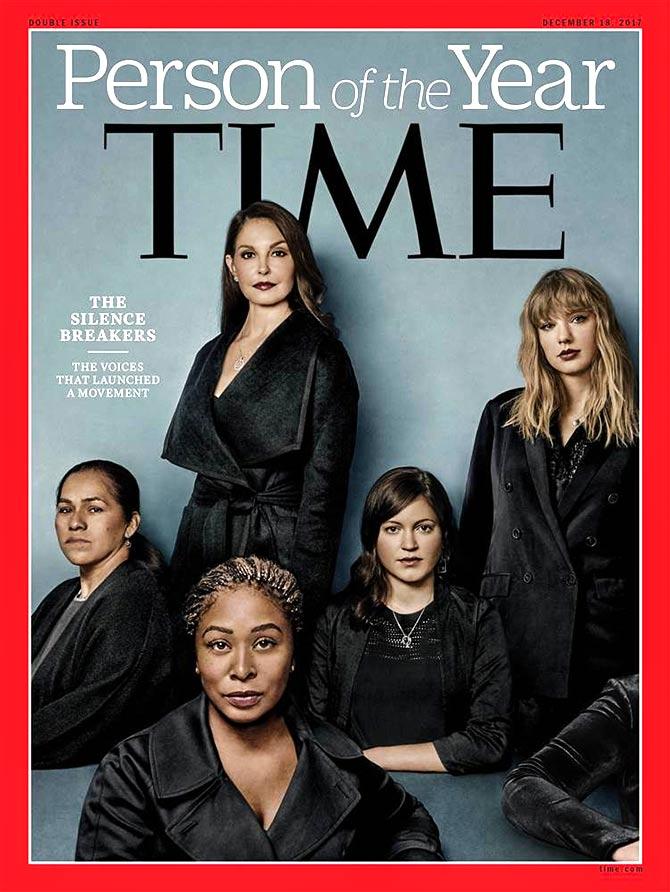 Photograph: Kind courtesy Time magazine
The Time's Person of the Year -- the #MeToo Silence Breakers -- cover, released early December, instantly won the Internet.
Explaining this year's choice Time's editor-in-chief Edward Felsenthal wrote, 'It became a hashtag, a movement, a reckoning. But it began, as great social change nearly always does, with individual acts of courage.'
On the cover of the Time POY edition are actor Ashley Judd, singer-songwriter Taylor Swift, Susan Fowler (who spoke out about the sexual harassment at Uber), farm hand Isabel Pascual (whose name was changed to protect her identity), lobbyist Adama Iwu and a strategically cropped arm.
Villain Weinstein for Variety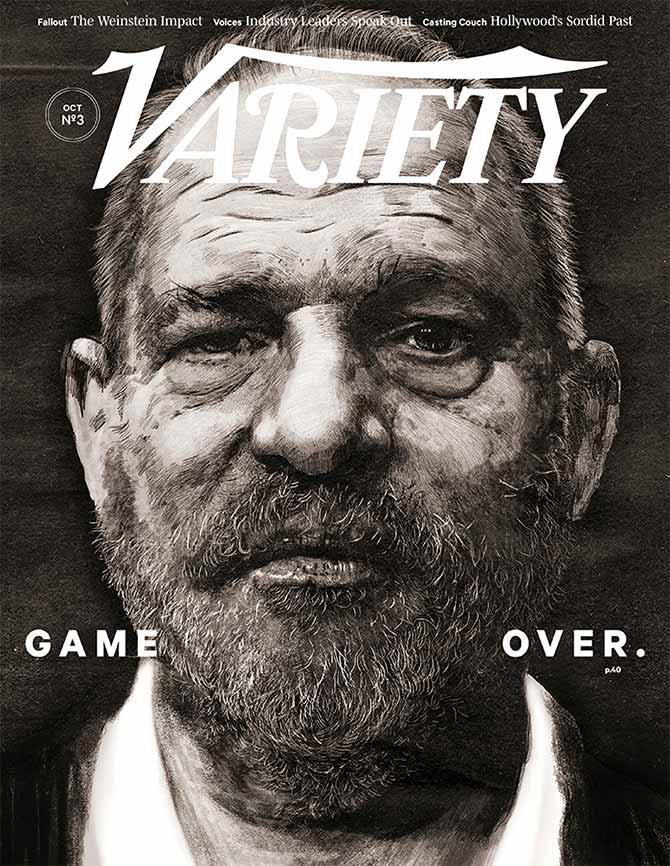 Photograph: Kind courtesy Variety magazine
In October 2017,
Variety
magazine released its cover featuring an illustrated black and white image of Harvey Weinstein.
The striking part of the cover, besides its careful and powerful choice of image were the words 'Game over' in bold.
In 2017, many women spoke about how Harvey misused his power and abused them. The list included Angelina Jolie, Taylor Swift and Ashley Judd to name a few.
The cover does a stunning job of dissecting the media baron's fall from grace.

Nicki Minaj did a threesome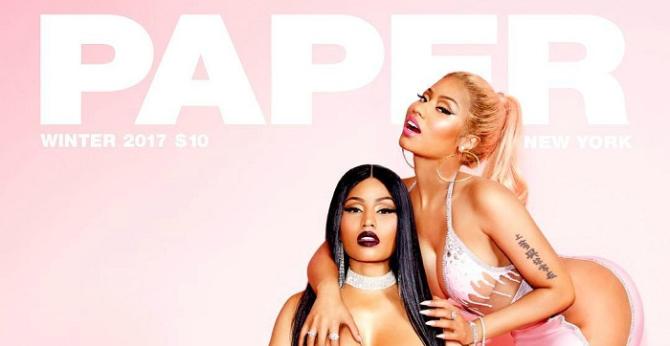 Photograph: Kind courtesy Paper magazine
In November this year, Paper magazine's creative director Drew Elliot released a sensational cover featuring three images of pop singer Nicki Minaj and explained why it could break the Internet.
'We have never called an issue Break the Internet since we did it back in 2014 with Kim Kardashian.
'It takes a certain type of talent, with an awesome fan base and the ability to put trust in PAPER to work our magic.'
'Break the Internet is all about the big idea, the word, the image. It came to me one day that 'Minaj à trois' had never been done. HOW? 'We have seen different versions of Nicki, from high fashion to seductive to in-your-face and eye-catching all at the same time. But we had never seen all of these together -- and now we have the chance, thanks to our cover shoot with the rap star.'