At her first appearance on the runway at the Milan Fashion Week, she hopes to break the stereotype.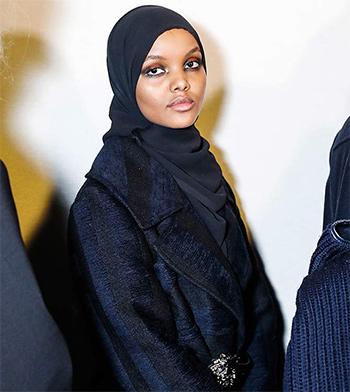 IMAGE: Halima Aden is seen backstage ahead of the Alberta Ferretti show during Milan Fashion Week Fall/Winter 2017/18.
Photograph: Tristan Fewings/Getty Images
Hijab-wearing model Halima Aden made her Milan debut during Alberta Ferretti's show which also saw fashion sisters Gigi and Bella Hadid on the runway.
Clad in a navy-and-black striped belted coat with flared pants styled underneath, the 19-year-old Somali-American walked the runway like a pro, reported New York Post.
Aden recently signed with the IMG agency and walked the runway at Kanye West's Yeezy Season 5 show during New York Fashion Week earlier this month.
Ferretti's fashion show comes a day after the model made her fashion magazine cover debut for CR Fashion Book.
In the magazine, she is interviewed by David Bowie's widow Iman, a fellow Somali fashion icon, and discusses the importance of wearing her hijab on the cover.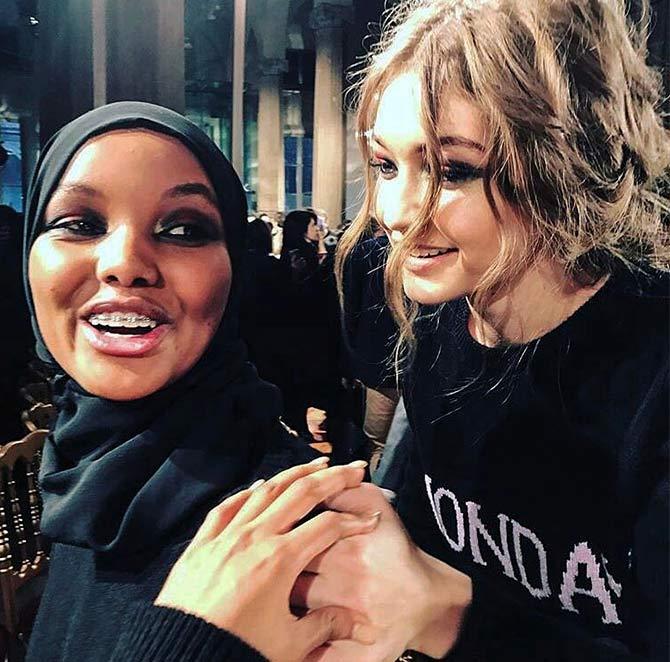 IMAGE: Halima with model Gigi Hadid.
Photograph: Kind courtesy Hadid News/Instagram
"I always tell (people), 'Just look around you, there are Muslim women who wear it and Muslim women who don't'," she said.
"We have to break the stereotype. I think often the West does not understand the history and the privilege of wearing a hijab. They always think of oppression."
The model is focused on her fashion career, but she also has plans to become a UN Goodwill Ambassador.
"I just think that there's so much work to be done. I remember when I lived in a refugee camp, it was the people who weren't Somali, the people who came from Western countries, who
helped the most. I remember being six and thinking, 'I want to be one of those women because I knew how much they helped us'."
And she understands the pressure that comes with representing Muslims.
"I wish I could tell (people), 'Hey, I'm not a perfect Muslim'. A lot of people had a misconception that I would be the perfect poster child for Islam," she said.
"So I got a lot of Instagram comments like, 'Oh, you don't have your neck covered, you're not a Muslim!' My thing is, 'Stop judging women, especially if you're a man, because you
don't know the responsibility that comes with wearing a hijab'."