In this age of Internet where trollers left no stone unturned in schooling the two on their relationship, it is amazing how the love birds sailed through rough times, stood up for each other and found eternal love.
Virushka, you guys define 'rab ne bana di jodi', (match made in heaven).
Yay! So, one of India's hottest couples -- cricketer Virat Kohli and actor-producer Anushka Sharma -- are officially a couple.
Since the time the news broke out, any one who is every one, have been sharing pictures and videos of the married couple as if it was their own wedding.
From their gorgeous outfits to their wedding destination, Virushka fans are gushing over every tiny detail of this celeb matrimony.
And why not? Everything about this duo's love story has been the stuff of inspiration so far.
As we wish the young couple loads of happiness on their new journey together, we trace some of their khatta meeta moments, which will give you #relationshipgoals.
When they indulged in PDA and made it seem like no big deal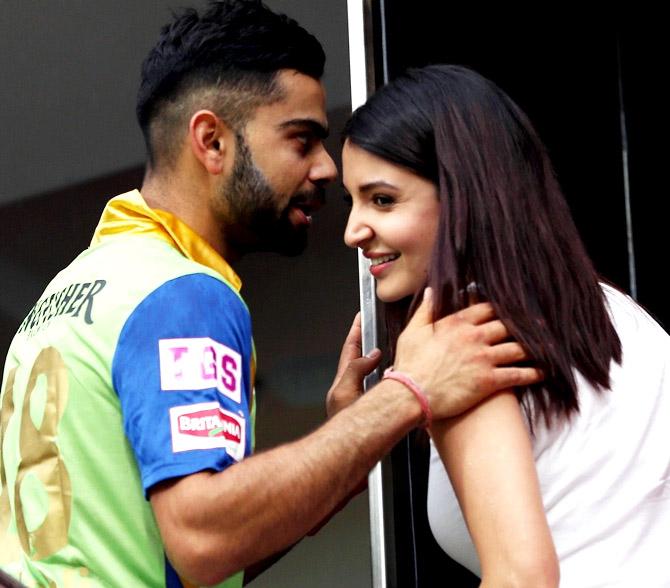 Virat Kohli, left, chats with Anushka Sharma during a rain break in the IPL match between Royal Challengers Bangalore and Delhi Daredevils in Bengaluru, May 20, 2015.
Photograph: Kind courtesy BCCI
When a cricketer dates an actor, it is only natural for the paparazzi to go in a frenzy.
There wasn't a day when the media wouldn't stop buzzing about how Anushka tagged along with Virat at every cricket match. Or how the latter would land up at the actor's shooting location to catch up some 'us' time.
Unlike other celeb couples who mask their faces and refused to be clicked together, these two entertained us with their generous public appearances, holding hands, chatting and sharing jokes.
And like you can see, the duo couldn't take their hands off each other.
When Kohli played the protective (not possessive) boyfriend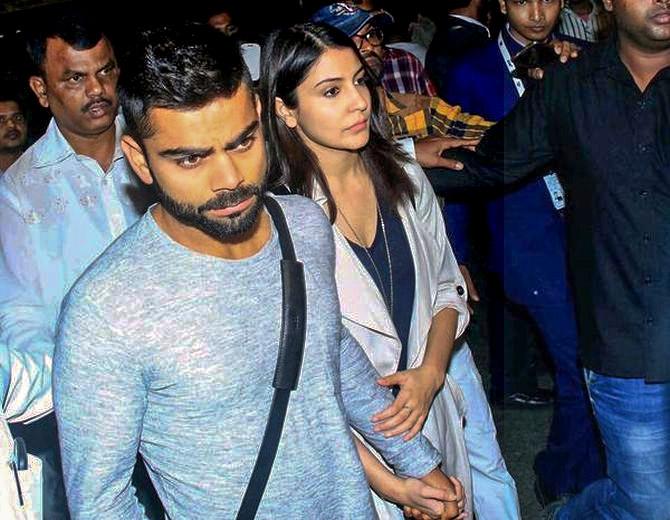 Virat and Anushka hold hands at the Mumbai International Airport.
Photograph: PTI Photos
The day came when the two paid the price of being public figures. But Kohli stepped up to the occasion like a boss.
In fact, the strength of any relationship lies in how much and how well you handle the lean times.
Who else but Virushka to give you lessons in how to be steady and calm when the tide is against you.
When the media and fans picked on the cricketer's poor form and blamed it on his love interest, Kohli lashed out at everyone and spoke in defense of his lady love.
No, they did not separate like their haters would have wanted to; they did not let 'log kya kahenge' change their story.
Love heals everything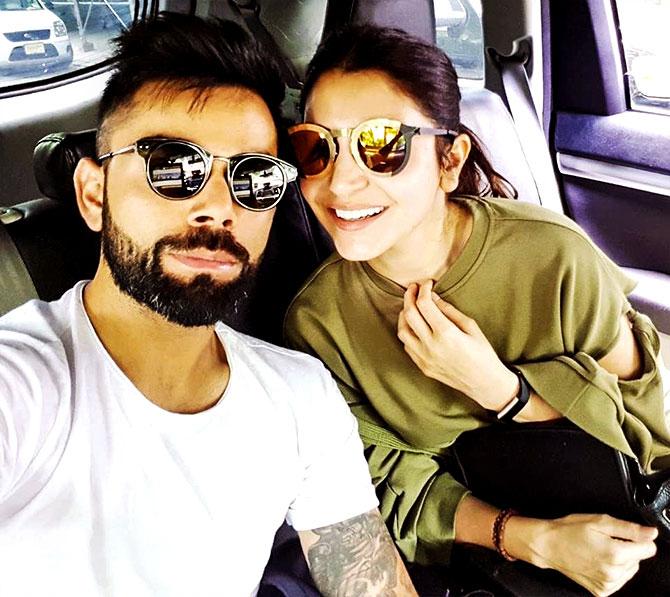 'Much needed break with my love' Virat captioned this picture on Instagram.
Photograph: Kind courtesy Virat Kohli/Instagram
If you have been following the cricketer on Instagram, you'll agree that Virat has never shied away from showing his love.
On Valentine's Day, Kohli wrote on the image sharing site: 'Everyday is a valentine day if you want it to be. You make everyday seem like one for me.'
And then, one day, we woke up to see Virat change his Instagram profile to prove that they were now a couple.
Despite their hectic work schedules, they always found a way to keep the spark alive.
They are a mutual admiration club
'Happy women's day to every woman out there, but specially to the two strongest women in my life. My mom for looking after the family in toughest times in life and @anushkasharma for fighting against the odds regularly and standing up for righteousness and changing the norms #happywomenday' Kohli captioned this picture.
Photograph: Kind courtesy Virat Kohli/Instagram
Everyone deserves a partner who values your upbringing, your work and most important, respects you for who you are.
While Anushka may have never officially declared her love, she's given subtle hints on how she adores her partner.
Remember that episode on Koffee with Karan when host Karan Johar asked Anushka to pick her favourite cricketer? Her admiration for Virat made us all go 'awwwww'
On Women's Day this year, Kohli also played the perfect son and partner by acknowledging the two important women in his life -- his mother and girlfriend (now wife).
Anushka, now, we really envy you.
When they behaved like a perfectly normal couple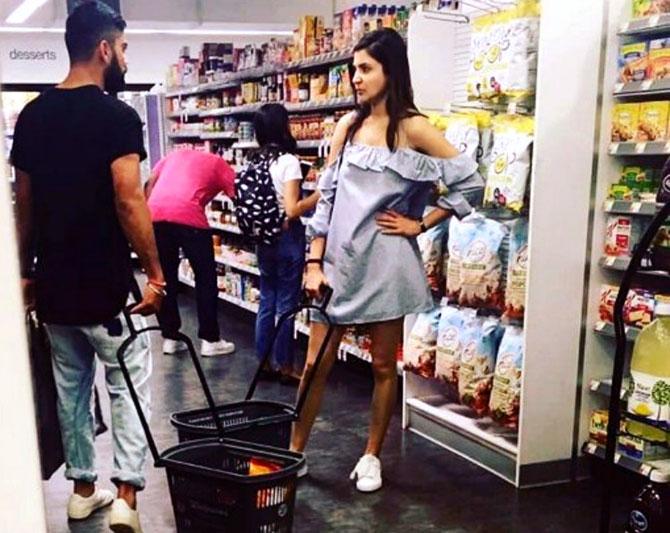 Virat and Anushka seemed to have a moment of conflict.
Photograph: Kind courtesy Virushka FC/Twitter
Just when everyone wondered how these two always managed to cut the perfect picture, Twitter released a set of pictures of the two shopping for groceries in a mall in New York.
This picture, above, where Anushka is giving that 'stern girlfriend' look, instantly became the fodder for trolls.
It did not take long for the Internet to decide that the celeb couple, who were scoring high on relationship goals till now, also had their 'usual' moments.
Jab they met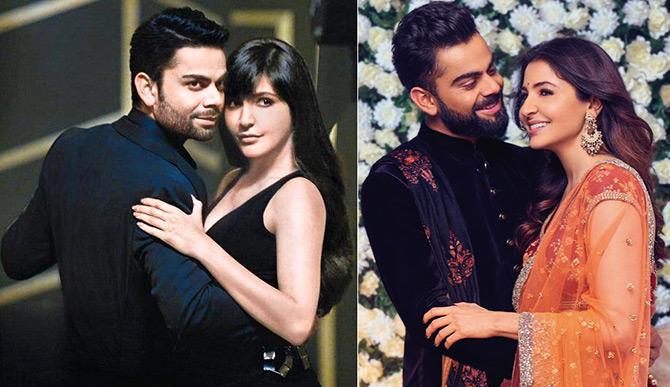 Virat and Anushka in Clear shampoo ad in 2013, left and right, in Manyavar ad this year.

Four years ago, in 2013, Virat and Anushka shared the screen for the first time for a shampoo ad.
They clicked instantly.
The rest, we all know is history.
In 2017, they made our hearts flutter when they paired in a clothing ad.
In fact, it made us all dream and excited us more about their wedding, which finally took place under the Tuscan sun, in true filmi style.
Now that the two have bound themselves in this bond of marriage, we hope they continue inspiring us with their natural charm, innocence and romance.
Happy new innings, Virushka! Stay the way you are!