Rolling Stone's cover featured the two pop-stars before their biggest collaboration: a baby girl.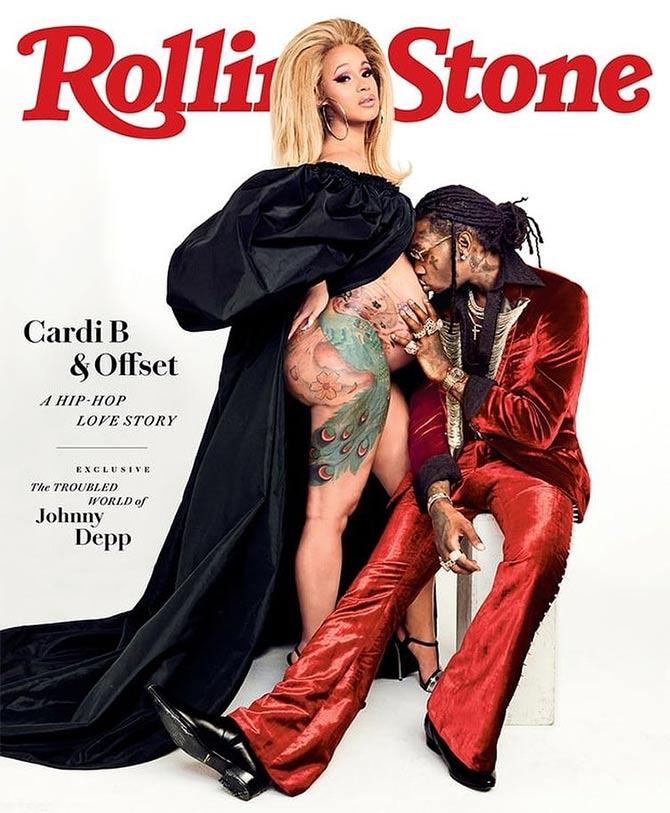 This is what happens when two chart-topping pop stars come together.
Hip-hop's breakout star Cardi B featured on the cover of Rolling Stone's latest cover with fiance, Offset.
Showcasing her baby bump, Cardi posed semi-naked in an open ballroom gown, while Offset is seen sitting on a stool kissing her tummy.
Infusing her personal style in the photo shoot, the pop star flaunts her peacock tattoo as she graces the cover.
Rolling Stone uploaded the cover and captioned it: 'Here's a first look at our upcoming cover featuring Cardi B and Offset. You can pick it up on news stands July 2nd. Photograph by Ruven Afanador.'
Cardi B posted the pic on his Instagram timeline and added: 'I guess it was too much to ask to wait until the official July release of our @rollingstone cover!
'This cover is so special to me and means so much.
'Thank you to everyone who helped put this amazing cover together.
'My daughter made it to the Rolling Stone cover!
'Official release in July.You can't ruined what's for me.'