Why Veer Arjun Singh has fallen in love with the latest Bose headphones.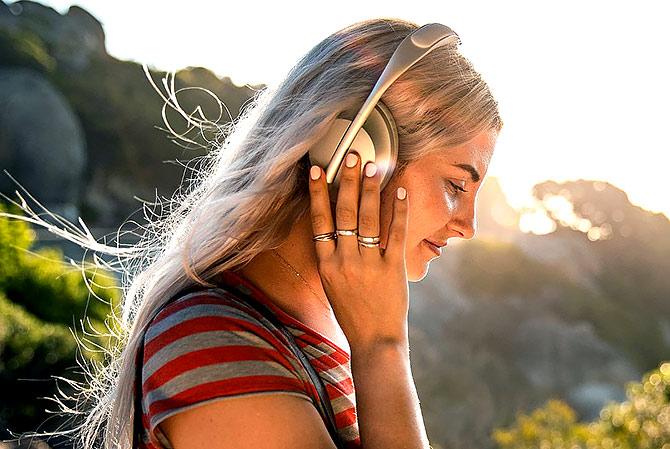 Crank up the volume or keep it on the down-low, they just can't hear you, or you them.
The Bose Headphones 700 supersede the Bose Quietcomfort 35 II in noise cancellation to set a new industry benchmark.
It's a one-of-a-kind experience.
Here's how.
Design 4.5/5
The silver pair that has been hanging around my neck for two weeks has a look that is second to none.
The metallic headband has a foam underside, making it comfortable to wear.
Its adjustable tentacles neatly cut through the middle of the angled earcups, which are cushioned with synthetic leather.
The cups surround and isolate the ears without noticeable pressure.
The result is a good-looking silhouette that achieves exceptional passive noise cancellation without compromising on comfort.
You can easily wear them for hours at a stretch without ear fatigue -- a rare feat.
Unlike Sony's WH1000-XM3 or the XB900N, the earcups of the Bose Headphones 700 do not fold but swivel inside out, which, in my opinion, makes them more comfortable around the neck when not in use.
The pair comes with a hard case, which also packs a USB-C cable for charging and an audio cable in case you run out of battery.
The touch controls on the right earcup -- to play/pause, skip tracks and adjust volume -- are extremely responsive but not quite convenient since the headband runs through the middle of the cup.
That said, I have thus far failed in my sincere endeavour to sound you off about any other design limitations.
Performance 4/5
Bose uses a proprietary active equaliser to automatically moderate the sound according to the music you play.
The overall sound quality is beautifully balanced with clear vocals, pronounced notes and satisfactory bass levels.
You are unlikely to miss a single instrument even at low volumes.
But the Headphones 700 aren't for headbangers.
Having said that, I do feel that Bose could have supplied its flagship headphones with a bit more bass prowess to satisfy those occasional thump cravings, especially since the Bose Music app, which you will need for connecting the pair to any device, does not have an equaliser to manually play with the sound.
A little more room for play would have been nice, but letting Bose have all the control isn't a compromise either.
There's no doubt that the likes of the much cheaper Sony XB900N (Rs 16,990) deliver a powerful sub-bass.
And then there is Sony's WH1000XM3 (Rs 26,990) with a comparable sound quality.
Both of them also have a class-leading battery life of 30 hours.
But here's why the Headphones 700 are in a league of their own.
The pair utilises a mix of eight microphones to deliver an astounding Active Noise Cancellation.
You can choose between levels 0 and 10 through the Bose Music app or a physical button on the left earcup to customise how much ambient sound you would like.
But what really sets the Headphones 700 apart is the call quality.
The way the pair shuts off ambient noise when you speak during calls is phenomenal.
You could be in a busy marketplace -- I was in a packed Delhi Metro -- and the person on the other end of the line will have no idea.
You can also clearly instruct the built-in Alexa or Google Assistant in noisy surroundings.
No other pair of headphones, or truly wireless earphones, can beat it.
Verdict 4.5/5
A battery life of 20 hours, the ability to connect to two devices simultaneously and the pleasure of great sound is not why you should spend Rs 34,500 on the Bose Headphones 700.
It's worth that price because, besides being beautiful, the pair has the industry-best call quality, noise-cancellation and comfort over and above standard features.
It's a potential one-and-only.