With a massive 108 megapixel camera and bezel-less wrap around display, Xiaomi's Mi Mix Alpha comes in a protective glass body that may tempt you to own it.
But is it worth the price?
Rediff.com's Ashish Narsale finds out more.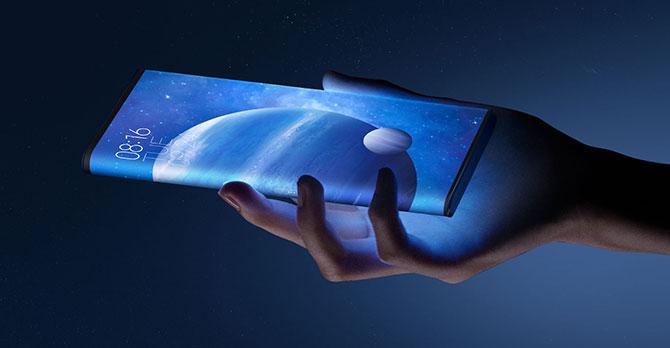 With advancements in technology, almost every smartphone company is trying to tempt users with a camera phone that can match, if not replace the bulky DSLR.
From better quality lenses to enhanced audio and video output, manufacturers are now stretching the display to make screens bezel-less for that optimal experience.
Earlier this year we saw phones with 64MP camera, quad cameras, and cameras with optical zoom.
We have also seen phones that unfold to a large screen and devices with water fall display in them.
The latest is wrap-around display, where a single display panel wraps the phone all around except the camera module.
Yes, you heard it right!
Chinese manufacturer Xiaomi unveiled its latest Mi Mix Alpha with surround display (or wrap-around display) and a monster 108MP main camera in Beijing on September 24.
Let's look at some of the best features the phone has to offer.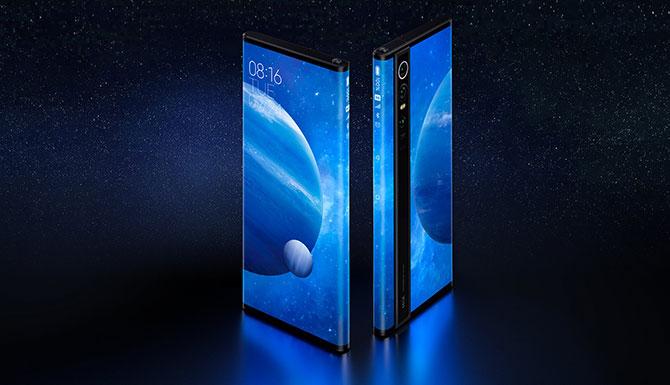 Design
The phone has a 180.6% screen to body ratio; the 7.92-inch flexible OLED display wraps around the 2.84-inch wide phone.
A ceramic strip divides the display which is embedded with a three camera setup and LED flash.
The camera lenses are protected by sapphire glass placed on the ceramic strip.
There is an in-display fingerprint scanner at the front bottom of the screen for unlocking the phone.
It is 6.07-inches in height and just 0.40-inches thick. The top and bottom bezels are just 0.08-inch thinner.
A pressure sensitive side display, powered by built-in sensors and AI, takes care of accidental touches as there are no physical buttons on the side.
There are virtual buttons on the side panel for volume and other controls.
The linear motor is used for haptic feedback (touch) to make these buttons feel real.

The innards are built in a titanium alloy frame; titanium alloy, also called space metal, is stronger than steel and lighter in weight.
As there is no earpiece at the top, the sound is generated through acoustic display technology.
Here, an actuator (a control component) is attached to the back of the display panel. When the signals are sent to the actuators it vibrates the panel to generate sound; in other words, the display acts as a speaker.
Camera
The phone comes with three cameras.
First is the Samsung-Xiaomi collaboration 108MP Samsung HMX camera with 1/1.33 large sensor and f/1.69 aperture.
It is supported by four-axes optical image stabilisation (OIS to reduce camera shakes); a sharp laser helps auto focusing.
The second camera is a Samsung 12MP camera with f/2 aperture and 1/2.55-inch image sensor. For auto focus, it uses Dual Pixel Diode AF (a technology used in Canon DSLR for accurate focusing of the subject) and laser hybrid focus.
It supports 2x optical zoom and also acts as portrait lens for photos with background blur or the bokeh effect.
The third camera is the Sony IMX350, 20MP wide + macro lens camera. It has a 1/2.8-inch image sensor with lens having 117 degrees of field of view and aperture of f/2.2, supported by laser for autofocus.
The macros can be shot from as close as 1.5 cm.
If you want to take a selfie, just flip the phone and take a 108MP self portrait; it's the highest ever megapixel photo you can take on any mobile phone.
Hardware
The phone is powered by Qualcomm's latest Snapdragon 855+ processor that is supported by 12GB RAM for memory and UFS3.0 512GB ROM for storage.
The Xiaomi Mi Mix Alpha comes loaded with the future-proof 5G ability.

Battery
The phone derives its power from a built-in 4050mAh, nano silicon-based lithium-ion battery. The battery can be fast charged by a 40W flash charger.
Verdict
It comes packed with umpteen high-end specifications and features to justify the approximately Rs 1,99,618 (Chinese Yuan 19,999) price tag.
Although it is secured by high grade protective glass, having a full glass body makes the phone fragile.
Even if I had the money, I would rather wait to have these features come in a solid body at an affordable price. What about you?