It's expensive but full of surprises, says Khalid Anzar.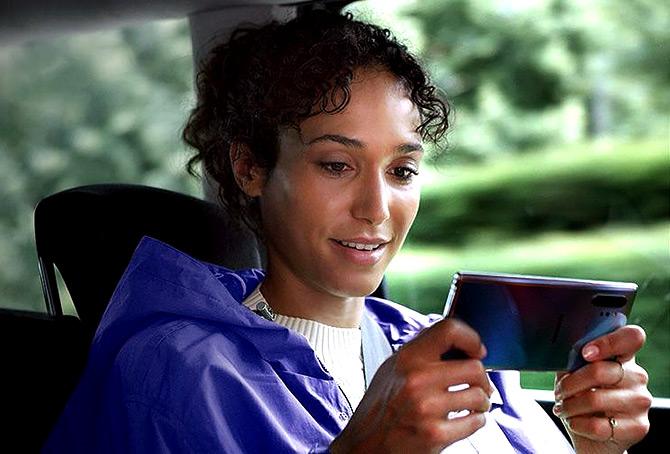 The Samsung Galaxy Note 10 Plus is touted as an all-in-one mobile device designed to deliver experience like a computer, gaming console and a pro-grade video camera.
Does it succeed?
Let's find out.
Design: 3.5/5
Similar to the previous Galaxy Note-series smartphones, the Galaxy Note 10 Plus has a rectangular form with pointed corners -- these angularities might not appeal to everyone.
But for a smartphone with a massive 6.8-inch screen, the phone does not feel bulky. Instead, it has a sleek side profile that makes it comfortable to hold and operate.
Speaking of the design, the phone lacks a dedicated power button and the right side of the chassis is left vacant, which causes unnecessary inconvenience.
The phone's back, painted in a new 'Aura Glow' colour profile, is vivid. But perhaps too much so -- it reflects sharply in direct sunlight, causing reflections that are not easy to ignore.
Display: 5/5
The Samsung Galaxy Note 10 Plus has the same display that powers the Galaxy S10-series, albeit in a bigger size and with a centre punch-hole for the front camera.
Named dynamic AMOLED, the screen supports the HDR10+ technology, but the new display technology does not add much to the Galaxy Note 10 Plus's display competency for the lack of compatible content.
Nonetheless, the screen is vivid and has a good contrast ratio.
It is one of the brightest panels going, offering excellent sunlight legibility.
Camera: 4.5/5
The phone boasts a triple-camera set-up on the back.
Though its camera sensors are identical to the Galaxy S10 Plus, there have been some minor tweaks to software algorithms for improvements in photography.
The phone's video recording capability has also been enhanced by adding two more features to an already comprehensive suite: Live Focus Video, which uses its Time of Flight sensor to create enhanced bokeh effect in videos; and the Zoom-in mic, which utilises the phone's in-built omni-directional microphones to record the sound of far-off subjects.
The camera supports artificial intelligence-based automatic scene recognition (Scene Optimiser), making it easy to point and shoot without changing the settings to find a perfect match for objects in the frame.
The front camera, which is as good as the rear, also supports HDR to comfortably capture objects in front of bright lights.
Performance: 4/5
The Galaxy Note 10 Plus remains true to the company's claim of being a mobile device that delivers the experience of a computer.
You can turn it into a computing device by connecting it to a big screen using the HDMI cable.
Once connected, the phone transforms the connected screen into a full-fledged computing device with multiple windows, multitasking and keyboard and mouse support for a desktop-like experience.
The Note 10 Plus' built-in digital stylus (SPen) has also been improved from its previous iterations. It supports air actions to operate the phone remotely.
Powering the phone is a 4,300 mAh battery, which keeps it going for a day easily.
It supports 45W fast charging, but comes bundled with a 25W charger, which replenishes the battery from zero to 100 per cent in less than two hours. Reverse wireless charging allows the phone to charge other devices.
Verdict: 4/5
Priced at Rs 79,999 for the base model with 256GB internal storage, this is the only smartphone that comes with an SPen, a Bluetooth-enabled digital stylus capable of more than basic scribbling.
Another plus for this phone is its versatile triple-camera, desktop features and an outstanding AMOLED screen.
Can you survive without your smartphone for 24 hours? TELL US in the message board below.