A perfect treat to the man we all love!
Walnut Crusted Chicken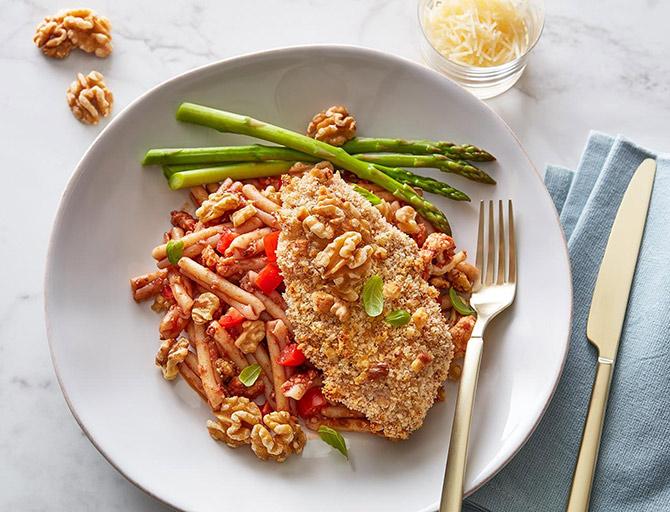 Ingredients
2 cups buttermilk
2 eggs, beaten
2 tbsp whole grain, Dijon mustard
1 tsp kosher salt
1 tsp pepper
1 tsp smoked paprika
700 gm boneless, skinless chicken breasts
1 1/2 cups finely chopped walnuts
1 1/2 cups breadcrumbs
6 tbsp grated Parmesan cheese
2 1/4 tsp dried Italian herbs
Olive oil or olive oil cooking spray
1 1/2 cups pasta sauce
Hot cooked pasta, freshly grated Parmesan cheese and snipped fresh basil (optional)
Method
Whisk together buttermilk, eggs, mustard, salt, pepper and paprika in a large bowl.
Cut chicken into small thin fillets and place in buttermilk mixture; refrigerate for at least 1 hour.
Toss together walnuts, breadcrumbs, cheese, herbs, salt and pepper in a medium bowl.
Preheat oven to 220°C and line a large baking sheet with parchment paper.
Remove chicken from buttermilk and scrape away excess by dragging against the side of the bowl.
Place in walnut mixture, turning to coat well on both sides. Let stand for 15 minutes.
Place on baking sheet and drizzle lightly with olive oil or coat with olive oil cooking spray.
Bake for 12 to 15 minutes or until chicken is cooked through and crust is crisp and browned.
Serve over hot cooked pasta topped with Parmesan cheese and basil.
---
Walnut and Mushroom Burgers with Cucumber and Walnut Salad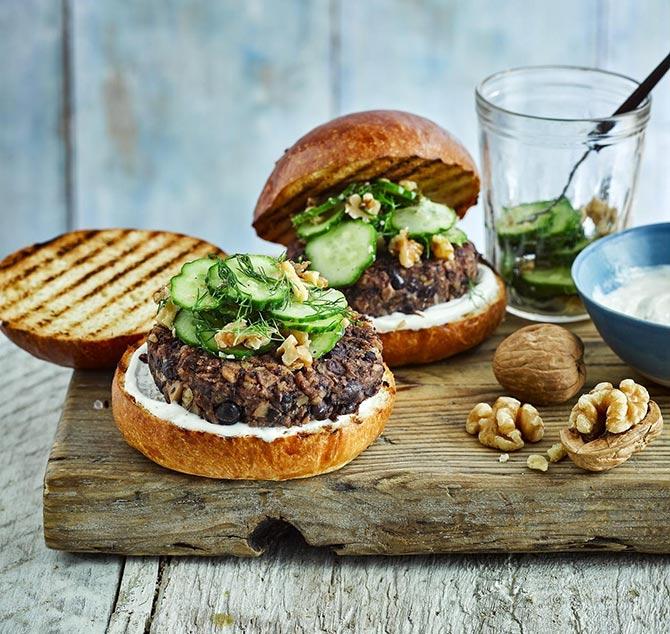 Ingredients
For the burgers
4 buns of your choice
250 gm mushrooms, finely chopped
2 tbsp olive oil
400 gm tin of black beans, drained
70 gm walnuts, finely chopped
1 tsp ground cumin
1 tsp ground coriander
2 garlic cloves, minced
4 tbsp bread crumbs
Salt and pepper
170 gm Greek yoghurt
Juice of one lemon
For the cucumber salad
150 gm cucumber, thinly sliced
35 gm walnuts, toasted and roughly chopped
1 tbsp lemon juice
1 tsp finely chopped fresh dill leaves
A drizzle of walnut oil
Method
Place the mushrooms and add a tsp of oil into a medium sized non-stick frying pan.
Season with a pinch of salt and sauté over a medium heat until they're a rich dark brown.
Place the cooked mushrooms, black beans, walnuts, cumin, coriander, one minced clove of garlic and the breadcrumbs into a mixing bowl.
Season generously and knead into one lump, then shape the mixture into four round patties.
Stir together the yoghurt with the remaining minced garlic and season to taste with lemon juice, salt and pepper, then set aside.
Mix together the cucumber salad ingredients, adding the walnut oil at the end.
Place the remaining oil into the frying pan you were using earlier and fry the burger patties for 2-3 minutes on each side.
Lightly toast the buns and spread with the yoghurt mixture, then top with the burgers, followed by some of the cucumber salad to serve.
---
Walnut Ice Cream with Caramel Sauce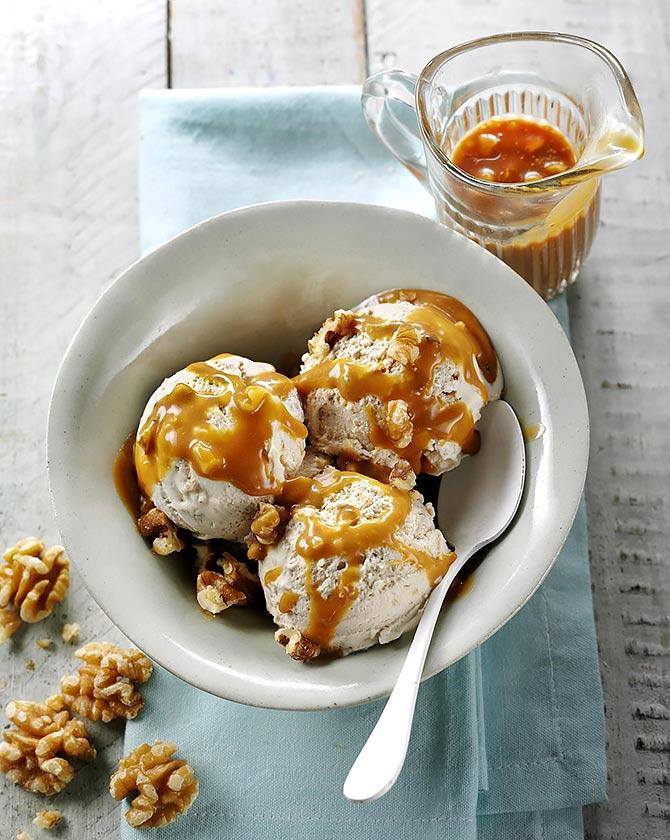 Ingredients
125 gm walnut pieces
600 ml double cream
400 ml whole milk
2 tsp vanilla paste
6 medium egg yolks
100 gm castor sugar
200 gm salted caramel sauce
Method
Preheat the oven to 200°C, gas mark 6.
Place the walnuts on a baking tray and roast for 5-6 minutes, allow to cool.
Meanwhile, place the cream, milk and vanilla in a large saucepan and heat to just below boiling point.
Whisk the egg yolks with the sugar in a large bowl until pale and thickened. Gradually whisk in the hot milk mixture until combined and pour back into the saucepan.
Cook the custard mixture on a medium-low heat, stirring continuously until it thickens slightly and coats the back of a spoon, about 8 to 10 minutes. Remove and allow to cool completely.
Chop 25 gm roasted walnuts and stir into the caramel sauce and set aside.
Place half of the remaining walnuts in a small food processor and blitz until smooth, chop the rest and stir both into the cooled custard mixture.
Transfer to a freezer proof container and freeze for 1 hour. Mash with a fork to mix and refreeze for a further hour and repeat until frozen.
Warm the caramel sauce and serve with the ice cream.
Chef's tip
You may need to remove the ice cream from the freezer 15-20 minutes before serving to soften slightly. Try pouring into an ice cream maker for speed.