Chef Paras Menariya from The Culture House shares his special recipe.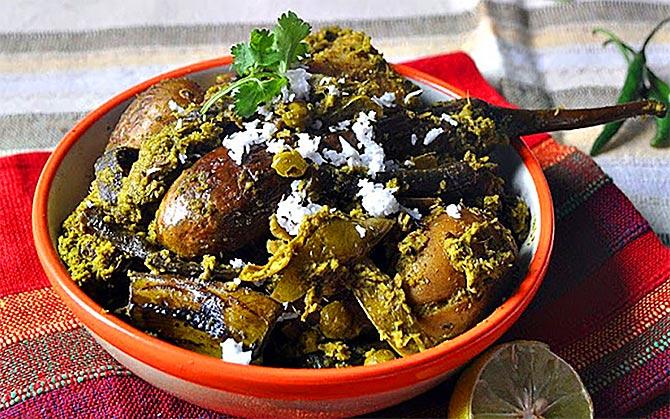 Ingredients:
2 baby eggplant
1/4 gram flour
½ small potato
1½ cup fenugreek leaves
1/4 tsp coriander seeds
1 tsp chilly powder
1½ tbsp sugar
2 tbsp green chilly
2 cup Surti papadi
1 cup fresh coconut, grated
1 cup yam
½ cup Surti dana
1 Rajgira banana
½ cup tur dana
2 cup fresh coriander leaves
100 gm oil
1 tsp hing powder
1 cup sweet potato
3 tbsp salt
½ cup wheat flour
Green garlic
Method:
Mix wheat flour and gram flour. Add fenugreek leaves, Indian spices, sugar, green garlic and oil. Mix well. Add water and knead the mixture into a dough. Roll out small, round equal portions of the dough. Fry muthiya until dark brown. Remove and transfer into a plate. Keep aside.
Cut all the vegetables into one inch and deep fry. Stuff

grated coconut and coriander

into the brinjal, potato and banana.
In a cooking pot add oil, asafoetida and turmeric powder. Add tur dana and cook for 5 minutes. Add all vegetables and cook for 20 minutes. Add the cooked vegetables to the muthiya and fry for two minutes. Your dish is ready to eat with hot puris and shrikhand.