Food blogger Smruti Shah shares a traditional Gujarati preparation of seasonal greens, vegetables and spices.
You can share your favourite recipes too!
Served with puri, Surti Undhiyu is a winter speciality.
Here's the recipe: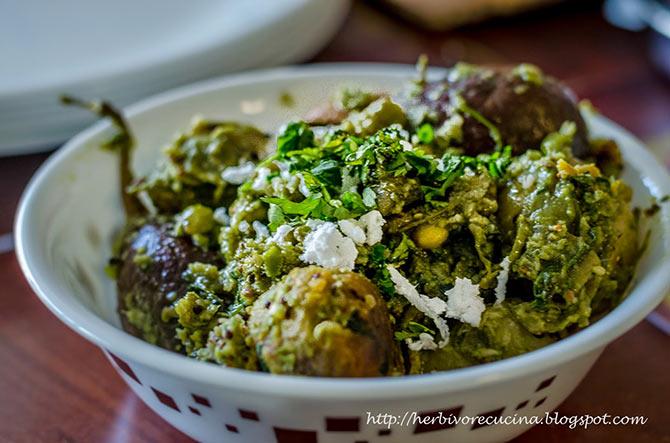 How to make Methi Muthiya
Ingredients
1 cup wheat flour
1/4 cup gram flour
1/2 cup chopped fenugreek leaves
Few sprigs of chopped cilantro
1/2 tsp sugar
1 tbsp salt
1/2 tsp red chilli powder
1/4 tsp turmeric powder
1 tbsp chilli garlic ginger paste
1 tsp sesame seeds
1 tsp carom seeds
1 tsp oil
1 cup water
Method
Mix wheat flour with gram flour.
Add fenugreek leaves, cilantro, sugar, salt, red chilli powder, turmeric powder, chilli garlic ginger paste, sesame seeds, carom seeds and oil. Mix well.
Add water gradually, and knead into a firm dough.
Make either round or log shaped muthiya.
Deep fry muthiyas. You can also shallow fry to avoid excess oil. Keep aside.
For the vegetables
Ingredients
1/2 cup lilva tuvar (

green pigeon peas

)
1/2 cup val papdi (Indian flat beans)
1/2 cup surti papdi
10 baby potatoes
1/2 cup purple yam
1/2 cup white yam (ratalu)
6 baby eggplants
1/2 cup sweet potatoes
Green masala prepared below
1 cup shredded coconut
1/4 cup fenugreek leaves finely chopped
Green masala
Method
To make green masala, blend 1/2 cup green chillies, 1 inch ginger piece, 5-6 garlic cloves, a bunch of green garlic shoots along with the garlic, 2 cup cilantro, a pinch of salt, 1/2 tsp carom seeds, 1/2 tsp cumin seeds, 1 tsp sugar in a blender.
Add as little water as possible and make a thick green paste. Keep aside.
Take the baby potatoes, de-skin them and slit them with a '+' shape on one side. Ensure it is not cut through the other side. Repeat for baby eggplants.
Cut the remaining vegetables into cubes, about the same size as the potatoes and eggplants.
Mix the green masala with shredded coconut and use 1/4th of the masala to stuff the potatoes and eggplants.
Assembly
Heat 5 tbsp oil in a big and deep pan.
If the muthiya is to be shallow fried, use this oil to shallow fry and make the undhiyu in the same oil. This gives the oil an extra flavour!
Once muthiya is crisp and golden brown on the outside, remove from the oil onto a kitchen towel.
Add 1 tsp each of mustard seeds, cumin seeds, carom seeds, sesame seeds and a pinch of asafoetida in the oil.
Once the mustard seeds pop, add half of the remaining green masala and let it sizzle for a minute or two.
Add all the greens (lilva tuvar, val papdi and surti papdi) to the oil.
Sprinkle some salt and sugar on them, to avoid discoloration.
Layer the potatoes, yams and sweet potato.
Put the remaining green masala on the top and finally add the eggplants and muthiya.
Top the mixture with fenugreek leaves and some shredded coconut.
Make a mixture of 2 tsp salt, 1 tsp sugar and half cup water.
Sprinkle the mixture on top of the undhiyu and cover it. Cook for 30 to 35 minutes till the vegetables are soft.
Before serving, mix the undhiyu well, top with shredded coconut and cilantro and serve with puri or phulka.
Photo: herbivorecucina.blogspot.in
ALSO SEE
Want to share your favourite recipe? Simply e-mail your recipes to getahead@rediff.co.in (subject line: My Fav Recipe) with your name, hometown and any interesting details about the origin of the recipe, along with a photograph of the recipe, if possible. We'll publish the best preparations right here on Rediff.com and India Abroad.