Food blogger Swayampurna Mishra sent us this recipe of roasted potatoes served with a tempting twist.
You can share yours too!
Roasted potatoes rubbed in spices are sinful delights.
Add to that, the goodness of butter cunningly concealed in its slices and a tantalizing dollop of tzatziki sauce -- you have a side dish that is hard to resist.

Hassleback Potatoes promises you just that.
Here's the recipe: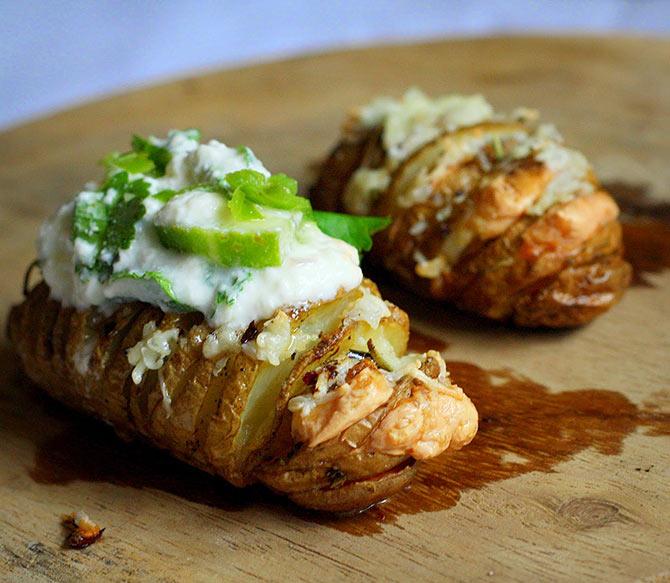 Ingredients
4 potatoes, medium size
2 to 3 tbsp salted butter, thinly sliced
4 slices bacon, mushrooms diced (optional)
1 cup shredded sharp mozzarella/cheddar cheese
2 tbsp chopped chives
2 tsp chopped green chillies
For the spice rub
Salt, pepper, few sticks of dried rosemary, some red chilli flakes, a little oregano and a light drizzle of extra virgin olive oil.
Method
Preheat oven to 200 degrees C.
Using a sharp knife, make crosswise cuts in each potato, about 1/8-inch apart, stopping about 1/4 inch from the bottom.
Add butter slices between the cuts.
Give the potatoes a thorough rub with the spice mix.
Transfer potatoes to a baking sheet.
Place into oven and bake until the outsides are browned and crisp for about one hour.
Top with cheese and bake until melted, an additional five minutes.
Heat a pan over medium high heat.
Add bacon and mushrooms (optional) and cook until brown and crispy, about 6 to 8 minutes.
Transfer to a paper towel-lined plate.
Serve potatoes immediately, topped with the tzatziki sauce, bacon, mushrooms, chives and chillies!
Photo: Swayampurna Mishra
Loved this recipe? Click here for more interesting recipes and food features!
ALSO SEE