A mouthwatering Mexican recipe you can make at home!
Bean Quesadilla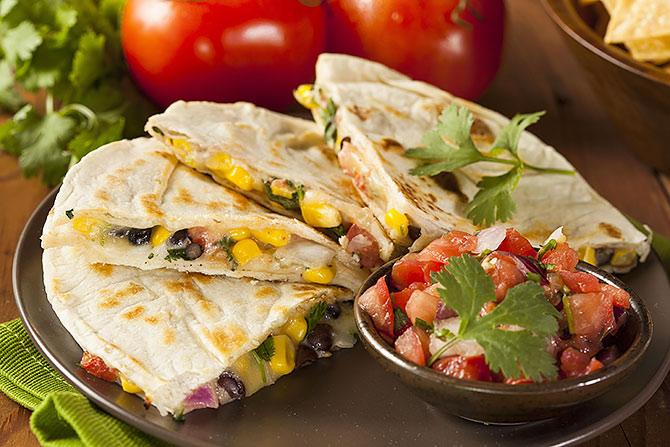 Recipe and photo: Courtesy Cornitos
Cuisine: Mexican
Serves: 6 persons
Ingredients
6 tortilla wraps
1 cup onion diced
100 gm beans (soaked overnight)
1 cup tomato diced
50 gm sweet corn boiled
3 tbsp olive oil
Salt and pepper as per taste
50 gm mozzarella cheese
7-8 tbsp sour cream
Method
Wash and soak the red kidney beans or rajma overnight. In the morning give it a good rinse, pressure cook for 3 whistles and keep aside.
Heat oil in a shallow frying pan on medium heat.
Add veggies and sauté it for 3 to 4 minutes.
Microwave tortilla wrap for 10 seconds.
Spread the veggies in between the wrap. Sprinkle cheese along with seasoning.
Brush some oil on the other side of the tortilla.
In a frying pan place the quesadillas for 6 to 7 min on low heat until the cheese melts.
Cut into triangular pieces and serve with sour cream.