When it is cold outside, Chef Sabyasachi Gorai's soothing soups will make you feel good inside.
Featuring five veggies, the wholesome Pumpkin Soup has plenty of fibre and is rich in omega-3 fats, thanks to the addition of walnuts.
The rich Chicken Tortellini Soup is to be had with walnut pesto and a side of crusty bread.
Made with brown cane sugar, the silky, smooth, Sweet Walnut Soup has just three ingredients.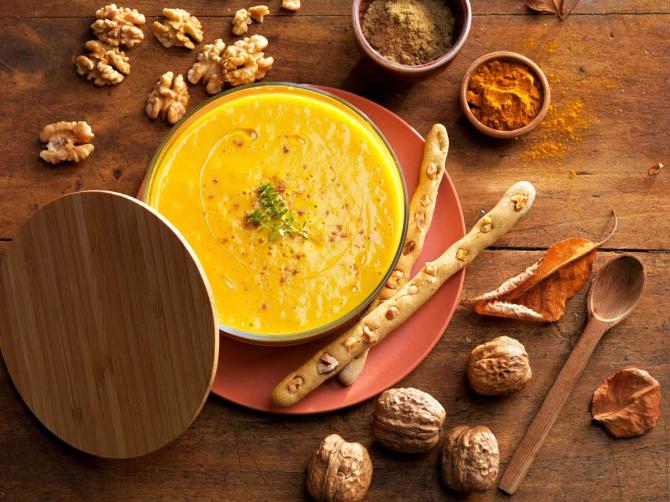 Pumpkin Soup
Serves: 3-4
Ingredients
130 gm or 1 large potato, peeled
600 gm pumpkin, peeled
60 gm leeks or spring onions
60 gm or 1 large carrot, peeled
60 gm or 1 small onion
40 ml or 2½ tbsp extra virgin olive oil
320 ml water
Salt to taste
½ tsp black pepper powder or to taste
½ tsp nutmeg
200 gm chopped walnuts, optional
Method
Cut the vegetables into small, similar-sized pieces.
Saute the chopped vegetables with the olive oil in a large heavy-bottomed kadhai or saucepan for 10 minutes.
Raise heat to medium-high, add the water, cover and and cook till the pumpkin and the potato is tender, about 20 minutes.
Take off heat, let the vegetables cool, transfer into a blender/mixer.
Add the walnuts and blend well.
Add back to the saucepan.
Add some more water if the soup is too thick.
Add the salt, pepper, nutmeg.
Give it a good stir and let it come to a boil again over low-medium heat and then pour into soup bowls and serve.
---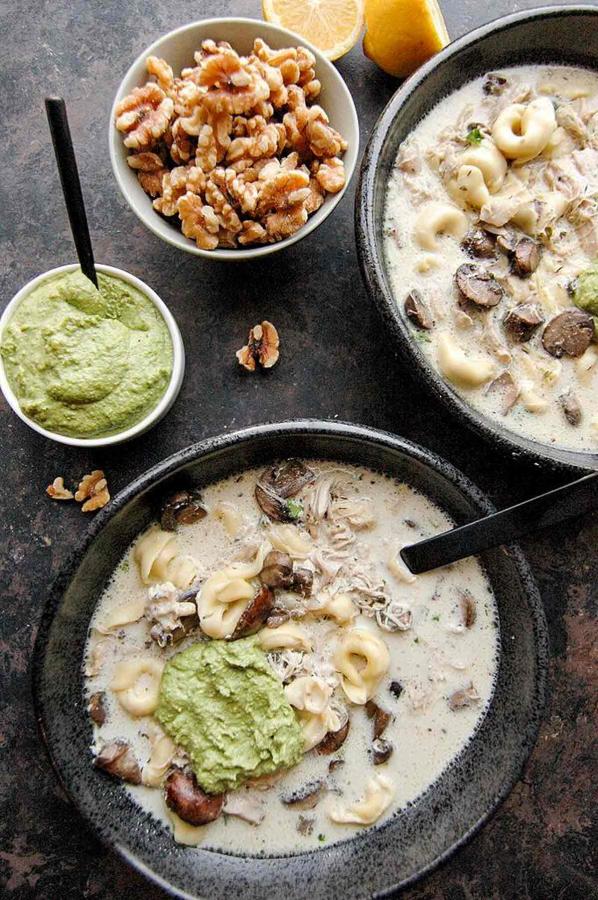 Slow Cooker Chicken Tortellini Soup
Serves: 3-4
Ingredients
450 gm chicken thighs, boneless and skinless
230 gm baby Portobello or large mushrooms, sliced
4 cups chicken broth (please see the note below)
½ tsp dried thyme
1 tsp onion powder or 1 finely chopped onion
1 tsp garlic powder or 4-5 finely chopped garlic pods
1 cup heavy cream
230 gm dried cheese tortellini pasta, available in gourmet grocery stores and online
For the walnut pesto
1 cup walnuts
1½ cup chopped palak or spinach
½ cup freshly grated Parmesan cheese
¼ cup extra virgin olive oil
2 tbsp water
1 tsp salt
Method
Boil the chicken thighs, sliced mushrooms, chicken broth, dried thyme, onion powder, garlic powder in a large saucepan over low heat for an hour.
Alternatively, use a slow cooker and cover and cook on low heat for 6-8 hours or high heat for 3-4 hours.
Fish out the cooked chicken, shred and return to the saucepan or slow cooker.
Stir in the cream and the tortellini.
Cover and continue to cook in the saucepan for 15 minutes (or in a slow cooker for 15-30 minutes) or until the pasta is tender.
For the walnut pesto
In a food processor or blender, add the walnuts, spinach, salt, Parmesan, olive oil.
Blend adding the water slowly till smooth.
Keep aside.
To serve
Pour the hot chicken soup into soup bowls and add a spoon of walnut pesto on top.
Serve.
Note: Chicken or vegetable broth can be purchased ready made from gourmet food shops and online. Or use one chicken soup cube/bouillon cube per 2 cups boiling water.
Or make fresh chicken broth by boiling 8-10 cups water with 1 kg whole uncut chicken, 1-2 large roughly chopped carrots, 3 stalks roughly chopped celery with leaves, 2 medium onions chopped in chunks, 5-6 whole black peppercorns, 2 tsp salt, 4 tbsp chopped parsley with stems, 2 laung or cloves, 5 pods garlic, 2 tej patta nor bay leaves for an hour over low heat or till the chicken is cooked vegetables are tender and the water is steeped with the flavour of the vegetables and spices.
Strain the chicken, vegetables, spices from the water and use the broth.
---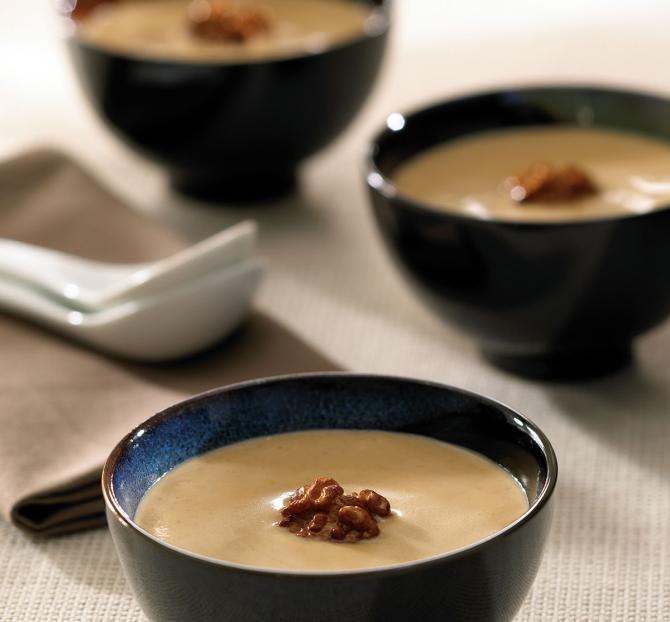 Sweet Walnut Soup
Serves: 3-4
Ingredients
2 cups walnuts

5 cups water for boiling the walnuts
¼ cup rice flour
125 gm brown cane sugar or use regular sugar
2½ cups of cold water
1 cup room temperature water
Method
Preheat the oven to 180°C.
Bring 5 cups of water to a boil in a large saucepan over high heat.
Add the walnuts and boil uncovered for 1 minute.
Drain, pat dry and spread the walnuts on an ungreased baking sheet and bake in oven until golden brown, about 15-20 minutes.
Take out of the oven and cool.
Place cooled walnuts and ½ cup of the cold water in a food processor or blender and process until smooth.
Add another ½ cup cold water and blend again.
In a saucepan, whisk rice flour and the 1 cup room temperature water.
Add the walnut puree and the remaining 1½ cups cold water.
Heat over medium-high heat, whisking frequently, until it comes to a boil, about 10 minutes.
Add the brown cane sugar and reduce heat to low and simmer for 10 minutes.
Serve piping hot.
Note: The consistency should be of a light cream soup; if it is too thick, whisk in ½ cup more cold water.
Cinnamon may be added for a sweet, earthy aroma. Top with walnut halves.
Chef Sabyasachi Gorai is a consultant chef and mentor.
Do you have any recipes to share? Please mail the recipe(s) to getahead@rediff.co.in (SUBJECT: RECIPE) with photographs/videos of the recipe, your name, location and a photograph of yours.