Turn the humble yellow mung lentil into a filling and very tasty dal with Taruna Deepak's recipe.
Serve Dal Muradabadi on a bed of steamed rice or with hot rotis or have as a heathy snack by itself.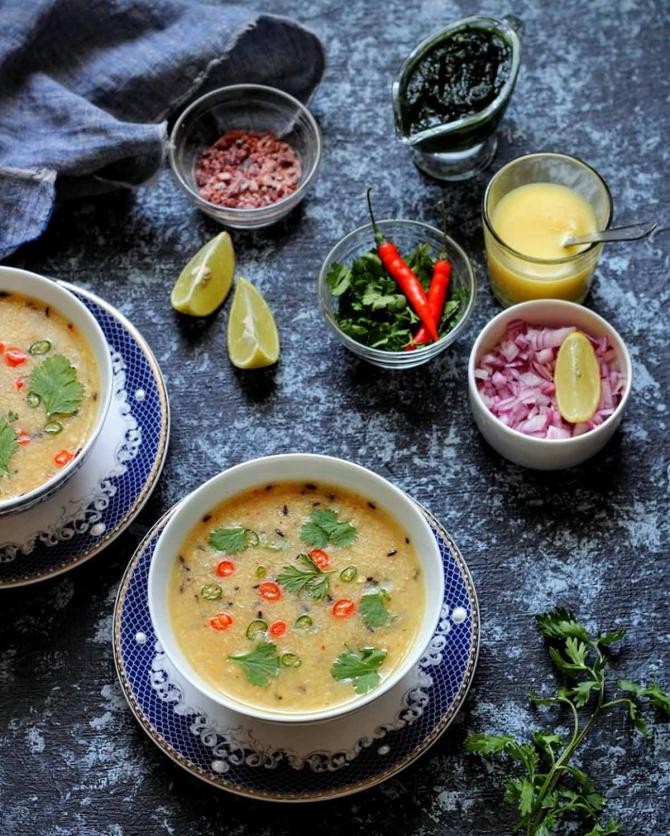 Dal Muradabadi
Serves: 3-4
Ingredients
For the dal
½ cup moong dhuli or yellow mung beans, skinless and split
¼ tsp hing or asafoetida
5 cups water
1-2 tsp grated ginger or to taste
½ tsp red chilly powder or to taste
½ tsp salt or to taste
1 medium-sized boiled potato, finely shredded
For the tempering
1 tbsp oil or ghee
2-3 whole dry red chillies, each split in two to three pieces
½ tsp jeera or cumin seeds
¼ tsp ajwain or carom seeds
¼-½ tsp hing or asafoetida or to taste (hing strength often varies)
½ tsp kala namak or black rock salt
Garnish for serving
2 tbsp finely chopped green chillies, optional
1 tsp kala namak or black salt, optional
2 tbsp amchur or dry raw mango powder, optional
Few tbsp melted ghee, optional
Green chutney, optional
10-12 lemon wedges or juice of 2-3 lemons, optional
3/4 cup finely chopped red onions, optional
2-3 tbsp finely chopped fresh green dhania or coriander or cilantro, optional
Method
Soak dal for 30 minutes.
Add the soaked dal and the water to a pressure cooker, along with the ginger, asafoetida, red chilly powder, salt.
Cook the dal till the pressure cooker releases two whistles.
If not using a pressure cooker, boil the dal till mushy.
Add the finely shredded boiled potato.
Mix and cook the dal on medium heat for 15-20 minutes more till it attains a smooth texture and no separate grains are visible.
Heat the tempering oil in a pan and lower the heat.
Add whole red chillies, jeera, ajwain and hing to the oil.
Cook for a few seconds or till the spices crackle and become aromatic.
The spices can easily burn so be very careful.
Pour the tempering into the dal along with the kala namak and stir.
Before serving, add garnish per taste -- the onions, green chutney, chopped fresh green chillies, ghee, amchur.
Note: Without the additives, the dal will be bland. They are highly recommended.
Alternatively, add a sprinkle of kala namak and a squeeze of lemon juice over the chopped onions and rest them for 10-15 minutes, before adding them to the dal.
Tamarind chutney may be added as well to provide a sour element.
The amount of additives mentioned are approximate amounts. Adjust them as required.
Add water to the dal depending on the consistency desired.
Keep in mind that the dal will thicken as it sits and the thickened version can be served as snack or chaat, while the thinner version can be enjoyed with steamed rice or hot rotis or hot parathas.
Taruna Deepak lives in Mumbai and is the creator of the food blog Easyfoodsmith.