We'd asked you, dear readers, to tell us what your first salary was and what it meant to you at the time.
Mithileysh Sathiyanarayanan, 29, research scientist from London, UK shares his story:
"In 2009, I was studying engineering in Bengaluru.
"It was extremely difficult for my parents to pay my college and course fees. So I decided to find a part-time job to support myself and my family.
"At one point, I thought I may have to drop out.
"I joined an academy to take tuitions/classes for high school and pre-university students. The director of the academy had promised to give me a salary, but failed to do so.
"My parents were quite disappointed. But they told me me, 'You have started teaching now. The students are loving your teaching methods and are dependent on you. Don't worry about the salary, give your best. Make sure the students score high marks in their final exams.'
"My parents somehow managed to pay my engineering fees and I continued teaching students without any monetary expectations from the academy.
"With great difficulty I completed my engineering. I passed with flying colours and received several opportunities to study abroad.
"With the help of a scholarship and bank loan, I managed to complete my post graduation and PhD at the University of London.
"As a young scientist, I got the opportunity to work on an innovative Google project.
"From my first salary, I transferred Rs 50,000 to my parents' account so they could visit their favourite holy places in India.
"It was a very special feeling for all of us, which we will cherish for a long time.
"Currently, I am collaborating with TalentBiz, a US-based Talent Transformation company to provide accessible and affordable education to rural students in India, which will help them pursue higher education and transform them into experts in their field of interest. This is also my parents' vision.
"I will continue to support all youngsters and underprivileged students as I know the difficulty of paying college fees in India and the importance of having a postgraduate degree.
"I would like to tell youngsters: Don't worry about your first salary. Stay focused, set your goals right, be determined and work diligently towards it. I am sure you will definitely get ahead!"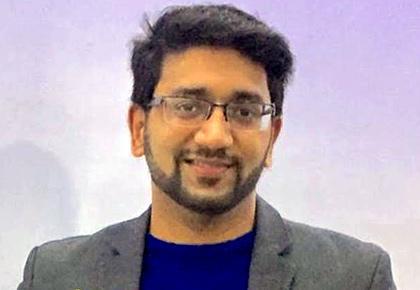 ---
Dear readers, do you remember what your first salary was?
When did you receive it? Which year was it?
Do you have a photograph of it?
What did it mean to you at the time? Tell us all about it.
What was your first job and salary? And how did you spend it?
Did you buy a sari for your mum or a gift for your girl/boyfriend?
Write in to us at getahead@rediff.co.in (Subject line 'My First Salary') along with your NAME, AGE, LOCATION and photograph, if possible. We will publish the best responses right here on Rediff.com!