Chef John Macedonius Fernandes of Out Of Pao shares his special Christmas recipes.
Pesto Pao
Ingredients
45 gm mozzarella cheese
60 gm tomato
100 gm basil
20 gm garlic
50 gm peanuts
30 ml vegetable oil
40 gm iceberg lettuce
2 soft pav
30 gm nachni chips
Method
Blanch the basil for a few minutes.
Take it out and put it in ice water to cool down.
Add sliced garlic, peanuts and vegetable oil and grind into a paste.
Cut mozzarella and tomato into batons, toss with some pesto sauce and season with salt.
Cut open the pao.
Apply the pesto sauce to the pao.
Place iceberg lettuce, mozzarella and tomato batons on the pao.
Close the pao and grill it.
Serve with nachni chips.
---
Country Cottage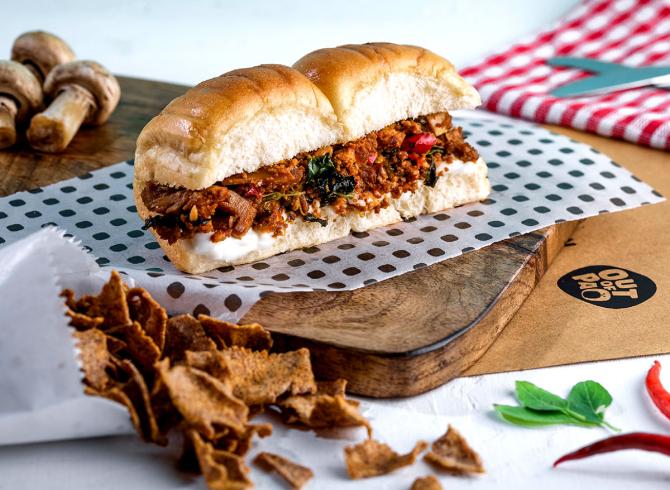 Ingredients
80 gm malai paneer, crumbled
2 soft pav
30 gm nachni chips
12 gm iceberg lettuce
5 gm garlic, chopped
10 gm onion, sliced
5 gm fresh red chilli
5 gm green chilli
30 gm oyster sauce
3 gm sweet basil
30 gm mayonnaise
30 ml vegetable oil
Method
Heat the oil in a pan.
Add chopped garlic and fry for a minute.
Add sliced onion and fry turn they turn golden.
Add the chopped chillies, paneer and toss.
Add oyster sauce, salt, basil leaves and mix it well.
Cut the pao in half and apply mayonnaise to it.
Place lettuce and paneer mixture.
Close the pao and grill it.
Serve with nachni chips.