When Sushmita Sen won Miss Universe in 1994 and Aishwarya Rai returned home with the Miss World sash, most of us weren't really aware of just what the two titles meant.
But we knew that the achievements were remarkable.
For perhaps the first time, Indians woke up to the fact that 'beautiful' need not mean a tall, blonde, blue-eyed woman.
Before Sushmita Sen and Aishwarya Rai became the most famous celebrities in India who weren't movie stars, they were just two girls competing for a title -- Femina Miss India.
On the 20th year of the crowning, Sathya Saran (inset), who at the time edited the women's magazine Femina, looks back at the pageant that would change the fortunes of the two young women and indeed the aspirations of a newly liberalised economy.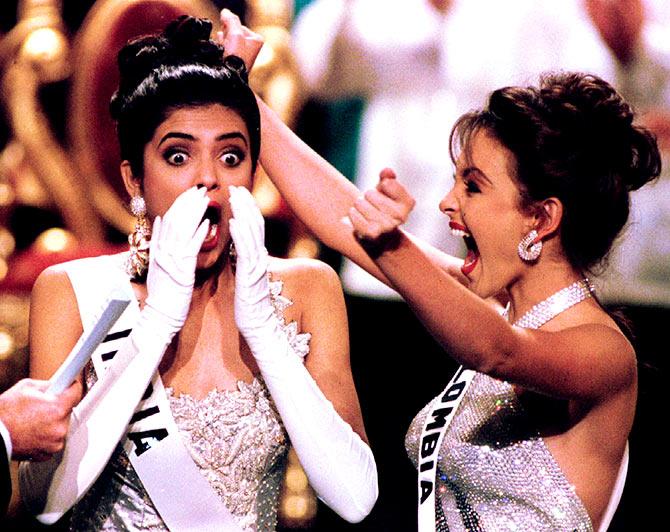 The picture that was cherished by a generation -- Sushmita Sen being crowned Miss Universe! Photograph: Reuters
---
The Miss India contest had been a part of Femina's annual calendar since the mid-'60s.
I joined Femina in 1979. I was interested in the show so at some point I decided to volunteer.
I was given the job of receiving people at the airport and ensuring they got to Shanmukhananda Hall (in Sion, central Mumbai) on time for the show.
Since I was also doing the fashion pages of the magazine, I would accompany the contestants to Kala Niketan and help them choose a ghagra-choli and a sari.
After they won, we would pack the winners off with a few sets of clothes purchased at a budget of about Rs 7,000, hand them a ticket and tell them to have fun.
We never expected them to return with the crown.
This was how it was for the longest time.
But in 1992, Madhu Sapre finished third at the Miss Universe pageant.
Unlike the other girls, Madhu had trained with her father.
So when she came back, Pradeep Guha (marketing head of the Times of India group) tried to understand better from Madhu what went into the pageant.
We realised what was going wrong; we used to send these pretty but short girls out there who did not stand a chance against the tall, blonde blue-eyed beauties.
We had to reassess our parameters and put together a programme to train the girls.
The next year we sent Namrata Shirodkar.
She did a great job but ended fourth. But we knew that we were on the right track.
In 1994, we scaled up the contest and took the show to Goa.
We had to go scouting for models to participate in the show.
I would stop girls on the streets who struck me as being model material and ask them if they were interested in participating.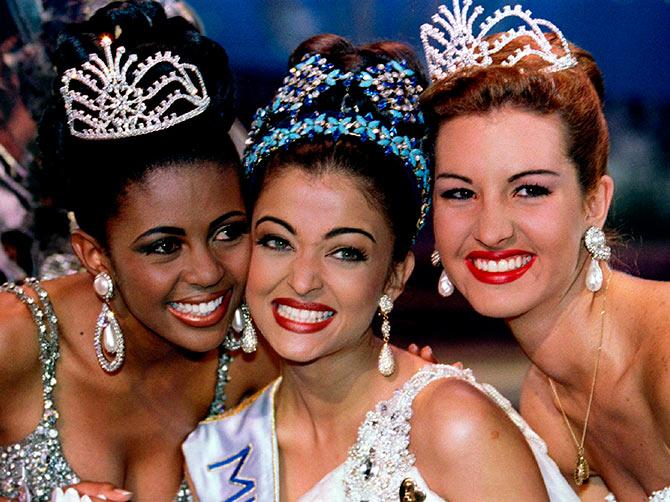 Miss South Africa Basetsane Julia Makgalemele (L), Miss India Aishwarya Rai (C) and Miss Venezuela Irene Izquierdo (R) smile for photographers moments after Rai was crowned Miss World 1994 Photograph: Juda Ngwenya/Reuters
---
I had heard of Aishwarya (Rai) from Pravin Banker, a make-up man I used to work with regularly.
He had worked with her and he told me that she could be the next Miss India, even Miss Universe!
My first reaction when I heard her name was 'What kind of a name is that?'
But I saw her pictures and sent word asking her if she could join us.
I was told she was still studying.
For two years -- 1992 and 1993 -- there was strong speculation that she would participate and I was keen she did.
Finally in 1994, when she participated, there was brouhaha! By then she was a known face on the modelling circuit. When other models heard of her participation, several of them dropped out.
Everyone said we'd found our Miss India even before the contest had started.
That year there were several talented girls.
There was Jesse Randhawa who was tall and stunning and Komal Rampal who was as beautiful as her brother Arjun is handsome.
In the midst of these beauties, no one noticed Sushmita Sen.
Sush had been spotted at a night club by Ranjan Bakshi, then a senior manager with the Times of India Group.
She had appeared in the magazine when she had modelled for one of JJ Valaya's fashion spreads.
But Sush was still gauche; she didn't have what Ash had.
Aishwarya was instant magic before the camera.
Sushmita, before the camera, was naive but Ranjan saw something in her.
At the contest though, no one really noticed Sush. She was just one of the many girls in the group.
All the backstage hands had their favourites but Sushmita was not among them. She was a dark horse.
An undated photograph of Sushmita Sen. Photograph Courtesy: Sathya Saran
---
Sush was thin, tall and awkward.

No one knew her strength was her speech.
We had only seen her photographs and watched her walk.
No one got the impression of a winner during the qualifying rounds.
Meanwhile, everyone was fawning over Aishwarya. Make-up artistes would shower special attention on her. The judges were leaning towards her.
She won Miss Ten, a title given to someone with the best body in the competition.
Internationally, this is often the decider. Once you win Miss Ten at the Miss Universe, you are as good as home.
But Aishwarya's body wasn't toned; I protested but the other judges shot me down.
I had heard that many of the other contestants were upset because the make-up artistes were concentrating on Aishwarya in between the rounds. Since she was a known model by then, they were naturally partial to her.
But Sushmita was working quietly towards winning the crown.
She told me later that she was confident of winning as long as she made it past the swimsuit round.
***
It was January 16, 1994, the day of the event!
We'd had some nice evenings that led up to the big day.
There were several celebrities as judges.
Neena Gupta and I were sharing a room.
There were protests outside the venue and we were slightly worried.
But everything went off smoothly.
I used to write the script and everything was going as planned.
Dalip Tahil was the compere and he was reading out of a script.
At the last minute there was a tie.
No one had anticipated this and Dalip was obviously caught off guard.
He said: "Oh my god! It's a tie! Who's tie? My tie? Your tie?"
He had no clue what to say!
There was utter panic backstage. No one had ever imagined there would be a tie!
Aishwarya and Sushmita would have to come up against each other once again.
In the final question round Aishwarya was asked first to pick between Ridge Forester of the American soap Bold and Beautiful, and Mason Capwell of the equally popular soap Santa Barbara, as a potential partner.
She went for Mason because 'he has a very caring side and a terrific sense of humour and that gels with my character.'
Sushmita Sen was asked by judge Ritu Kumar what she knew of the textile heritage of India.
Her winning reply: 'It started off with Mahatma Gandhi's khadi and it's gone a long way since then. But the basics of the textile heritage lies there'.
I was in the audience because I was to write a copy for the next day's edition of The Times of India.
Sushmita acted like she wasn't surprised she had won.
But there was general shock. No one had expected Sushmita to beat Aishwarya! I suppose Francesca Hart came third because of the law of averages.
Soon after the event, Francesca disappeared from the scene. No one knows where she went.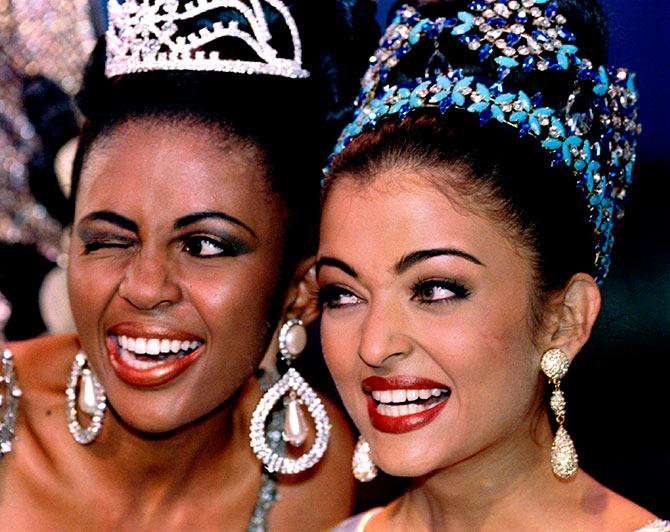 Miss South Africa Basetsane Julia Makgalemele (L), winks at photographers moments after Miss India Aishwarya Rai (R) was crowned Miss World 1994. Photograph: Juda Ngwenya/Reuters
---
Sushmita and Aishwarya, of course, went on to participate in the Miss Universe and Miss World pageants and made India proud.
In retrospect, everyone agreed that Aishwarya was better suited for Miss World and Sushmita for Miss Universe.
The event ended at around 11 pm and I went about looking in Panaji for some place to type out my story. I found one, typed it out and sent it by fax because there was no email back then.
We were all very tired. I was running a fever and went to bed.
All flights going out of Goa were early in the morning so the hospitality staff made sure we were out of the hotel on time and on the flight!
***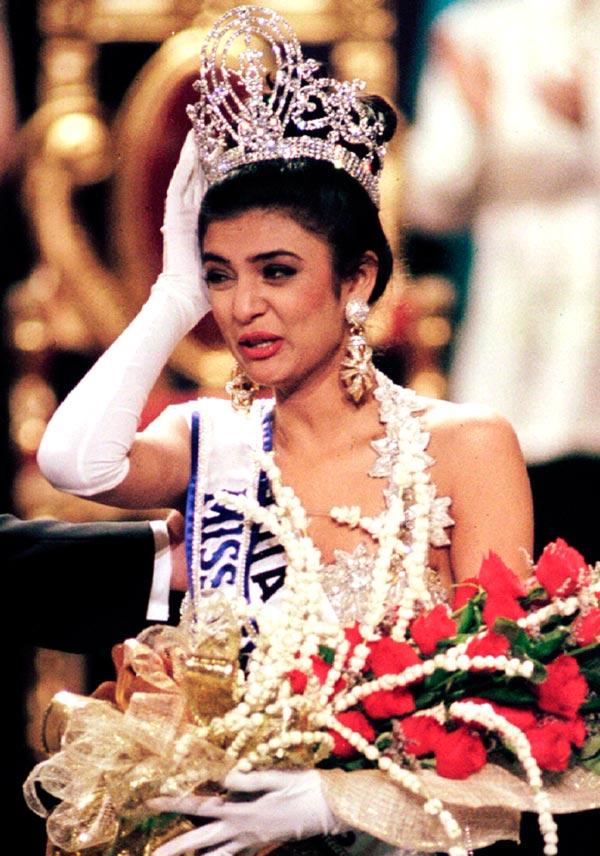 Sushmita Sen, holds her crown in tears after winning the Miss Universe 1994 beauty pageant in Manila. Photograph: Romeo Ranoco/Reuters
---
The thing about Sushmita is that she has great presence of mind and charisma.
She has an amazing memory. She remembers names and she is a great people person.
At the Miss Universe pageant, I am sure she must have met every single judge during the pageant and made sure they remembered her.
Much like her father, Sushmita is very well-spoken and erudite.
We had very little time to train Sushmita. The Miss Universe pageant was to be held in May that year.
She didn't have a chance to train but she modelled a lot for the magazine.
Poor girl was made to pose next to Parryware basins and commodes but she did it all with a smile.
Just before the Miss Universe pageant, Sushmita came to me and cried.
She didn't think she stood a chance because she was dark and thin and had black eyes whereas all the other contestants were tall and blonde.
I told her that she would stand out if she believed in herself.
***
I was in Goa shooting with (photographer) Rafiq Syyed and (model) Meghana Reddy, standing on a high wall as Rafiq was taking some shots of Meghana in Krishna Mehta's clothes.
From a distance, I spotted someone running in our direction. He said something to Rafiq who asked me to get down from the wall.
I didn't know what was happening. I insisted he tell me right there and then.
After some persuasion, Rafiq finally told me that Sushmita had won!
I could not believe the news; I thought he was playing a prank as he always does.
But it was true and I began jumping in joy right there on the wall, much to Rafiq's horror!
After she won the crown, we lost all contact with Sushmita.
That night she was moved into a special suite and then she was tied up with the Miss Universe organisation.
She didn't come back to India for many months because she was travelling the world.
Before her homecoming, I ran into her in Cairo.
She was to speak at the same UN conference I was attending.
I got her number and reached out to her.
She was staying at the Oberoi with a view of the pyramids and I was at the Hyatt on the other side of town.
We met that evening for the first time in months and we spoke the entire night of how her world had changed since then and all the countries she had seen.
In a matter of months she had changed so much. She was more mature and composed.
She was inundated with gifts wherever she went. At a time when video recorders were rare, she had four!
People were giving her diamonds and platinum rings... it was unbelievable.
She too could not contain her excitement but she seemed to have held herself together rather well.
Finally, when she came back, it was such a huge deal!
We went to the Taj in New Delhi where our regional rounds were held earlier. And when she addressed all the bellboys by their names, they were over the moon and were swooning all over her!
She charmed Sonia Gandhi and Sheila Dixit and she charmed the journalists.
I was never very comfortable addressing huge gatherings and I was very uncomfortable when I had to introduce Sushmita to the press.
I mumbled some words and let Sushmita take over. She did and how!
Journalists were asking her all sorts of questions.
When they asked her why she wasn't speaking in Hindi, she replied to them in Hindi.
When someone asked her a question in Bengali, pat came the reply in the same language.
She was barely 20 and she was responding to all questions confidently!
That was when I lost my stage fright; I told myself if this young girl could do it, so could I!
Unfortunately, Sushmita hasn't been able to make much of her achievements.
She hasn't made it big in films.
She has done some brilliant things with adoption and has broken new ground, but with the promise she showed and the potential she had, she could have done anything.
***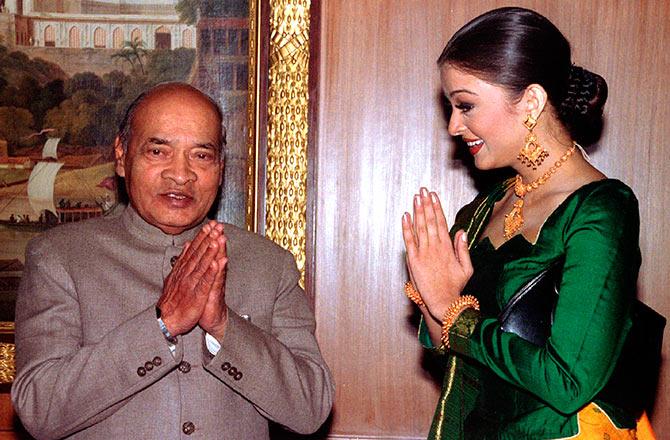 PV Narasimha Rao with the newly-crowned Miss World 1994, Aishwarya Rai Photograph: Romeo Ranoco/Reuters
---
Aishwarya dealt with fame much better than Sushmita.
I don't blame Sushmita because when you're young and you are, literally, the queen of the universe, it is difficult to handle that.
Someone has to remind them that this thing lasts only for a year and that they must use it to build whatever they can.
Aishwarya was already half a star so she wasn't exactly new to fame.
Also, unlike Sushmita, Aishwarya wasn't jet-setting.
She came back to India soon after winning the crown because the Miss World organisation flies you out only when you have an appearance to make on their behalf.
She was travelling in and out of Mumbai for the whole year, but it wasn't like Sushmita who was just whisked away.
When you win the Miss Universe pageant, you are pretty much an employee of the Miss Universe organisation.
When Aishwarya returned to India, we had her homecoming procession in Mumbai along Bandra's Carter Road. There was a press meet but she wasn't heckled like Sush was in New Delhi.
Subhash Ghai soon announced that he was to sign her for his next film (Taal, which only released in 1999).
Aishwarya handled the success rather well.
She smartly signed on movies with big names like Mani Rathnam and Sanjay Leela Bhansali among others.
She has been fairly selective about her movies. When critics panned her acting skills, she proved them wrong with a movie like Raincoat (2004).
She has signed some huge endorsements (L'Oreal and Longines are two of the biggest international brands she endorses).
And she has shaped her career carefully and intelligently.
So it isn't surprising that she is still counted among the top heroines of her generation even though she does so few films.

***

Miss India has often been criticised as a body show.
Being a woman, I didn't want it to be exploitative, and somewhere I was the watchdog.
My contribution to Miss India was to keep it rooted.
Whenever I was with the girls I spoke to them of being aware of being a woman, of being an Indian and projecting yourself with grace and being proud of the fact that you have the brains and beauty, and to not get exploited but rather project it in a way you get worldwide recognition.
Yes, we were aiming for a contest that was a body show.
But to us it was not a body show and I suppose we proved that because the women we sent there were real women and not like the international models whose bodies are sculpted to perfection.
And, look, it has been 20 years already!
As told to Abhishek Mande Bhot/Rediff.com