If you are preparing for the CAT, XAT, Common Management Admission Test or Common Entrance Test, you can ask your questions to rediffGURU Patrick Dsouza HERE.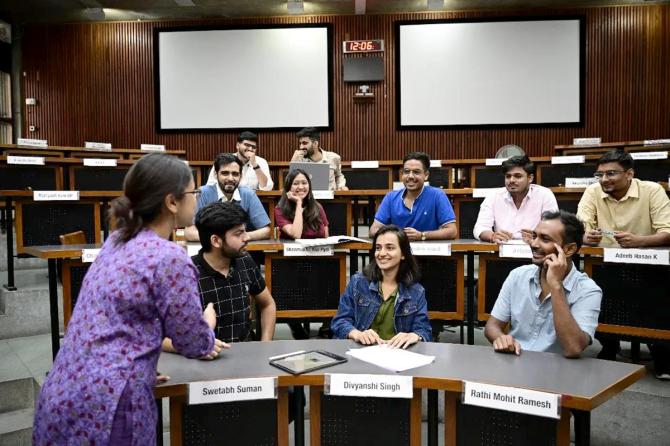 Approximately three lakh students are expected to appear for the Common Admission Test scheduled to take place on Sunday, November 26, 2023.
This exam is their first step towards gaining admission into some of the top-ranked management colleges, including the Indian Institutes of Management and the leading business schools, in the country.
Other entrance examinations that are important for management aspirants include the Xavier Admission Test (XAT), the Common Management Admission Test (CMAT) and the Common Entrance Test (CET).
The Xavier Aptitude Test (XAT) for admission to post-graduate diploma and MBA programmes at the Xavier School of Management (XLRI) will be conducted on Sunday, January 7, 2024.
You can ask your CAT and MBA-preparation related questions to rediffGURU Parick Dsouza HERE.


Anonymous: Do I need to give CAT or any entrance exam for the executive MBA programmes at IIM, Ahmedabad?
What is the criteria for selection?
For the executive MBA course at IIM-A, you need to write the GMAT exam.
Post that, if you are selected, you will be called for the interview.
Anonymous: Where can I find an accurate list of predicted questions for Quant and DILR sections?
What is the expected level of difficulty?
There cannot be an accurate list of predicted questions for the Quant and DILR sections.
Every year, the questions that come in the exam are different.
What is important is to understand the concepts and its application.
Also, learn the right methods and that will help you to perform better.
Manish: If I appear for CAT after my final year exam then will it count as a gap year?
Technically yes, it will be counted as a gap year as, between your graduation and joining college, there is a gap of one year.
But this gap can be bridged in number of ways if you plan it out properly.
You could try starting something on your own or doing some courses.
Anonymous: Hi sir, I have seven-year experience in retail banking with a BCom background.
What courses of job can I apply for a growth in career?
Though there are students in the top IIMs with eight to 10 years of work experience for the two-year MBA course, it is recommended to try for the one-year executive MBA course if you have more than five years of work experience.
You need to write the GMAT if you plan to do an executive MBA from the top IIMs, Indian School of Business, XLRI, etc.
I believe this would be good for your career growth.
Mukesh: Is pursue of BBA from Don Bosco Institute of Technology, a college affiliated to IP University, Delhi, good for my daughter's career?
If your child wants to do MBA, then check whether the BBA college is liberal in giving marks.
One of the criteria while selecting students for MBA course is academic performance.
The college you pass out from does not matter much. But having a good peer group could make a difference.
Ashish: My son is doing CMA - Inter (Cost and Management accountant of India).
Is CMA enough to build career in finance or is other educational qualification required?
Is online MBA (finance) worth it with doing CMA or doing MBA from a B-town college worth it along with CMA? Any good college for online MBA?
Finance is a wide field.
Your son will have to decide which area in finance he wants to work and accordingly decide.
There are courses like CA, CFA, CS, actuaries, CFP, etc.
Online MBA does not have great value. It is usually useful to do if you already have a good relevant job or are looking at promotion within your company.
You can post your questions for rediffGURU Patrick Dsouza HERE.
---
rediffGURU Patrick Dsouza trains students for competitive management entrance exams such as the CAT, XAT, CMAT and CET.
To keep in touch with the exam trends, he takes them regularly.
He has scored in the 100 percentile six times in CAT. He achieved the first rank in XAT twice, in CET thrice and once in the Narsee Monjee Management Aptitude Test.
Apart from coaching students for MBA exams, he has trained aspirants from the IIMs, the Jamnalal Bajaj Institute of Management Studies and the S P Jain Institute of Management Studies and Research for campus placements.
Patrick has been a panellist on the group discussion and panel interview rounds for some of the top management colleges in Mumbai.
He graduated in mechanical engineering from the Motilal Nehru National Institute of Technology, Allahabad, and completed his masters in management from the Jamnalal Bajaj Institute of Management Studies, Mumbai.