'Parents don't realise that motivating your child or pushing them to do better is one thing and pushing them to the brink is another.'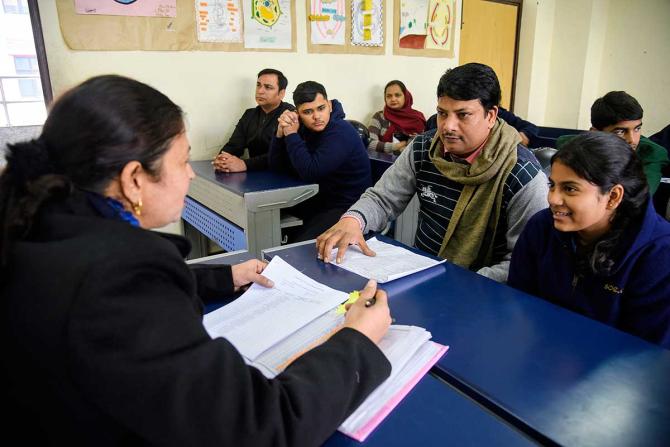 One of the major reasons behind poor mental health of students in the coaching hub of Kota that often prompts them to take the extreme step is "parents telling them there is no going back", according to police and district officials attempting preventive measures as record student suicides rock the 'Kota factory'.
Top coaching institutes also claim that a majority of parents refuse to accept feedback provided to them and want their children to continue in their preparation for engineering and medical entrance exams.
From reaching out to parents about possible signs of depression in their child, no aptitude for the particular subject or career, inability to live away from home, police and coaching institutes say their communications to parents about such issues are often met with resistance and majority of them refuse to accept these.
"Amid our interactions with the students, we found a student who was visibly depressed. I decided to call his father. His response was 'Ye to auron ko depress kar de, aisa kuch nai hai (he can depress others, there is nothing like that).'
"The father refused to accept that there is an issue which needs his attention or intervention," Kota Additional Superintendent of Police Chandrasheel Thakur tells PTI.
"When I insisted he come and take his son home for few days, the man kept giving me excuses that he will not get train reservation this soon. I had to finally threaten him with an FIR and that is when he agreed to come," add Thakur.
"But I was left thinking that if it took me so much to convince him, certainly his son did not stand a chance... Parents tell their own children that there is no going back," he adds.
Thakur heads a student cell set up by the Rajasthan government to reach out to students and make attempts to detect early signs of stress and depression.
"In the last one year, we have reached out to over 50 parents telling them clearly that their child is not fit for this exercise and needs to be with them," a representative of a top coaching institute who did not wish to be identified tells PTI. "At least 40 of them did not agree to take their child back home or withdraw from coaching."
"Others who paid some heed to the advice, withdrew from our coaching, but shifted them to other institute. Such is the rigidity," he adds.
"We also organise counselling sessions and activities for parents but the attendance during such initiatives is very low. Parents often cite their inability to travel due to engagements or financial issues," he says.
Over 250,000 students move to Kota annually to prepare for competitive exams like the Joint Entrance Exam (JEE) for engineering and the National Eligibility-cum-Entrance Test (NEET) for admission to medical colleges.
2023 has seen the highest number of student suicides -- 22 so far -- with two ending their lives in a gap of a few hours on August 27. Last year, the figure was 15.
Packed schedules, cut-throat competition, constant pressure to do better, the burden of parents' expectations and homesickness are among the common struggles of the students here.
Kota District Collector O Bunkar says arents have genuine intent behind sending their children to the coaching hub but they should be ready to accept and act if their child is not able to cope up due to any reason.
"We often hear parents saying that we have spent so much money... many of them deposit fees after lot of struggles...so it often becomes hard for them to accept the reality," says Bunkar.
"They believe that their child can do it, but is not doing it intentionally or not working hard enough," the collector adds.
"Students often are not able to convince their parents or when they communicate their concerns, they are not heard..this whole cycle is a huge contributing factor to stress among students," Bunkar tells PTI.
Authorities in Kota asked coaching institutes to stop conducting routine tests of students preparing for NEET and other competitive exams for the next two months in the wake of suicides by a number of aspirants.
Psychiatrist Dr Neena Vijayvargiya, who counsels coaching students at the Health Mind Clinic, says many parents believe the child is "acting" when she reports their inability to perform or feeling stressed.
"I call parents, they say 'Ye natak kar raha hoga (he must be acting)'...they are not ready to believe that not becoming a doctor or engineer is not a sign of failure," says Dr Vijayvargiya.
"Parents don't realise that motivating your child or pushing them to do better is one thing and pushing them to the brink is another."
Feature Presentation: Ashish Narsale/Rediff.com