The Harvard alum has known the Yale alum for ages, but hit it off recently.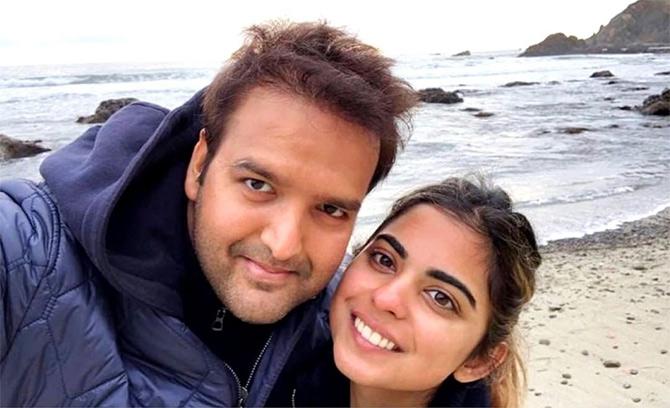 All photographs: Kind courtesy Isha Ambani/Twitter
While the Kapoor family was busy preparing to celebrate #SonamKiShaadi, Isha Ambani -- clearly, the apple of her dad's eye -- got engaged.
Isha's chosen one is Anand Piramal, and while Anand's dad may not yet be in Isha's dad's super billionaire league, the horse-riding Ajay Piramal is considered one of India's shrewdest businessman.
So, who is Anand Piramal?
Before we provide a brief CV, ET Panache revealed that Ajay and Swati Piramal -- Anand's parents -- played Cupid of sorts for Isha's parents in their courting days.
Back in the late 1980s, Mukesh -- now the richest Indian -- traveled from Patalganga, a township near Mumbai, where he was helping his beloved dad build a huge plant -- to meet up and woo a lissome dancer named Nayantara Dalal (the lady we now know as the awesome Nita Ambani) on Worli seaface, south central Bombay, where Ajay and his doctor wife Swati live.
You can read that delightful story here (external link).
A few days before Isha and Anand's engagement was announced, Malavika Sangghvi revealed in her Hindustan Times column that Anand had dropped 15 kilos in 12 weeks under the eagle eye of 'celebrity trainer and fitness enthusiast Sohrab Khushrushahi'.
Whether Anand shed that avoirdupois at Isha insistence or his parents's prodding we don't know yet, but he looks super cute in all the pictures that became public after the engagement.
Oh, by the way, Anand has a degree in economics from the University of Pennsylvania and an MBA from the Harvard Business School. His dad Ajay got a BSc from Mumbai's good ol' Jai Hind college, and a management degree from the city's Jamnalal Bajaj institute. His mom Swati is a medical graduate from Bombay University. Both Swati and Ajay have advanced degrees from Harvard.
Anand runs Piramal Realty, Ajay Piramal's aggressive real estate venture.
One of its first buys was Gulita, which functioned as Hindustan Unilever's training centre for some Rs 452 crores in 2012, reportedly beating bids from Anil Ambani, Isha's chachu, and Gautam Adani.
Nandini Piramal, Anand's elder sister, runs the Piramals' over the counter pharma business and has made it a success.
Her husband Peter De Young -- who Nandini met and fell in love with when she was doing an MBA at Stanford -- is CEO of the Piramal's critical care business.
Ajay and Swati Piramal are traditional folk, but didn't mind their only daughter having a Christian wedding.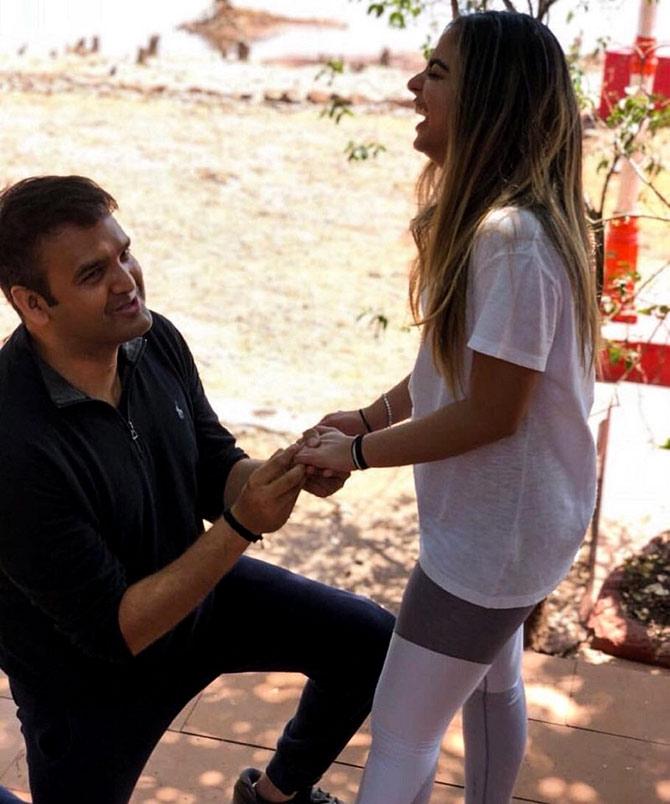 Isha is on the boards of Reliance Jio and Reliance Retail.
As her dad never tires of mentioning, the idea for Jio was born when Isha returned for a vacation from Yale and told her dad that Internet speeds at the Ambani home 'sucked'.
Isha and her twin Akash then outlined how data was the new oil to a businessman who earned his spurs building a refinery at Jamnagar, and Mukesh was hooked.
Isha -- who has a degree in psychology from Yale -- will graduate with an MBA from Stanford in June.
We don't know if Nita and Mukesh's twins will wed at the same time -- Akash was engaged to his school sweetheart Shloka Mehta, jeweller Russell Mehta's daughter, on March 25 -- but word is that Isha and Anand will tie the knot in December.
Akash and Isha's weddings will mean four of Reliance matriarch Kokilaben Ambani's nine grandchildren are married.
Nayantara Kothari -- daughter of Nina Kothari, Kolkilaben and Dhirubhai's younger daughter, and the late Chennai businessman Shyam Kothari -- married Shamit Bhartia, whose formidable mum Shobhana Bhartia runs the Hindustan Times group.
Former HuffPo writer Isheta Salgaonkar -- Kokilaben and Dhirubhai's elder daughter Dipti Salgaonkar and Raj Salgaonkar's child -- married Neeshal Modi in December 2016. Neeshal is the younger brother of the controversial jeweller Nirav Modi.
Writing about Anand and Isha's engagement, the well informed Malavika Sangghvi in her Hindustan Times column, noted: 'The couple has known each other since ages, but had recently met again and hit it off instantly. On Sunday morning, Anand surprised Isha by going down on one knee and proposing, and everyone is over the moon with the wedding being planned for December.'