'Younger people are taking steps to prevent lifestyle diseases.'
'It is fascinating to partner with consumers on the journey of self-discovery and to help shape people's preferences -- that is what I find most exciting,' Nandini Piramal tells Abhineet Kumar and Aneesh Phadnis.
Illustration: Dominic Xavier/Rediff.com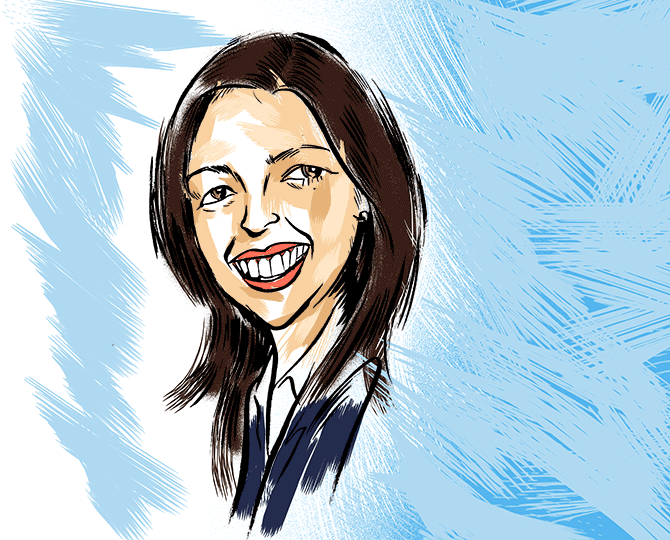 One of the first things we find out about Nandini Piramal is that academic success has come easily to her.
At the San-Qi restaurant in the Four Seasons, Mumbai, she narrates her scuba diving experience. Her scuba diving course had two parts: A written test based on a prescribed book and a physical test to be taken in the swimming pool.
She cleared the written test with flying colours. "I am good at passing tests as I like studying, but getting into the pool and swimming was not for me. I did not enjoy it," she says.
A little over a kilometre away from Piramal's office, the restaurant in central Mumbai is a favourite for business lunches and offers set meals.
Piramal orders an express lunch of Thai chicken red curry, which is accompanied with som tam, spring rolls and jasmine rice.
We order a vegetable biryani with raita, dal makhni and peas tikki.
The Piramal family scion -- daughter of Ajay and Dr Swati Piramal -- is focused on her work.
She does not like shopping; the only piece of jewellery she wears is her wedding ring and a Franck Muller watch gifted by her father is the only accessory.
At 36 she drives the over-the-counter pharma (OTC) products business of Piramal Enterprises, taking it to the number six position in the country from number 40 in 2010.
As an executive director, she also oversees the company's larger health care portfolio including the critical care businesses, which is headed by her husband Peter DeYoung. She met him while pursuing her MBA at Stanford University.
DeYoung worked with global private equity major Blackstone before joining Piramal Enterprises as president of the life science business in April 2012 and became CEO of Piramal Critical Care two years ago.
The pharma business in her portfolio also includes a separate contract manufacturing business (Pharma Solutions) headed by Vivek Sharma as CEO.
Piramal joined Piramal Enterprises in 2006 in the operational excellence function, and became the head of human resources in 2010, where she has fixed a major process issue.
The company would pay bonuses in September for the year ended March. Since bonuses were paid late, the company would fix employees' key result areas (KRAs) even later in October or November, which had no sanctity with only four to five months left for the year.
"I worked backwards and first fixed the KRAs by April 1, and then started paying the bonuses by June. Employees were obviously happier with bonuses coming a quarter early and the company benefited with fixing the deliverables in time," she says.
She counts it as one of her success stories at the company.
Along with her pharma role, she continues to head the human resources function for the company.
"I have carried out operational excellence in OTC and HR, because I believe processes and systems are the bedrock that enables you to do exciting and creative things. You cannot do the fun stuff unless you've got the basics right," she says.
Her goal is to take the OTC business among the top three in the Rs 12,000 crore (Rs 130 billion) market in India.
This is an ambitious target in a highly competitive market led by multinationals GlaxoSmithKline and Reckitt Benckiser and home-grown Dabur and Emami.
She has made seven acquisitions in the healthcare space in the past two-odd years, putting Rs 3,000 crore (Rs 30 billion) to work. Three of these were made in the OTC business.
This includes baby care products from Little's, which helped it enter a new segment. Besides, it acquired four gastrointestinal products from Merck to complement its existing portfolio.
It also acquired five legacy brands from Pfizer, including Waterbury's Compound and pain reliever Sloan's Liniment.
"What I find interesting about the OTC market is that it is highly fragmented and consumers are still discovering who they trust and what they trust," says Piramal.
Industry experts say Piramal is following in her father's footsteps.
Ajay Piramal bought Nicholas Laboratories in 1988, when it was ranked 48 in the domestic market, and turned it into the third largest company through a series of acquisitions.
In 2010, he sold the domestic formulations business to Abbott for $3.8 billion (Rs 17,500 crore/Rs 175 billion), but retained the OTC, critical care and contract manufacturing businesses.
"We are ready for acquisitions -- big and small," says Nandini Piramal, and adds that being among the top three is only a short-term goal.
"The OTC market is fragmented. There are big brands in a few categories, but we believe there is a lot of room to play," she says.
With a huge war-chest, investment bankers have started queuing up before her office.
With urban lifestyles being what they are, the idea of health and wellness is becoming more and more important, says Nandini, widening the playing field.
"People are now becoming more aware of what they can do to prevent diseases," she says. "Younger people are more aware and are taking steps to prevent lifestyle diseases."
"It is fascinating to partner with consumers on the journey of self-discovery and to help shape people's preferences -- that is what I find most exciting," she says.
Though OTC is currently the smallest segment in Piramal's pharma portfolio with annual sales of Rs 537 crore (Rs 5.37 billion) in 2016-2017, it grew at a clip of 26 per cent year-on-year, and is within striking distance of crossing Rs 1,000 crore (Rs 1 billion) by 2020.
The Rs 12,000 crore OTC market is growing at 12 to 13 per cent annually. According to India Brand Equity Foundation, OTC is 21 per cent of the $20 billion pharmaceutical industry in India.
The company's health care business, spread across three lines, saw its revenue grow 11.6 per cent in 2016-2017 to Rs 4,054 crore (Rs 40.54 billion) over the previous year.
"We as a company are very good at buying small under-appreciated brands from other companies and increasing their sales," she says explaining her growth strategy.
She and husband DeYoung are also credited with expanding the US-centric critical care business into new geographies and product lines.
The couple have a six-year-old daughter and a four-year-old son who we discover are under strict parenting.
The children go to bed at 8 pm and the TV at their residence stopped working as it was not turned on for months.
Besides her business acumen, Piramal has also inherited a love for horses from her father, and takes her daughter horse riding at the Mumbai Race Course just as her father did when she was young.
The family owns horses and also a polo team. The group also includes the unlisted Piramal Realty, which is headed by Anand, her younger brother.
As we approach the end of our lunch, we ask her if she would like dessert. She declines.
Is she ambitious? "Very," she says. "But I also look for balance. You have to pay attention to all the things important to your life including health and relationships," she adds.
As we prepare to leave we ask if she would be heading Piramal Enterprises, the pharmaceutical business, once it is demerged.
"We will know when we get there," she leaves it at that.