'What motivated us was that a lot of people, especially youngsters, had a negative image about India.'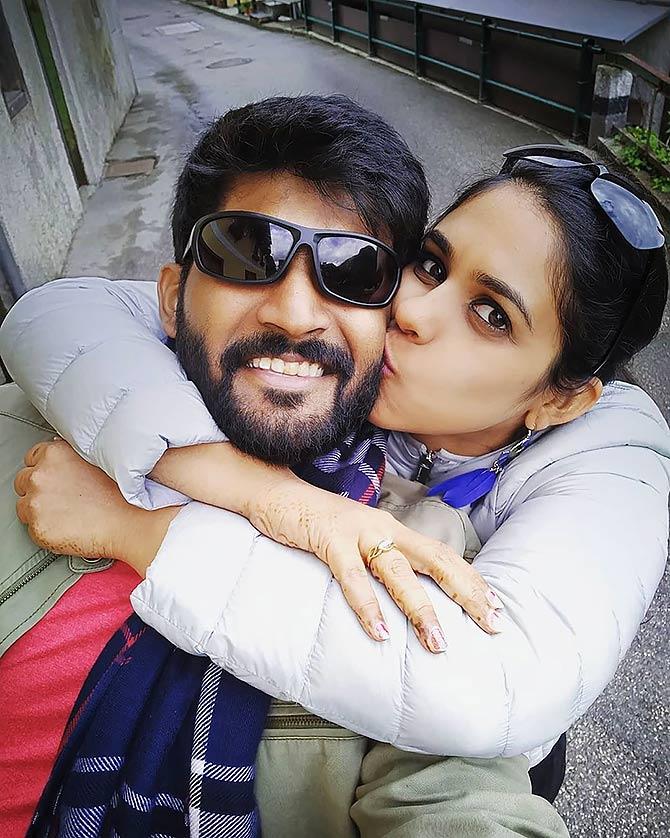 Abhiraj and Niyati met each other at the Narsee Monjee College of Commerce and Economics in Juhu, north west Mumbai, in 2010.
Niyati was graduating in commerce; Abhiraj was in the first year of a mass media course when they got introduced.
They started dating in 2011 and wed in 2018.
Since they loved to travel, they worked and saved for five years so they could work together on a common goal after their marriage.
"We combined our love for travel and wanted to show India in a positive way. That's how we started the campaign '100 reasons to love India'."
In 2019, the couple travelled for 200 days through India, sharing inspiring stories via 10 to 15 minute-long video capsules.
"We started travelling in May 2019 and had completed 95 episodes when the lockdown was announced. The last five videos were done from home," says Abhiraj.
Niyati, 29, a chartered accountant, describes herself as a "professional nerd" who likes to trawl data and numbers.
Abhiraj, 26, is a film-maker who worked with MTV, Tata Motors, Kotak Bank before he decided to launch something of his own.
In the last year, Abhi and Niyu have created content that reached an audience close to a million across Instagram/Facebook/Twitter/YouTube.
Rediff.com's Divya Nair caught up with the enterprising couple.
How did you guys start up?
Abhiraj: Both of us were working independently before we got married.
Between 2014 to 2019, I was making videos for agencies and leading brands from where I had gained experience of making different types of films.
After marriage, it was a conscious decision to work on something we both love.
In April 2019, I quit my job, basically everything I was doing so I could do this.
Niyati: I always loved write and worked as a freelancer writing about travel and finance.
Abhi and I have been working on this dream for more than five years.
We invested all our savings and started travelling in May 2019.
I continued to write till March 2020, when the lockdown was announced. That's how we also funded our trip.
How do you guys work? Do you have a team?
Abhiraj: It was always the two of us. Both of us would research, collect information before visiting a place.
Niyu would take care of logistics -- planning, travel bookings etc.
I write the script and we improvise it. We record on Sony mirrorless camera and edit our own videos on a laptop.
If you see me on the camera, Niyu is behind it and vice versa.
All the content you see on the page is co-created by us.
I have edited videos crammed in the sleeper coaches of trains and empty buses of Kerala while on the go.
That's how we made 100 videos from 200 days of travelling which includes a few days of break in Mumbai between travels.
So basically we were uploading 1 video every alternate day.
You say you are not driven by money. So what inspired you to do this?
Abhiraj: What really motivated us back then was that a lot of people, especially youngsters, had a negative image about India.
Our idea was to travel, speak to locals, explore the real India and present to the world what a beautiful country we are.
Niyati: Unlike other travel bloggers, we didn't just feature places and landmarks.
We also explored history, culture and enterprising Indians.
We made videos about India's ice hockey team that comes from Ladakh, the Siddi community who live in coastal Karnataka -- originally from Southeast Africa, they were bought to India as slaves by the Portuguese merchants and are now being helped by an NGO to represent India at the Olympics.
There is also a video on the family in Gujarat that designs Patan Patola, one of India's most expensive fabrics from scratch -- one saree costs Rs 200,000 and it takes 10 months to create from design to execution.
We wanted young people to know all of this, so they can experience this when they travel with their friends or family. Or so they can share it with others and spread the knowledge.
How did you plan your travel? Were all these videos pre-planned?
Abhiraj: Not all of them. Sometimes we went looking to do 3 stories, but we were able to shoot only one. And there are times, when locals gave us ideas.
Like in Kerala, we went to shoot the famous boat race in Aranmula, a town in Pathanamthitta, Kerala.
But the locals suggested we visit a place where they made mirrors from metal alloy.
The artisans polish these metals so well that you can see your reflection in it. One of their most expensive mirrors cost Rs 5 lakhs.
From 2,000 to 1 million followers -- what do you think worked for you?
Abhiraj: India is a young country. A lot of youngsters don't watch prime time news or debates.
And even if they do, they don't necessarily understand everything. Also, their attention span is very limited.
I feel people like our videos because we are able to convey something in under 5 minutes. Something that helps them expand their understanding.
There are technical reasons also. The millennials may relate to us because they feel it is coming from someone who is closer to their age group.
So if they get the same information -- what they get from watching a 1 hour debate -- in less than 5 minutes, they'd prefer the latter.
Similarly, we don't try to stretch a one minute video into a five minute video. We compress a 15 minute video under 5 minutes. I think that is what people connect with.
When you make a video, do you also fight, argue like couples? What do you when you two have differences of opinion?
Abhiraj: A lot of times we don't think alike.
So we do our research, collect data and keep pitching it to each other, like what should be the focus of the video.
We have disagreements like any two professionals would. But ultimately the outcome is good. Sometimes we split the video. So we have technical disagreements. I call it a creative turmoil.
Niyati: Keeping the video crisp really helps.
After he writes, Abhi reads them over and sometimes adds/edits something at the edit table. So each video is like a start-up for us.
Once the video is out, do you get trolled? How do you deal with negative criticism?
Abhiraj: We get a lot of them. The way I see it, people in India don't really want to hear what other people have to say.
They don't want to be a part of anything that goes against their own thoughts.
Basically, people want an echo chamber where they want to hear out what they already know or believe in.
So even for a basic video which says 'India needs to be self-reliant', we got a lot of negative messages from people who didn't agree with us.
Sometimes people do it just for attention and when they stop getting it, they feel ignored and move on.
So the best way is to deal with them is to ignore.
When you ignore, they lose motivation and stop commenting because nobody really has the time to waste.
Niyati: Unlike Abhi, I used to be very affected by all these DMs and messages.
I had severe anxiety issues. But with time, I realised that you have to develop a thick skin.
You'll understand sooner or later that their hate comes from another place and is directed at you sometimes unintentionally. It's a tough learning process.
In your opinion, how can we be a part of change? What can millennials do?
Abhiraj and Niyat: 1. Save water and natural resources.
With most cities becoming concrete jungles, our groundwater resource is drying up.
If we are not careful now, in future, we could be fighting a war over water.
2. Reuse as much as possible
Clothes, furniture -- reuse or recycle as much as you can. Use it multiple times and if it's still in good condition, donate it, rather than discard it.
3. Avoid chemicals in your daily life.
Our oceans are already dying. Let's be careful about polluting them with more chemicals. Soaps to shampoos -- you can always switch to more eco-friendly, natural options.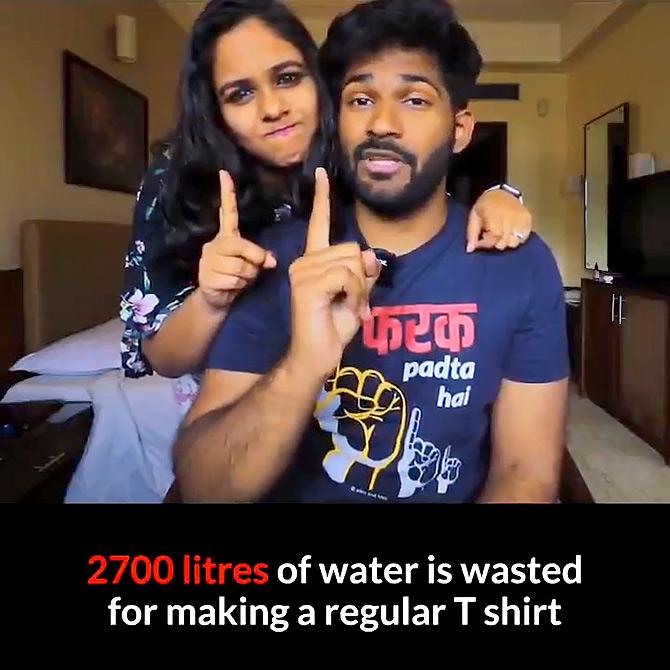 How are you holding up financially?
Abhiraj: When we started this journey, we had zero ad revenue but gradually it got better.
We never really promote our videos. Once we post a video, we don't keep checking for likes and comments.
When we started this, we were very clear -- This is not a business or a start-up. We don't want to make videos so we can make money out of them. We make money so we can make good videos.
During the lockdown, we came on YouTube which has opened up a door of possibilities for us.
So some of our revenue now comes from ads, branding or collaborating with organisations that share a common goal (save the environment, sustainability, wildlife preservation) and through merchandising.
A few weeks ago, we were able to raise some money by merchandising t-shirts. We plan to donate the amount to those affected by the Assam floods. But we are yet to finalise the details of organisation we want to donate it to.
As long as we are able to stay above the water level, we are doing fine.
Niyati: We saved for 5 years so we could do something like this. And we constantly review our finances to stay afloat.
Abhiraj: We are young, still in our 20s so we really want to do this. We are hardworking, learning new things and at the same time, we are happy with what we are achieving out of this.
How do you stay positive?
Abhiraj: The best way to be positive is to stay busy.
Niyati: When you have negative thoughts in your mind, just look down at your hands. If you don't have work, go find some work to be busy. Your mind will automatically focus on other things.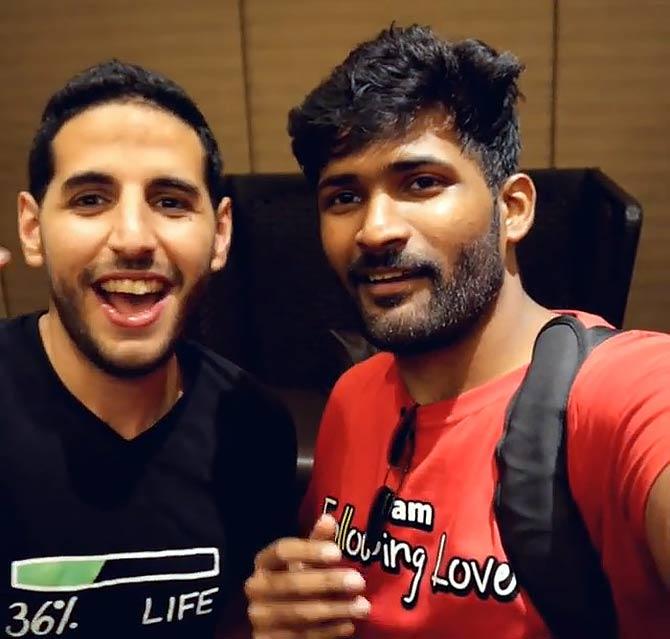 Since you both love to travel, what are some of the most beautiful places in India you have visited?
Abhiraj: I would definitely recommend every Indian to visit the Ganga or Rishikesh. Just sit there to meditate or simply stay calm.
It's an experience you should not miss.
I went there before starting this journey.
Then there are lot of beaches in the Andaman.
When I went there first, I could not believe this is India.
Neill Island in Andaman has a lot of beaches like Sitapur, Rampur, Bharatpur, Laxmanpur all named after characters in the Ramayan.
The beaches are not too crowded. You will feel like you're in a different country.
In Kerala, I would recommend going to Alleppey beach, not the backwaters.
When you are in Alleppey, you feel like you are staying in the city but when you step on the beach you are transported to a different place.
WATCH Abhiraj and Niyati recommend 5 places to visit after the lockdown
Any tips for young travel vloggers?
When you shoot a video for yourself, it's different. Because, each one's journey is different.
When you are shooting for an audience, you have to always keep the context in mind.
For example, if you see a waterfall in Meghalaya and shoot it, you may think it's wonderful, breathtaking.
But when you come home and show it to some random person, s/he who is watching it at the dinner table may not find it as exciting.
For that, you have to engage your audience by reliving that experience for him/her.
Use the power of technology to capture their senses and make them visit the place through your words and visuals.
After all, a picture/video is only as good as the story behind it.