'I make music to express myself.'
'So even if only one person hears it, and it impacts their life in any way, I feel grateful.'
<
Akash Ahuja grew up in New York, but his love for music came from his deep rooted love for Indian culture.
He was three when he received a set of tablas and by the age of 9, he started performing at New York City's Town Hall.
Akash has been quietly sharing his music on Spotify and other streaming platforms, slowly gathering his audience.
In February 2020, after he released his single Come Closer, he was featured on a billboard at Times Square in New York City.
In May, his song featured in the top 100 on iTunes, ranked #60.
On June 10, he announced his second single Affection, a song liked by thousands of listeners on streaming platforms.
Akash -- incidentally, a cousin of entrepreneur Anand Ahuja, actor Sonam Kapoor Ahuja's husband -- takes Rediff.com's Hitesh Harisinghani on his musical journey.
Tell us about your growing up years. What were they like?
My childhood was very exciting. I was able to see aspects of two very different worlds.
I was born in New York and raised in New Jersey so I was immersed in American culture, watching American TV shows, eating at American restaurants, having American friends. But at the same time my parents were very cultural.
I would eat Indian food at home, listen to Indian music at home, play the tabla, pray with my family, and visit India frequently. So I guess you could say my childhood was multicultural.
What inspired you to start making music?
Music was always a form of self expression to me.
Whether it was the tabla when I was younger, or recording songs now, my emotions would spill through music.
When I was 3, I received a set of tablas. By 6, I began learning how to play them. Since then I've experimented with music.
Who inspires you?
Every person I come across is an inspiration to me. More than people, their qualities inspire me.
I try to find the good in every person and try to be inspired by it.
If I can't find anything good, I'll try to see the bad and not be inspired by that. (laughs).
How did your parents react to your choice of profession?
They questioned it initially.
But when they saw how deep my love for art is, they were very loving, sweet and supportive about everything.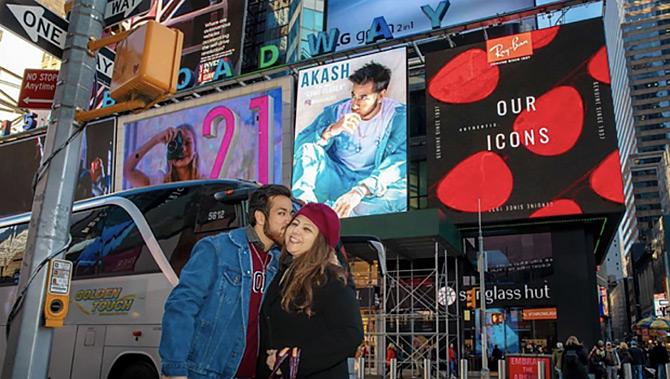 How different is the hip hop scene in New York when compared to Mumbai?
Anywhere that cultures differ, so will the art. That's the beauty of it.
Both cultures are very different in many ways, and similar in many ways. I love both and am constantly inspired by both.
You toured India in 2019. How was the experience?
Surreal. Performing at colleges was one of the best feelings I've ever had.
When you saw the billboard at Times Square, what did you feel?
I still can't believe that happened. The only thing I felt at the time was gratitude. I felt blessed.
Are you happy with how your career has shaped up in 2020?
I'm very happy because I have no expectations. I simply make music to express myself.
So even if only one person hears it, and it impacts their life in any way, I feel grateful.
What's the idea behind Affection, your latest single?
I was inspired by a girl overseas who I wanted to be with. But she ended up getting into a relationship with someone else.
Then I met someone else who made me feel so amazing and made me feel so much love and showed me what passion really is.
I wrote Affection the moment I realised how much of a blessing it was that things didn't work out with the first person because I wouldn't have found the other person.
Have Sonam and Anand heard your songs? What do they think of your music?
Haha. I don't make anyone listen to my music.
I am not sure if they've heard Affection because I haven't spoken to Sonam and Anand for months. Usually they like my music and share positive feedback.
Sonam, Anand and all you folks out there, do listen to Affection:
The Indian artist you would like to collaborate with?
Diljit Dosanjh.
Your message for young musicians in India?
​Act with love.